While serving in the U.S. Army's first all-female all-women-of-color unit in World War II, Romay Davis had no idea she would make history. Decades later, being the oldest survivor of her battalion, she unexpectedly received an award for reuniting hundreds of families.
Many of us feel the urge to make a positive impact by contributing to our society. While some don't get the chance to fulfill their wishes, others leave a legacy by helping people around them, even if it means clearing a backlog of mail received in the past six months.
The woman in today's story was honored at 102 years for her role in World War II several decades ago. Back then, the 20-something-year-old didn't join the force to make an impact. She did it for other reasons, but things took a different turn, pushing her to do things she wasn't prepared for.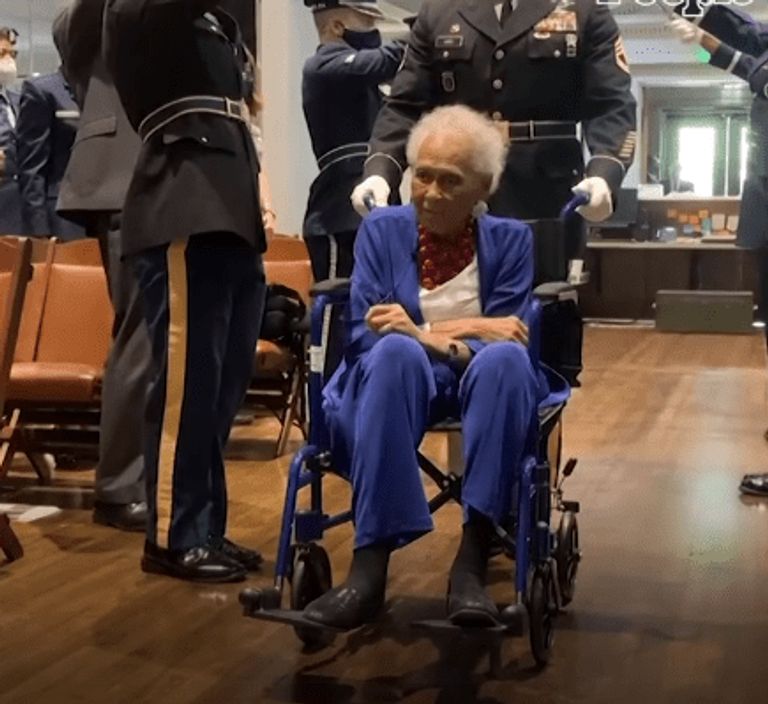 THE YOUNG GIRL
When Romay Davis, in her early twenties at the time, saw her five brothers join the U.S. armed forces, she felt the urge to follow them. Only after her last brother left their rural Virginia home did she realize she really wanted to leave her parents' house. She recalled:
"When my baby brother left, I thought about it a few days, and I thought about my mom and pop being left by themselves [sic]."
Thinking about her parents didn't make Romay change her plan because she knew they were young and could take care of themselves. The then-young Romay wanted to live independently and thought joining the forces was a great opportunity. She talked to her "forward-looking mother," who allowed her to follow in her brothers' footsteps.
LEAVING HOME
In 1943, Romay enlisted in the U.S. Army. She was excited to wear the uniform and embark on the adventurous journey of serving her country. However, she was unaware difficult circumstances would push her to accept unexpected challenges.
Over there, she chose to study fashion design because going with her first career choice seemed impossible.
Romay was part of the U.S. Army's first all-female all-women-of-color group that served in World War II. She had to move away from her parents to Europe, where several warehouses packed with mail were waiting for her.
SERVING HER COUNTRY
Romay's group was called the 6888th Central Postal Directory Battalion. The women had to dig through the mail accumulated in the past six months. Since there were no phones back in the day, the soldiers couldn't communicate with their families via a few taps on a screen. The primary method of communication was mail.
The women sorted millions of envelopes and parcels and helped connect the frontline soldiers with their loved ones back home. Romay recounted:
"The mail situation was in such horrid shape they didn't think the girls could do it. But they proved a point."
END OF THE WAR
Even after the war, the battalion's job wasn't finished. A month after Germany surrendered, they were sent to France to sort letters and packages that hadn't reached their recipients. According to Romay, people over there respected their group and even invited them to dinners at their homes.
Once the battalion had completed their job, they were sent back to their hometowns. As part of the Women's Army Corps, Romay had to move to New York City, leaving her parents in Virginia again. Over there, she chose to study fashion design because going with her first career choice seemed impossible. She said:
"I wanted to be a doctor, and I couldn't be at that time. I chose design secondly."
LIVING HER LIFE
Romay started another chapter of her life in Montgomery, Alabama, where she met her late husband, Jerry Davis, who had also served in the military. They married but never had kids and stayed together for 47 years before Jerry passed away.
Meanwhile, Romay worked as a children's fashion designer, not knowing how her efforts during the war would be appreciated in the decades to come. In her seventies, Romay added another item to her list of achievements: a Taekwondo black belt.
For the next two decades, Romay worked at a Winn-Dixie grocery store in Montgomery. In 2019, the store celebrated her contributions to the Winn-Dixie chain on her 100th birthday. The store manager, Bobby Godwin, said:
"She's doing more work than a 25-year-old."
THE HIGHEST HONOR
It seemed like Romay won hearts wherever she went. However, the pandemic forced her to stay at home since she was at a high risk of contracting Covid-19. Little did she know that the government would surprise her a few years later with an award.
On July 26, 2022, Romay was honored with the Congressional Gold Medal for her service as part of the 6888th Central Postal Directory Battalion.
President Joe Biden approved the award for all group members, but Romay was the only person alive to receive it. She expressed her feelings after receiving the highest honor from Congress:
"I was surprised. I'm still surprised, very much so because I didn't do anything out of the ordinary, except go in the military."
IT WAS HER COUNTRY
Col. Eries L.G. Mentzer awarded the citation to Romay. She was the first woman of color appointed as a commander for Maxwell Air Force Base. She said a few words about Romay:
"Despite what she was handed, despite the fact that there were so many barriers for her service, she persevered, and she pushed to allow more freedom for people to serve our nation in the Armed Forces."
The base commander added that Romay's contributions helped her build her career in the forces. Despite facing racism at the hands of other soldiers, Romay and her battalion didn't give up. "It's my country too," Romay said.
She was also presented with a duplicate World War II uniform, revealing that hers got stolen soon after returning home. It was hard for Romay to believe she was being honored after more than half a decade for helping families reunite.
Share this story with your friends and family to honor Romay Davis for her efforts in reuniting hundreds of families during the war.
Click here to read another story about two veterans who thought their friend had died in the war but met him 53 years later.


Please scroll below for more stories 🙂