An older man showed the world that genuine love never fades with age and only strengthens over time through a romantic performance for his wife of 70 years. The sweet moment was caught on camera and shared online, picking up thousands of views.
Imogene and Paul Miller's story is not only adorable but also exciting. Despite the highs and lows and changing seasons, they stayed together and drew strength from their lovely bond. The couple met as teenagers and began dating, but Imogene had reservations when it came to taking their relationship to the next level.
Sarah Saragusa, their granddaughter, said that her grandma, who was a few months older than her grandpa, told him that she wouldn't marry him until he was 20. Keeping in mind Imogene's wishes, they tied the knot on Paul's 20th birthday. But the question was: why did she set such a condition?
Going Strong through the Years
It turned out that Imogene had wanted Paul to become a mature person before she accepted him as her husband. After they met at the Western Union, Saragusa revealed that her granddad did everything in his power to pursue her grandmother. She said they made a great couple, with Paul's outgoing nature blending in with Imogene's sweetness.
It wasn't the first time the Hot Springs, Arkansas man sang to the love of his life.
Finally, on June 15, 1947, the sweethearts tied the knot and vowed to stay together for the rest of their lives. When Paul was asked how much his wife meant to him, he replied, "She's the only one I've ever had. It started out when I was 18 and it's gone along just as great as ever."
Growing Their Family
The Millers, who had two biological kids, were said to have welcomed many foster children into their hearts and home after they aged out of the system. It was how they expanded their beautiful family of adopted kids and grandkids over the years.
One of them was Robin Vermeer Bobo, who explained that Imogene and Paul opened their doors for her and her family when she was only two and her mom was pregnant with another baby. She said they had been great role models to many people over the years, adding:
"I've considered them my grandparents my whole life. They have truly been the example of what love and a marriage should be for everyone that has ever known them."
The Romantic Performance
On June 15, 2017, Imogene and Paul celebrated their 70th wedding anniversary in the presence of their extended family of over 60 people. As the couple renewed their vows, the 90-year-old grandpa surprised his beautiful wife with a heartwarming performance of Bill Crosby's song, "Let Me Call You Sweetheart." He sang:
"Let me hear you whisper that you love me too."
Holding his beloved one's hand and gazing at her the whole time, Paul said he had rehearsed the song beforehand so it would sound right in the moment and have the desired effect on his gorgeous wife. Fortunately, his hard work paid off when Imogene leaned in to give him a sweet kiss of approval afterward.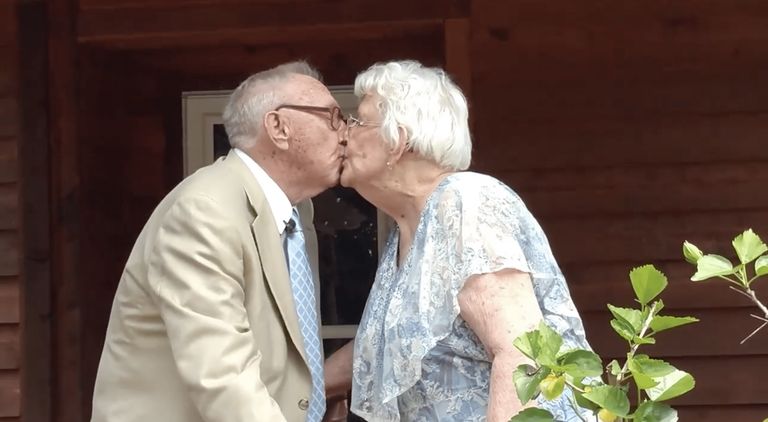 True Love
Paul's romantic serenade not only captivated his wife but the hearts of other guests at their vow renewal ceremony at The Vines at Shelly Lane in Hot Springs. The venue belonged to the couple's son and daughter-in-law, Alan and Caroline Miller.
It wasn't the first time the Hot Springs, Arkansas man sang to the love of his life. Bobo revealed that Paul was fond of impressing Imogene with his singing prowess and never missed a chance to tell her that she was the most beautiful woman he had ever seen. She added:
"Their love is definitely a true love."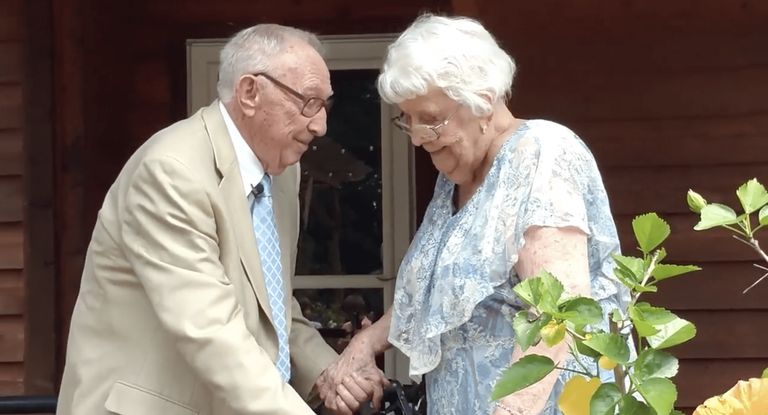 Going Viral
When asked about the secret to an enduring love and long-lasting relationship, Paul's reply was simple and sweet. "Pick the right girl," he answered. The heart-melting clip of Mr. Miller serenading the love of his life became a viral sensation, racking up thousands of views and comments from netizens. Here are a few of them:
"Truly a beautiful 'love story'. Congratulations Miller family. May your love continue through the millennium and beyond."
— (@jo.burkett.1) July 6, 2017
"Loved it gave me chills and God bless both of them may they have many more together (sic)."
— (@karen.lawson.98434) June 16, 2017
"Happy Anniversary and Happy Birthday to you!!! 70 years is a long time and it looks like you are still in love (sic)!!"
— (@betty.trubey) June 14, 2017
According to a Facebook post by Joseph Tillery who said the Millers adopted him and his wife before they were married, Paul left for his final abode on March 4, 2020.
We loved Paul's romantic gesture for his wife of 70 years, and we're sure you did too. If this story warmed your heart, please don't forget to share a few words for the lovely couple in the comment section on Facebook.
Click here to read another story about a WWII veteran who surprised his wife in the hospital on their 57th wedding anniversary.