Brad Paisley gave his wife, Kimberly, a unique gift on their 19th marriage anniversary.
Brad and Kimberly have a sweet tradition that has helped them cherish every special moment of their daily life.
Brad and Kimberly's romance began after the latter asked the singer out on a date.
The couple and their two kids live happily with their dog in their dream home outside Nashville
American Country Music Singer and Songwriter Brad Paisley and his beautiful wife, Actress Kimberly Williams-Paisley are among the most inspiring couples in the entertainment industry.
The pair have been married for 19 years, yet they remain head over heels in love with each other. Brad has spoken candidly about his long-lasting union with Kimberly in the past months and years. One of those times was in May 2022 on the "Ellen DeGeneres Show," about two months after his 19th wedding anniversary.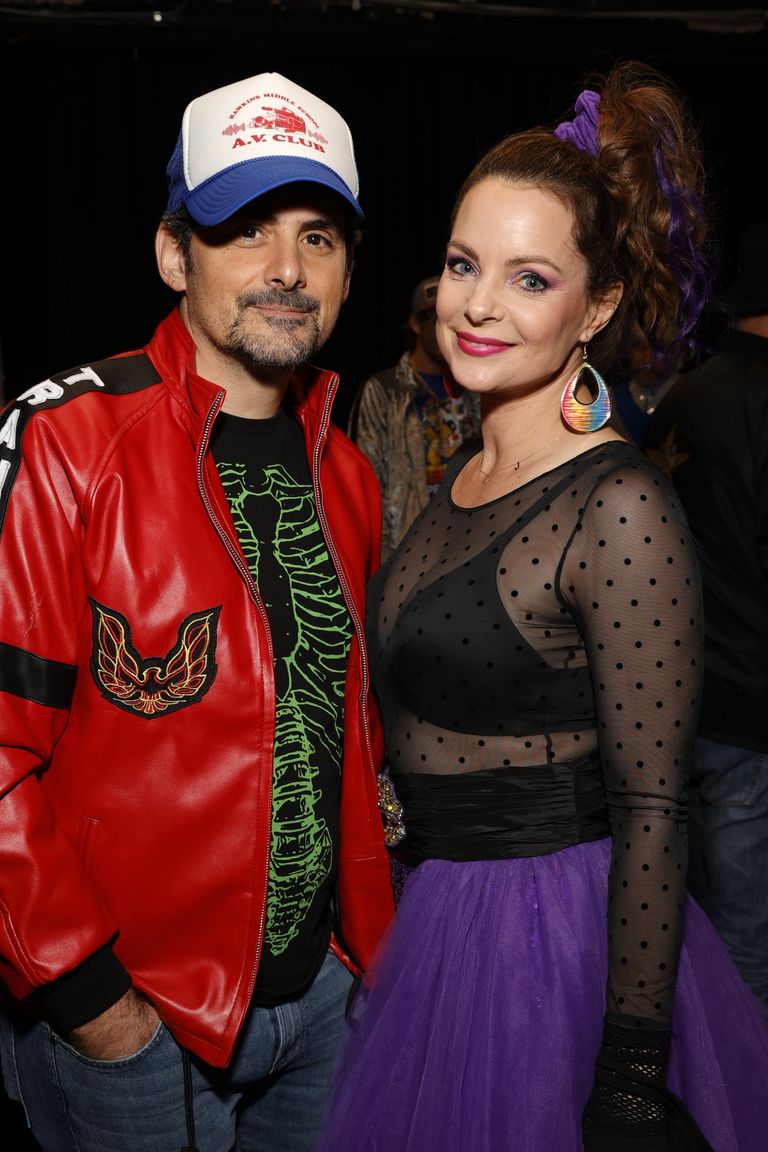 During the chat with the show's host and Comedian, Ellen DeGeneres, Brad noted that his long-time marriage doesn't feel long, jokingly adding that it felt like "ten minutes underwater."
After his funny marriage description, the country music star revealed his unique gift for his wife for their 19th wedding anniversary — a stool made to look like giant corn. While a photo of the stool was displayed on a big screen, Brad quipped:
"Cause nothing says stool like an ear of corn."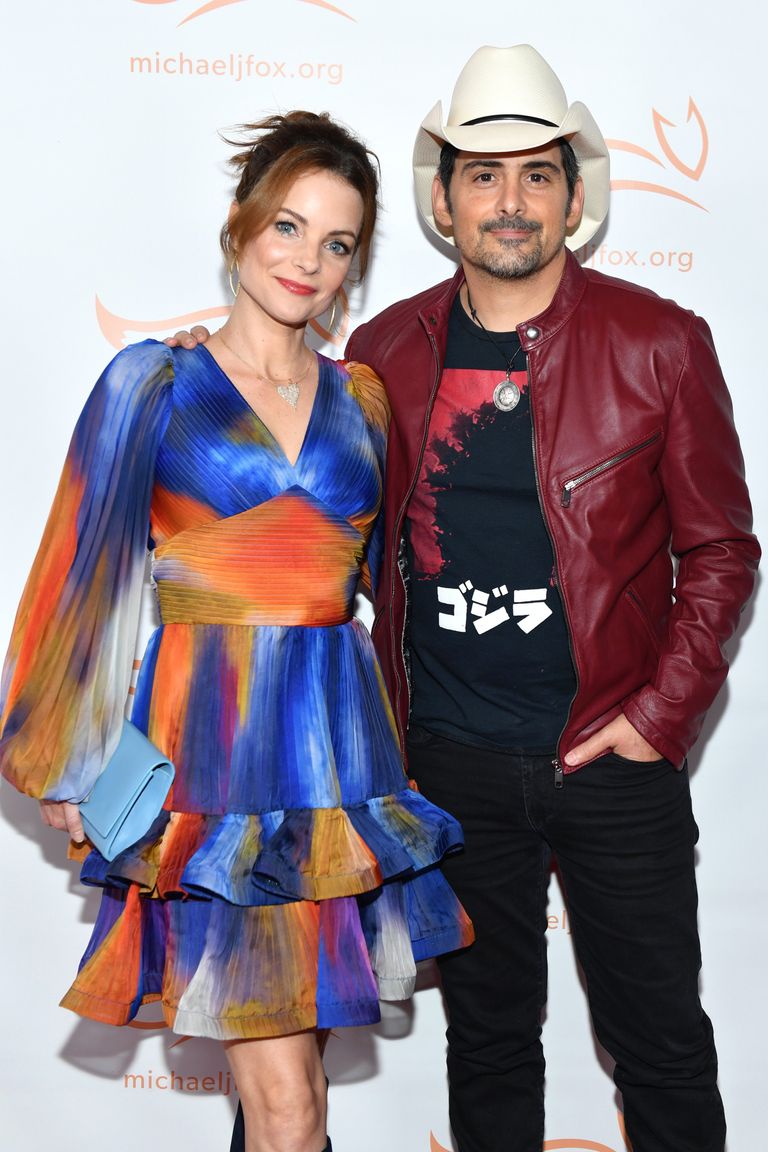 While many may consider the anniversary gift weird, Brad made it known that Kimberly had no issues with it, as she had an amazing sense of humor. Making each other laugh is an important part of the couple's union.
Besides putting smiles on each other's faces, the showbiz stars also love spending time with each other. In 2021, the actress told People that she and her husband have a sweet tradition they carry on every wedding anniversary.
According to Kimberly, she and Brad document their favorite memories from the previous year in a special journal. She also confessed:
"Our greatest hits. We record the meaningful moments, the best laughs. That's a big part of our relati onship — focusing on the laughter and keeping a sense of play."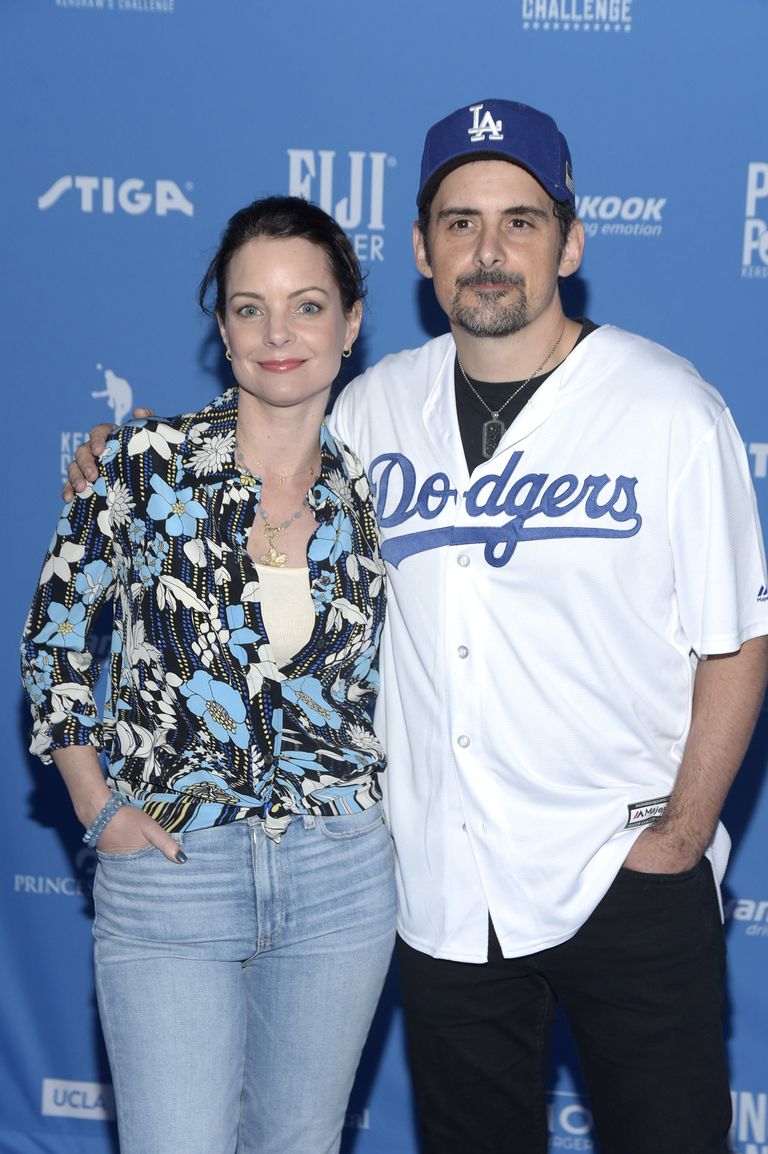 Thankfully, Brad and Kimberly's tradition has helped the couple keep it together. Nearly two decades into their forever journey, the duo still gush about each other, especially on special occasions.
For example, on September 14, 2022, Kimberly celebrated her 51st birthday, and the singer marked the beginning occasion with a lovely post. Taking to Instagram, Brad shared a picture of him and the actress leaning on each other and smiling from ear to ear.
In the caption, the Grammy award winner wished Kimberly a happy birthday, describing her as an "amazing goddess" and the "love of my life."
https://www.instagram.com/p/Cif1ZNvuuFC/?utm_source=ig_embed&ig_rid=2e7c9f59-2107-4c36-8aad-b00414c33be1
Undoubtedly, Brad loves praising the "Father of the Bride" Star at every opportunity. However, he was not the one who made the first move in their relationship. Here are the details.
Brad and Kimberly's Love Story
Brad and Kimberly's romance began in 2001, but the former's knowledge about the actress dates back ten years before their first encounter.
During a 2017 chat with PageSix, the singer said he would not allow his kids to watch him play at the June 2017 CMA Fest in Nashville. According to him, bringing them to the event was abnormal because they were young.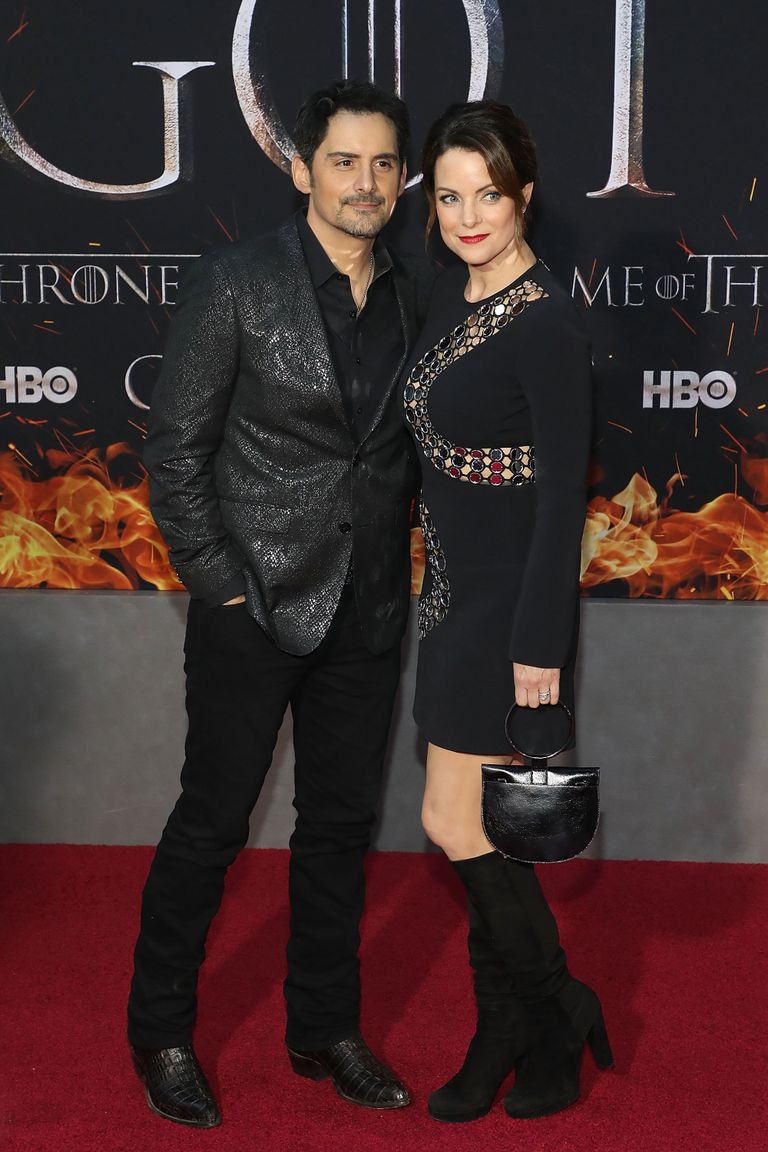 In 1991, 19-year-old Brad had watched "Father of the Bride" while on a date with a local girl; Kimberly made her movie debut in "Father of the Bride."
Four years later, the movie sequel aired, and the singer, 23 at the time, went to watch it. Sadly, Brad did not have a date, as the previous local girl had left him for his best friend.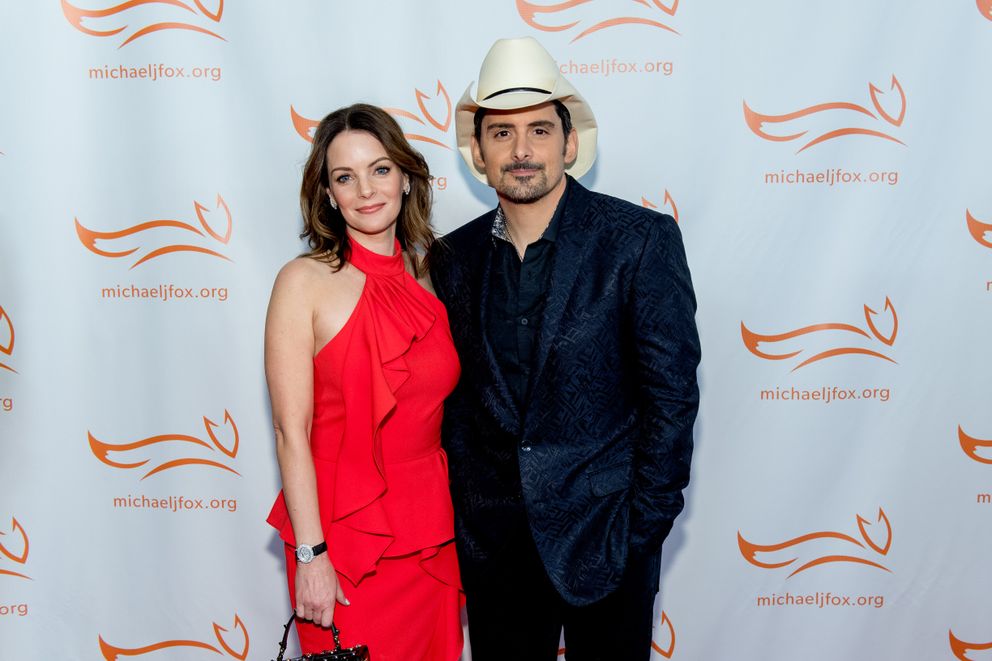 So, the country music icon watched the movie alone, but this time, he took note of Kimberly, whom he thought was "smart, funny," and a great girl. Five years later, Brad needed to shoot a music video and thought the actress would be perfect for it.
He reached out to Kimberly via a phone call, and in no time, one phone call turned into frequent conversations over the phone. Eventually, Brad informed the actress that he was finally visiting Los Angeles, and immediately, Kimberly asked the singer out to dinner, to which he obliged.
Soon, the duo had their first date, and not long after, they became romantically involved. Six months into their relationship, Brad knew Kimberly was the woman he wanted to spend the rest of his life with.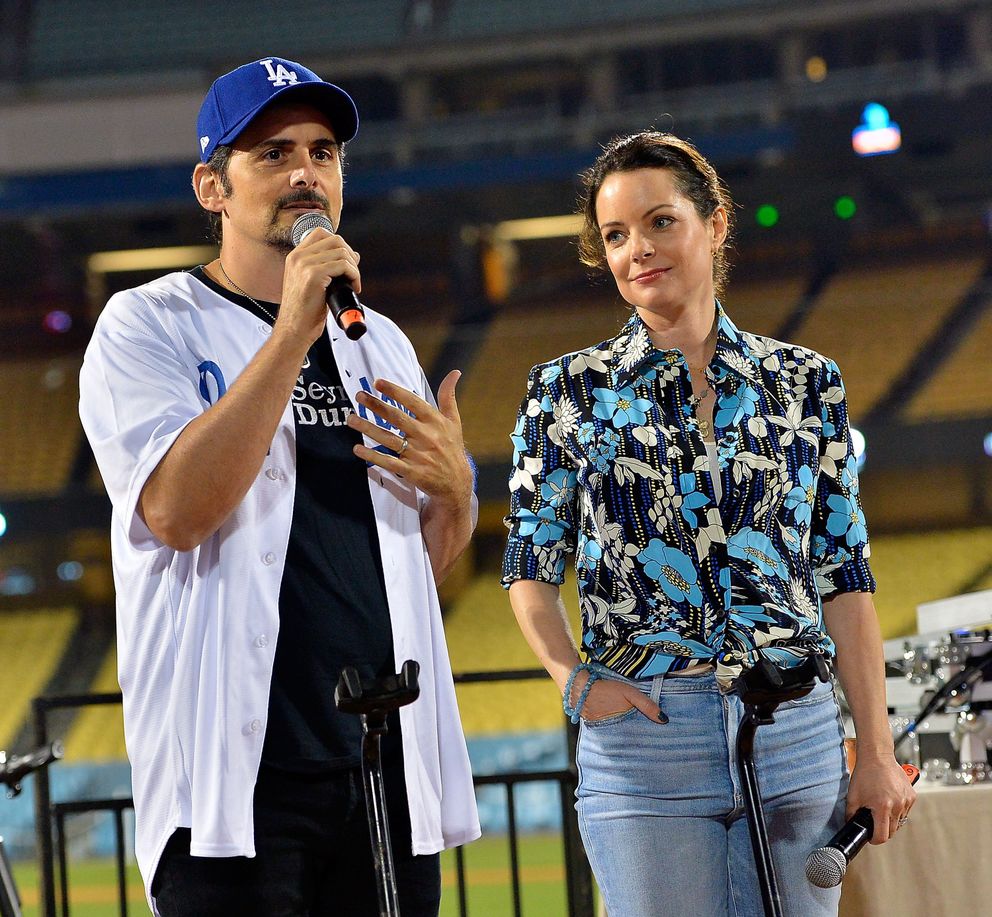 He proposed to the actress at the Venice Beach Pier in Los Angeles. Nine months later, in March 2003, the couple walked down the aisle on the Pepperdine University Campus in Malibu, California.
For the occasion, Kimberly donned a Monique Lhuiller bias-cut gown and a short veil and held onto a beautiful bouquet. On the other hand, Brad opted for a black suit, white shirt, and black tie.
https://www.instagram.com/p/BvDRp38Burg/?utm_source=ig_embed&ig_rid=151206a2-6b7d-4057-934b-4c10a47d1bfc
According to a report, the two pastors from the couple's churches co-officiated the ceremony. Nineteen years later, Brad and Kimberly seem to have no regrets about their decision to exchange wedding vows
Who Are Brad and Kimberly's Kids?
The entertainment stars are doting parents to two children, William Huckleberry and Jasper Warren. They welcomed their first child, William Huckleberry, named after Mark Twain's "Huckleberry Finn" during the early hours of February 22, 2007, in Nashville, weighing in at seven pounds, seven ounces.
Two years later, on April 17, 2009, Jasper Warren, named after his paternal great-grandfather, joined the family, weighing in at nine pounds, ten ounces. Since the boys' arrival, Brad has been open about his intentions to give them normal lives.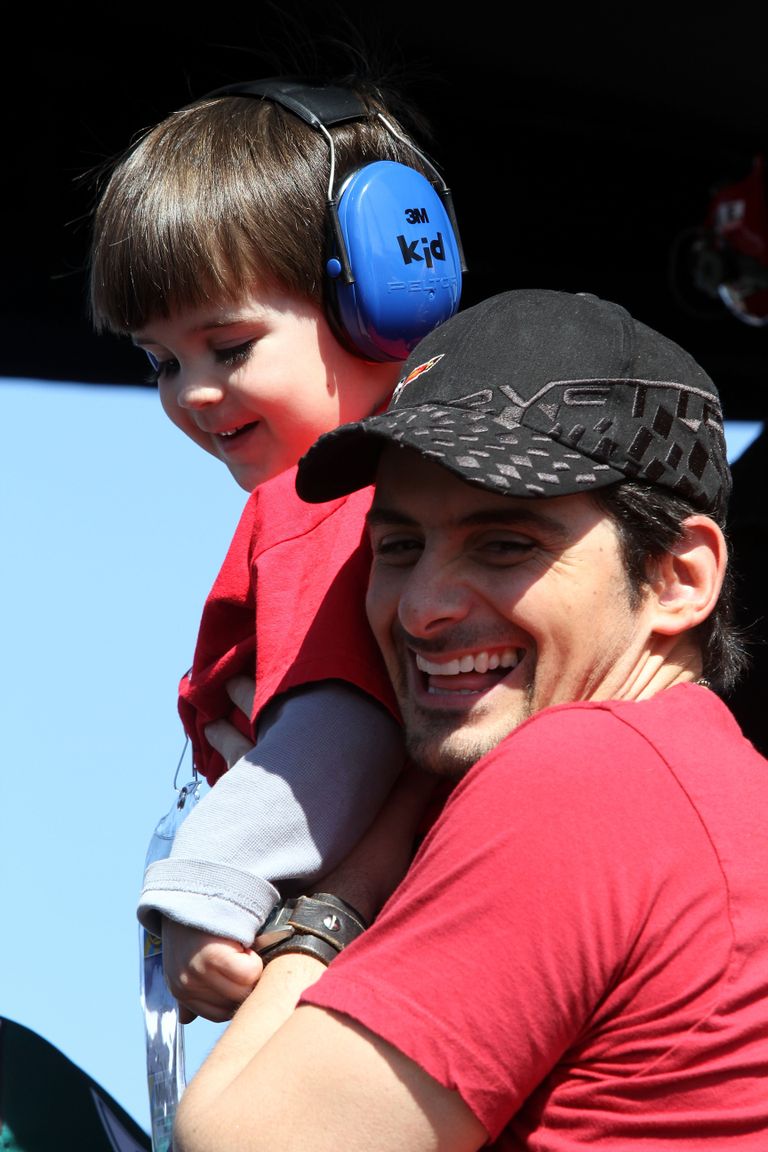 During a 2017 chat with PageSix, the singer said he would not allow his kids to watch him play at the June 2017 CMA Fest in Nashville. According to him, bringing them to the event was abnormal because they were young. He added:
"They've seen [crowds] at concerts, but they still think I'm a dork. It's fine. It's a weird combo. They think I'm a dork, but they think I'm cool."
Meanwhile, the singer lives with his kids and wife in Williamson County, outside Nashville. In addition, the family of four live with their adopted dog, Hollar, which they found on the streets of Nashville.