A deadly cаr crаsh Friday night in Redwood City, California left seven-year-old twin girls without parents.
Greg and Grace Ammen died when their vehicle was hit by another "going the other direction, pushed their car all the way down the sidewalk a couple hundred feet."
The couple's children, Madison and Olivia, were in the car but escaped with minor injuries.
"As a parent, it's something you should never have to do, to tell children they no longer have parents," the girls' uncle Michael Ammen told NBC Bay Area.
The 17-year-old driver of the other vehicle and their two passengers were taken to the hospital with non-life threatening injuries.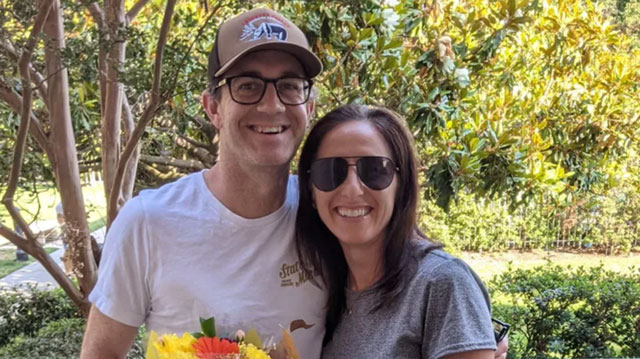 The Ammens were on their home from dinner when another vehicle slammed into theirs.
Witnesses told local media they saw cars speeding down El Camino Real moments before the crаsh.
Alonso Flores owns an auto repair shop across the street from intersection of El Camino Real and Finger Avenue where the crаsh occurred. Surveillance video from his shop captured the scene
He reported seeing "two vehicles on the side — right on the sidewalk, one of the cars [was] kind of like smoking, and as a mechanic, I know that car's about to catch on fire."
READ MORE:
Two 16-year-old girls die in car crаsh on way home from school dance
National Guard sergeant reunited with her missing dog after losing him in car crаsh
When Redwood City police arrived at the scene two cars were on the sidewalk, and one was engulfed in flames.
According to police the Ammens were trapped inside their car. They died at the scene.
Two in car die after collision at El Camino Real & Finger w/2nd car driven by 17yo w/2 on board, per @RedwoodCityPD. Those 3 taken to hospital. Investigation ongoing. ?: Thomas Aubert pic.twitter.com/IPbEVH6HdC

— Henry K. Lee (@henrykleeKTVU) November 5, 2022
A GoFundMe has been set up to help Madison and Olivia with "their immediate and future care." In less than 24 hours more than $100,000 has been raised for the twins.
Madison and Olivia will need all the love and support they can get.
Please say a prayer for the sisters.