A 24-year-old new father was terrified when a woman attacked him in the parents' room in a mall after he went inside to change his 7-week-old daughter's diaper. The unknown woman humiliated him for cleaning his daughter while he looked at her in shock.
While becoming a parent is a blessing for many people, they also struggle a lot during the initial months, or sometimes years, of parenthood. After your child enters this world, they become the center of your attention, and you do everything to make them feel comfortable.
Some people make this journey even more difficult for new parents by passing offensive comments about their parenting style. The man in today's story also received a similar statement but what shocked him was that it came from an unknown woman who had no idea what the man was going through.
A Regular Day
It was a regular day for Damien Leeson and his wife, Melissa Leeson, who went to Caneland Central shopping center in Mackay, Queensland, with their 7-week-old daughter, Harpah.
The new parents were enjoying the first few weeks of parenthood in 2017. There was no sign of trouble until the couple discovered their daughter was hungry and required a diaper change.
Damien volunteered to take Harpah into the parents' room to change her diaper and feed her. Little did he know that a woman would soon humiliate him for taking care of his daughter.
A few minutes after Damien entered the parents' room in the mall with Harpah, a woman came in with her son and looked at him. He recalled:
"She looked at me and started laying into me, saying that it was 'disgusting to see a fully-grown man in a parents' room with a little girl.'"
The unknown woman kept saying Damien was a "dirty old man" for coming into the parents' room with his daughter. After taking her son to the toilet, she went out and told her friend about him, and the other woman also disapproved of him changing his daughter's diaper.
Their Reaction
Meanwhile, Damien and Melissa looked at each other in surprise. The new father hadn't expected to get bashed for caring for his baby daughter. He recounted:
"After it happened, me and the Mrs were just in shock. How can someone say that to someone who is just looking after their kid? [sic]"
When they got home after having an unpleasant experience in the mall, Damien wrote a Facebook post, telling his friends about how the unknown woman humiliated him. Little did he know that his post would go viral.
People's Reaction
Soon, people flooded his post with comments, narrating similar incidents they went through. Many fathers commented that they were humiliated similarly when they went into the parents' rooms with their babies.
After reading the comments, Damien realized he was not alone. People seemed uncomfortable seeing fathers change diapers or feed their babies in a public parents' room. Damien said:
"What's a bloke supposed to do anyway if he's a single dad? My point is it's a parents' room, not a mothers' room. There are no change tables in the male bathroom."
The Determined Father
Even after people told Damien to "get used to it," he felt humiliated by the woman's words. However, he didn't take her criticism too seriously. He said:
"I'm quite a hands-on father. Whatever I can do to help my wife, I will."
Damien was surprised at the woman's reaction because she made him feel like the parents' room only belonged to mothers. He wanted people to know that fathers can also look after their babies.
The Comments
Another single dad, Duan Harry, shared his story in the comments section of TODAY's post on Facebook regarding this incident. Harry said he had to look after his newborn son since his wife was hospitalized due to health complications.
Many mothers judged him for single-handedly looking after his baby son during that time. They also asked him about his son's mother, making him feel like his care was inadequate. He added:
"I feel so much for this dad in this situation as I've been there too and know just how much it can hurt being brought down for doing something you thought was the right thing to do."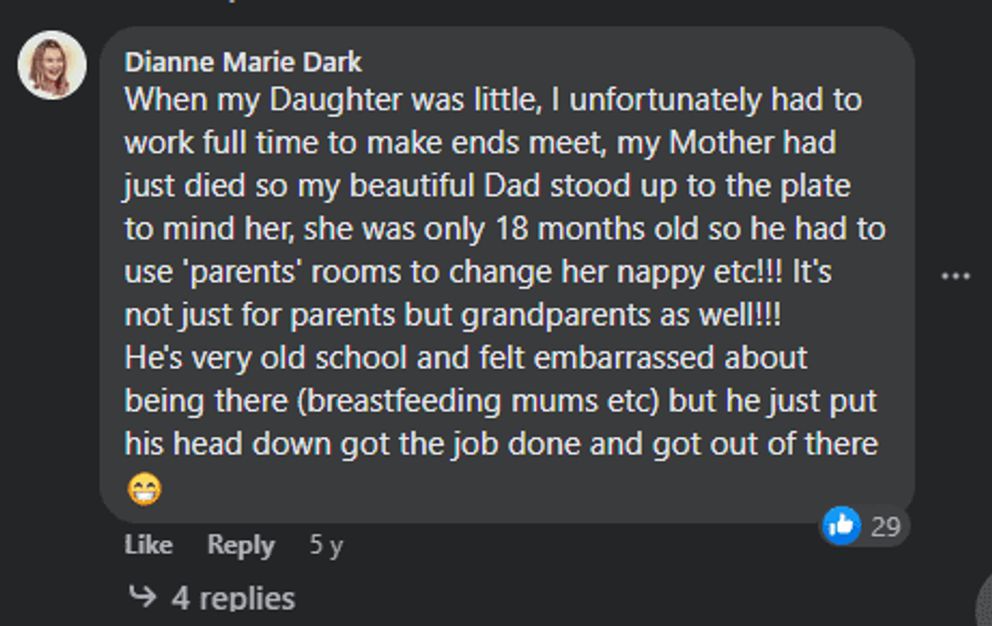 Do you think Damien did the right thing by entering the parents' room? Was the unknown woman right in humiliating him for changing his daughter's diaper and feeding her? We'd love to know what you think.
Click here to read a list of things a single father made while trying his best to raise his daughter. He mentioned seven things that people told him whenever they saw him with his little one in public.