When a then-97-year-old grandma discovered she only had a few days to live, she decided hospice in her own home. Soon afterward, her four sisters got on a plane to take care of her and make her feel loved.
True love knows no boundaries, forging bonds that transcend time and space. When everything falls apart, love's power makes one realize that there's still a lot to be thankful for.
The story we're sharing today is about the beautiful connection shared by five sisters, inspiring people of all ages to cherish love and family above all else.
SISTERLY LOVE
When four elderly sisters discovered that their fifth sister was unwell and only had a week to live, they didn't think twice before catching a plane to see her.
As was expected, the four sisters, all in their 90s, took care of their ill sister. They showered her with love, care, and affection and helped her with everything.
Even more adorable was the way they brushed her hair and smothered her with hugs and kisses. The four sisters ensured that their fifth sibling looked and felt gorgeous and loved every day.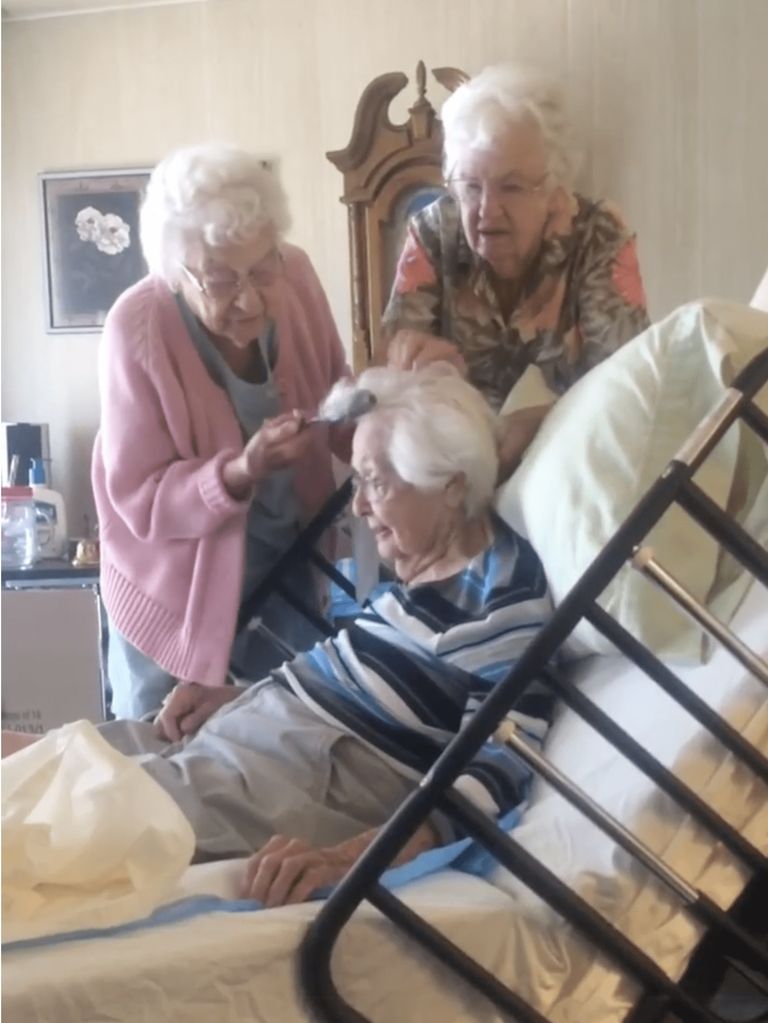 CENTER OF ATTENTION
Nicole Hauff shared her grandmother's incredible story with Love What Matters and expressed her thoughts on the unique bond with the sisters.
The happy granddaughter noted how her five grandmothers loved doing things together.
The woman revealed that her grandma wished to stay at home until the end and was delighted to have her sisters around. Fortunately, she was still alive four months later and enjoyed being pampered by her family.
INSPIRATION FOR ALL AGES
In a short clip shared on Facebook by NTD Australia in April 2018, Hauff's grandma could be seen receiving undivided love and attention from her sisters. The caption read:
"My 97-year-old grandma is being lovingly cared for by her sisters, all in their 90s. When my sisters are old, I will brush their hair and make sure they look pretty, until the very end."
Hauff expressed that her grandma and her four sisters always caught people's attention whenever they walked into a room. She lovingly called the five elderly women "cute" and said they shared an undeniable love.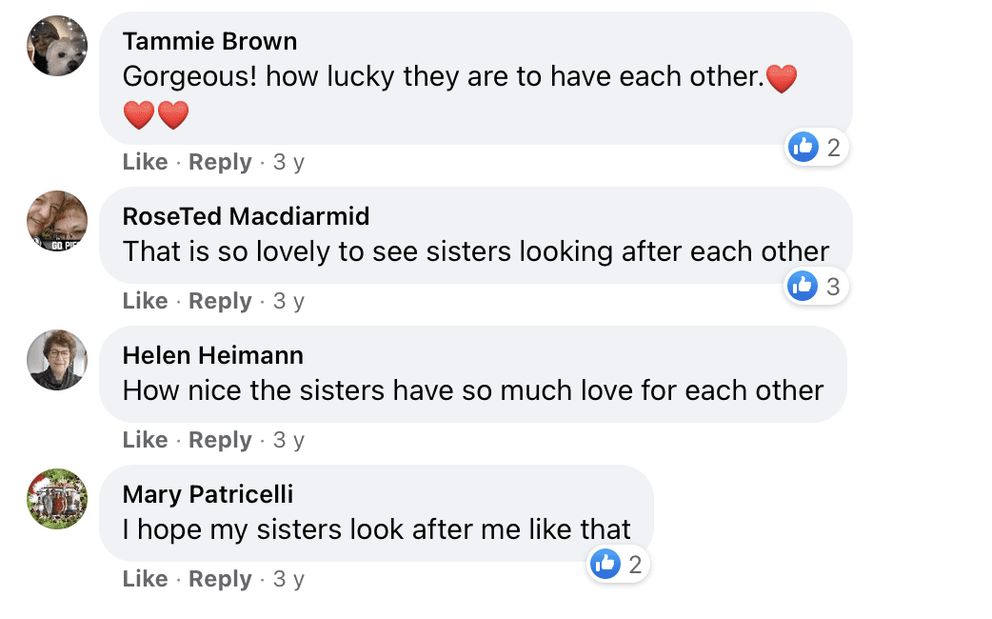 THE FIVE AMAZING GRANDMAS
Talking to Love What Matters, Hauff further explained that the five sisters were in the longest relationship of their lives and had been together longer than their time spent with their parents and spouses. She also added:
"My Grandma and her sisters have influenced my sisters and I to love unconditionally. We call them the Grandmas and they continue to teach us how to love well."
Hauff mentioned that she was inspired by their sisterly love and vowed to love and care for her own sisters in the same way. She also revealed that her grandmother lost her husband 20 years ago, adding she was sure her sisters' love kept her going.
The happy granddaughter noted how her five grandmothers loved doing things together. They went to the gym, store, and church together and loved chatting on the phone daily.
Even more enjoyable was their outing to the local Mexican restaurant. Undoubtedly, the special bond that Hauff's five grandmothers shared is genuinely heartwarming. If this beautiful story touched your heart, share it with your loved ones.