TV star Candace Cameron Bure has been married to former Russian American ice hockey right winger Valeri Bure for two decades. They knew they were meant to be together after going on a first date and got engaged in less than a year.
Actress Candace Cameron Bure was the youngest of four children, born on April 6, 1976, in Panorama City, Los Angeles, California, to Robert and Barbara Cameron.
Candace also decided to act like her older brother, Kirk Cameron (who played Mike Seaver for seven seasons on the show "Growing Pains" from 1985.)
CANDACE CAMERON BURE
She appeared in several commercials and guest-starred on TV shows such as "Punky Brewster" (1984), "St. Elsewhere" (1982), and "Who's the Boss?" (1984).
The child prodigy landed her most prominent role yet at age ten in 1986 after being cast as Donna Jo "D.J." Margaret Tanner-Fuller, the eldest daughter on "Full House" (1987).
After the series ended following a successful eight-year run, Candace tied the knot to Valeri Bure at the age of twenty, and they have been together ever since.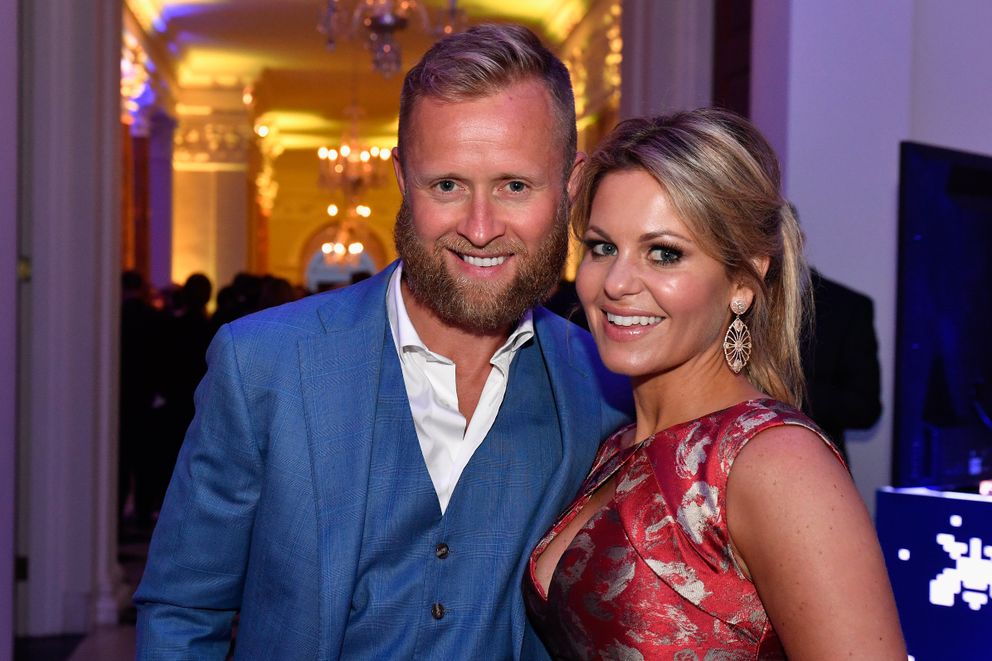 HER SPOUSE VALERI BURE
Valeri was born on June 13, 1974, in Moscow, Russia. His father, Vladimir, competed as a swimmer for the Soviet Union, winning bronze in 1968 and 1972.
Valeri, 48, and his brother Pavel Bure, 51, learned English from TV and radio after uprooting to the United States with their father in September 1991. The siblings are both former ice hockey players and played the right-wing position.
Valeri played ten seasons in the National Hockey League for the Montreal Canadiens and was traded 4th round draft pick in February 1988 to the Calgary Flames.
CANDACE'S RISE TO FAME
Meanwhile, his wife Candace rose to fame after being cast in the '90s popular hit show "Full House." She exclusively told GoodHouseKeeping in April 2020:
"If I am forever recognized as D.J. Tanner and everyone's big sister, I would be thrilled."
"'Full House' and 'Fuller House' have brought so much joy, comfort, and love to so many people. There's nothing more I want to be associated with than wonderful and positive things. I embrace the show as an adult just as I embraced it back when I was ten years old," she continued.
Reflecting on her days on the show, the producer said she felt as though she was like a real-life D.J. at that period in her life – an "average, typical American kid" who, like any teenager, was trying to figure it all out."
As a former child star, Candace expressed gratefulness that she could only share good memories about her time growing up on camera and revealed:
"There wasn't a big focus on image and beauty from producers, so I didn't pay that much attention to it on set. I never had people around me telling me that I had to look a certain weight, and I think that's half of the battle."
MEETING HER FUTURE HUSBAND
After the show went off the air in 1995, Candace reappeared on its reboot spin-off called "Fuller House" years later, and it aired from 2016 to 2020.
As a married woman now, the talk show panelist shared on "Today" back in 2007 how she met her husband, Valeri. The starlet revealed she met him through her co-star Dave Coulier who played Joey on the family sitcom and happens to be a big hockey fan:
"He was at a celebrity charity game, playing. He invited the cast down, but he pulled me over to the side and said, 'Hey, I met this cute Russian hockey player, and I want to introduce you.'"
MARRIAGE TO VALERIE
It turns out that Valeri had been watching her show "Full House" to learn English, "We hit it off, and eleven years, we've been married," she said. One time, Candace revealed that after they met:
"We went on a date the very next day, and in less than a year, we were engaged."
The couple married in 1996, and in commemoration of their 25th wedding anniversary in June 2021, she went down memory lane sharing images from the hockey game where she first met the NHL star.
Candace posted three throwback photos, one showing her posing alongside fellow castmates: Lori Loughlin, the now-late Bob Saget, and Coulier. She described the moments from that night, including a picture of Valeri:
"Centered is a cute, talented Russian pro hockey player in the blue helmet talking with his, superstar brother, Pavel. I've never seen photos 2 and 3 before!! Thank you, internet, for the incredible captured memories!"
Decades later, Candace and Valeri are still going strong thanks to their strong faith in God, which she referenced as their secret to their long union:
"The reality is the glue for us is Jesus. It's the Bible. It's the foundation for us. So, it's not about winning or losing. But doing this journey together."
In 2021, she disclosed on Instagram that she is often asked for marriage advice and wrote, "Grace, Grace, Grace. Communication (which is so important but difficult when one partner isn't willing). Sex. Laughter. Patience. Lots of patience. Love (a verb which must be put into action), it's not just a feeling."
In October that year, Candace posted a heartwarming photo of her and her spouse at a wedding. The pair flashed for the shot and were all dressed up as she donned a red long-sleeved dress, while Valeri opted for a gray suit paired with a white shirt.
In March 2020, she posted another snap of her and the father of her kids in an embrace while out hiking in Malibu and captioned the post, "Making the most of social distancing."
BEING PARENTS
Candace and Valeri have three children: Natasha, 23, Lev, 22, and Maksim, 20. Maksim followed in his father's footsteps in playing hockey.
In March 2021, the mom of three posted a picture of her youngest son posing alongside his teammates on the ice ring and congratulated the boys for a great season.
In May 2021, Maksim graduated high school from NorthStar Christian Academy, and his parents could not be more proud. "We are so happy and proud of you, son. Looking forward to what God has in store for you next," his mom wrote on Instagram alongside a photo of the duo kissing their boy.
Candace loves spending quality time with her brood, and earlier that year, she shared a family portrait, including her kids and spouse posing outside on the front porch, all smiles. "The View" star previously stressed the importance of engaging with them consistently.
The author revealed she talks with her kids nonstop, from having intense conversations to lighthearted ones. "It's important to let them know that you're there for them no matter what."
She and the sports star are supportive of their offspring. Candace shared that as a mom, she would always have an opinion but not in a judgmental way and continue to give advice. She stated the same goes for her husband because they want to be open enough for their kids to feel free to talk to them.


Please scroll below for more stories 🙂