Goldie Hawn has found the life of her life, Kurt Russell, but does not intend on marrying him. After being a couple for decades, the feeling is mutual with the former child star.
During an appearance on the now-defunct talk show, the "Oprah Winfrey Show" in 1991, actress Goldie Hawn teased marriage to Kurt Russell but at the same time revealed that wedding bells were not on the cards for them.
In the interview, TV host Oprah Winfrey mentioned that Hawn called Russell her husband, indirectly asking her whether they wed secretly.
NOT A MARRIAGE CEREMONY
Hawn admitted that she and the "Sky High" star did have an intimate ceremony but quickly clarified that it was not a wedding ceremony as such after the audience cheered her on:
"Well, we had a little ceremony, but it wasn't a marriage ceremony. No, God, no. We're far, far too together for that."
The couple had been together for seven years at the time, and Russell bought a sparkling ring for his love (which she had on her wedding finger) to commemorate their time together.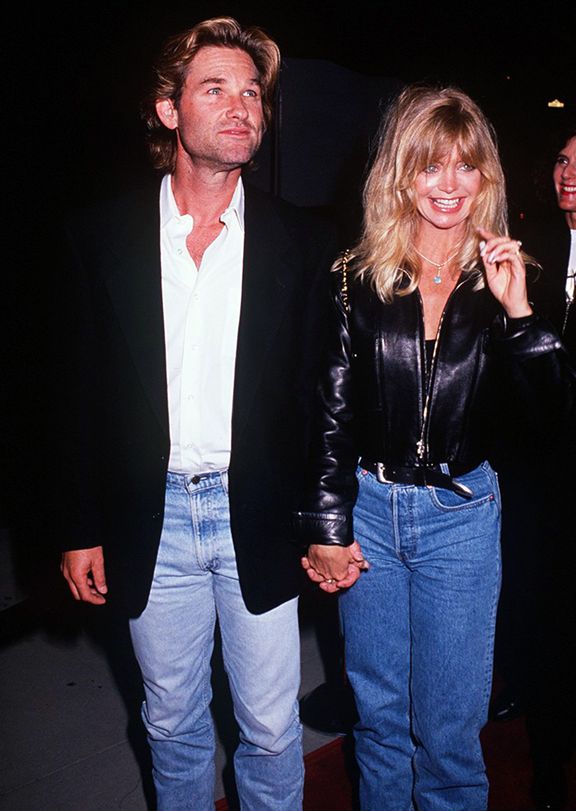 MARRIAGE IS NOT ON THE CARDS
Hawn revealed that she did refer to Russell as her husband instead of lover or boyfriend and explained they were still discussing what they should call each other, and 'husband' was befitting.
Winfrey noted that while many ask when people are getting married, having a piece of paper does not define a couple's love for one another, and Hawn agreed:
"It won't. It won't. And Kurt and I both feel that way. If you leave the door open, you'll never walk out of it, sometimes if you close the door and there is a sense of finality, that a lot of things happen to people."
She explained that people often feel like their life stopped after tying the knot. "It is a piece of paper; it is a vow, but it is a vow that you take every day. You don't stop taking it once. You take it every day," she added.
Russell reiterated something similar in December 2020 during their interview with People. "The Fate of the Furious" star said, "For people like us, the marriage certificate wasn't going to create anything that otherwise we wouldn't have."
PREVIOUS MARRIAGES & KIDS' MARRIAGES
The longtime lovers have previously been married to other people. Hawn was married to Gus Trikonis and Bill Hudson, with whom she shares Oliver Hudson and Kate Hudson. Russell has only been married once to Season Hubley, and they welcomed a son, Boston, in 1980.
Along with their blended family, the Hollywood couple welcomed their son Wyatt Russell in 1986. The two are grandparents to seven kids between their four children, and they are not pressured to get h itched to be happy.
Unlike them, their children got married, and according to Hawn, Wyatt and Oliver are happily married. On the other hand, her daughter Kate was once married, but her marriage fell apart. Hawn added that sometimes marriage does not work.
SWEET BIRTHDAY POST
While she said it is okay for a marriage to end, the starlet emphasized it is not so much about the institution of marriage but the people and the relationship, adding both parties need to be willing to stay together.
Hawn and Russell have been together since 1983 but never walked down the aisle. In celebration of his 70th birthday in March of 2021, the duo teased fans with a proposal on Instagram involving a throwback clip.
The "Cactus Flower" star wished her beau a happy birthday via a sweet post. In the video, the pair presented at an awards ceremony years ago and joked about how they were with everything – except being married.
Hawn leaned over and whispered to Russell, asking, "Is that a proposal?" The Massachusetts native dodged the question stating that she was putting him on the spot but agreed to talk later. Hawn captioned her post:
"Happy birthday, baby! What a wild ride. No, we never got married, but one thing that continues to grow is our love. You're a wild one, brilliant, lovable, childlike, perfectly maddening, a father supreme and deeply funny."
Hawn warm-heartedly said she could not imagine life without Russell at any age. "You're a catch, and you're all mine," the 76-year-old added along with a heart emoji.
HOW WE GOT HERE FIRST IMPRESSION
The much-loved couple appeared on "The Ellen DeGeneres Show" and reminisced about their early years together. When asked what she remembered about laying eyes on Russell the first time they met, Hawn acknowledged that she found him attractive and recalled:
"I loved the way he looked at my children. It was something special, and he's good at that. He's good with kids."
She said she was amazed by that quality in Russell and said while she fell in love, "I also fell in like." For the Washing D.C. native, those are good deals.
KATE'S ENGAGEMENT TO DANNY FUJIKAWA
While she and Russell are content with their romance, Hawn's daughter has shown an interest in a happily ever after with the father of her child.
Regardless of the unknown when it comes to marriage, Kate showed her willingness to try it again after getting engaged to Danny Fujikawa in September 2021.
The "Bride Wars" actress announced the exciting news on social media as she posted a photo of the couple locking lips with the caption, "Let's go," featuring the bride and groom emojis.
The couple met through Kate's friends Sara and Erin Foster, Fujikawa's stepsisters. While they may have known each other for a long time, the timing was never right for the pair as he was younger than her, and Kate was said to be building a family and working hard at the time.
The duo welcomed their first child together, daughter Rani Rose, in October 2018, naming her after the musician's late father. Kate also has kids from previous relationships, sons Ryder, and Bingham.