When a mother talked to her teenage son while he was at a funfair with his friends, she recalled that he sounded happy. But a few hours later, she went through her worst nightmare when an unexpected call turned her world upside down.
Jack Woodley grew up in Newton Aycliffe, Durham, England, and had two younger brothers, Jayden and Jenson. After moving out of the family home, he lived in the Felling area of Gateshead.
But in early October 2021, he informed his mother that he had to leave his house following a burglary and an attack. Woodley had reportedly received a job offer from Amazon in Gateshead and wanted to live in a house with his girlfriend.
An Unlikely Occurrence
However, Woodley was told by social services that he would have to wait until a place was available, recalled Zoey McGill, his mom.
When prosecutor Mark McKone QC questioned the youngsters about why they attacked Woodley, he discovered some chilling details.
The youngster was due to move into a YMCA hostel in Sunderland during the waiting period when something tragic happened. On the night of October 15, 2021, the then-18-year-old Woodley was staying with his family at their holiday home in Whitley Bay.
The Last Conversation
The next day, McGill said her son told her he would head to the hostel after spending the evening with his girlfriend at the Houghton Feast Fair. She shared that Woodley went to the funfair and sent her videos of himself having fun on the rides. McGill recounted:
"I have rang him at half eight and he was happy (sic)."
But on the night of Saturday, October 16, the County Durham mother's world came crashing down when she received a piece of spine-chilling news — her beloved son was severely wounded. She said his girlfriend called to share the heartbreaking information.
An Agonizing Image
Soon afterward, McGill and her husband, Chris, drove to the hospital where their son had been taken. The brokenhearted mother recalled being told to wait in the other room while Woodley fought for his life.
But when she finally saw her son, McGill was taken aback. "We went through and saw him, but it wasn't Jack. That image will stay with us forever," she recounted.
The mother of three said her son loved the fairgrounds, the bright light, and the ambiance of funfairs. But seeing him on the brink of death was a painful image that crushed McGill's heart and soul into a million pieces.
The Hardest Goodbye
The most pressing question was: why was Woodley attacked? The gut-wrenching incident occurred when the then-18-year-old man took his girlfriend to the bus stop after the Houghton fair concluded.
He was said to have been attacked by a gang of teenagers during an altercation. The youngster was found with a stab wound near the Britannia Inn, Newbottle Street, Houghton-le-Spring, and rushed to the hospital.
But despite the medics' best efforts, they couldn't save the young man. Sadly, Woodley succumbed to his wounds and passed away on October 17, leaving his loved ones in shambles.
As her beloved boy took his final breaths, a devastated McGill snapped a heart-shattering picture that encapsulated her grief and love for her son. She expressed:
"I left myself at that bedside, and I'll have this for the rest of my life."
Living With the Pain
Losing Woodley crushed his family and friends, especially his mother, who was overcome with a wave of soul-crushing pain and trauma. In a Facebook post shared on October 23, 2021, McGill wrote:
"I wish there was an easier way out to be with you Jack .. I will live my entire life with this pain. My strength is slipping away slowly without my kids I am nothing. You were the reason I chose to live life to the full (sic)."
In another Facebook post from October 26, McGill stated, "Every morning I wake up I scream all over again …. My heart forever feels like it is bleeding, souls will never rest knowing what they did to you (sic)."
The Trial
During the trial at Newcastle Crown Court in 2022, all gang members, believed to be aged 14 to 17, were convicted of murder. When prosecutor Mark McKone QC questioned the youngsters about why they attacked Woodley, he discovered some chilling details.
The 16-year-old alleged attacker confessed that there probably was a reason, but he couldn't fully recall why he attacked Woodley. Per McKone, most of the other teenagers involved in the incident said the same thing when they were pressed for information.
It turned out that Woodley went to the Houghton Feast to have a lovely time with friends. But he caught the attention of the youth group by chance.
After the weeks-long trial, the prosecutors established that trouble ensued for the young man when he was challenged to a fight by a stranger.
Although he walked away, the group later targeted him simply because they wanted to inflict harm on someone, per the prosecution. Northumbria Police reportedly pressed charges of murder against the teenagers and jailed them for 124 years.
A Heartbreaking Video
In October 2022, almost a year after her son's tragic death, a grieving McGill released a heart-wrenching video where she was seen singing a lovely song to Woodley in his final moments.
The footage showed the mother singing along to the poignant lyrics of "Dancing in the Sky" by Dani and Lizzy:
"I hope you're dancing in the sky. And I hope you're singing in the angel's choir. And I hope the angels know what they have."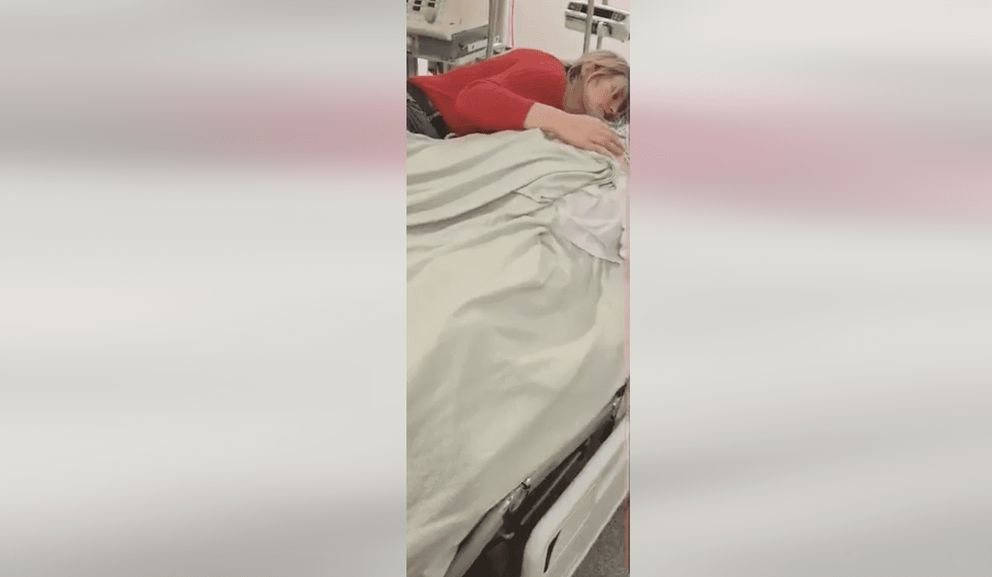 Bidding Farewell
Woodley's distraught mother released the clip to mark the first death anniversary of her son and raise awareness of the devastating impact of knife crime. Of her last moments with her beloved son, McGill recollected:
"It didn't feel real. Unable to cry, hugging my son. Watching him go, the color draining from him as he lay dying."
A Parent's Nightmare
As the Houghton Feast fair returned to the region on October 7, a grief-stricken McGill expressed how she still missed her boy and struggled to come to terms with his absence. She shared:
"It feels like it happened last night. Every day, every single day I wake up and it is like being in a nightmare."
McGill said she visits Woodley's grave at West Cemetery in Newton Aycliffe every night, unable to let go of the beautiful memories and the lovely connection she shared with her sweet boy.
The Vigil
In February 2022, Woodley's younger sibling, Jayden, created a crowdfunding page for a custom memorial stone dedicated to his late brother. He wrote on the GoFundMe account:
"Things have been a real struggle for me and my family since losing Jack. I wanted to do something to help my family pay for a memorial stone dedicated to Jack and his love of Tyson Fury."
Woodley's family held a vigil for him at the place where he was killed on Sunday, October 16, 2022. Family and friends remembered the late teenager and laid down flowers and heartfelt notes in his loving memory.
We send our deepest condolences and prayers to the late teenager's family as they continue to reel from the loss of their beloved son. May God grant eternal peace to Woodley and heal his grieving mom's broken heart.