Prince Harry and Duchess Meghan's behavior with each other was completely different at their grandmother's funeral compared to their previous appearance.
The couple's body language showed sincere respect for the late Queen.
The Duke and Duchess of Sussex showed each other their true love and support after the official ceremony to lay the late monarch to rest.
On September 19, 2022, Prince Harry and his wife, Duchess Meghan, arrived together by car for Queen Elizabeth II's state funeral service. The couple joined other Royal Family members to pay their final respects at Westminster Abbey.
According to Geo News, Meghan wore traditional mourning attire, including a black knee-length cape dress. She also included a black hat and matching shoes but didn't have the traditional veil that other royal women wore.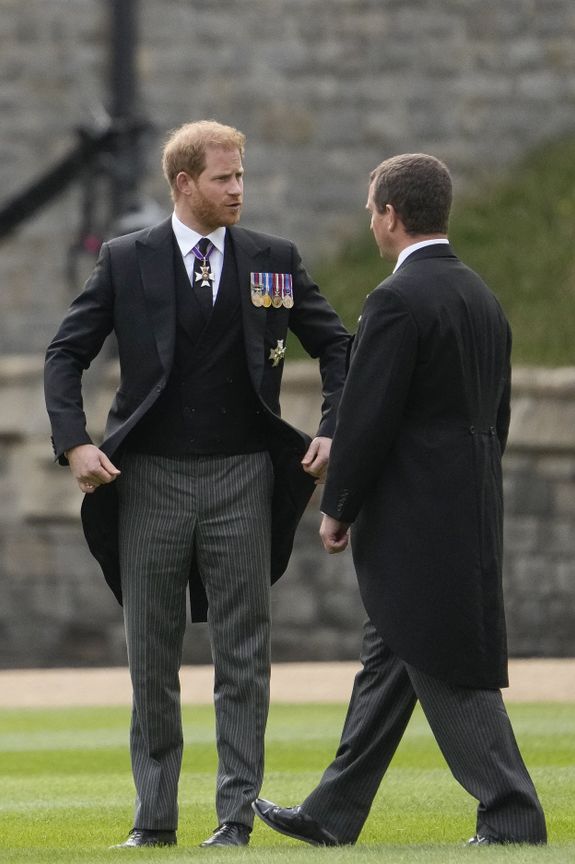 Harry's wife also paid tribute to Her Majesty by wearing a gem she admired by donning pearl earrings. Her husband wore a morning suit and wasn't allowed to wear his military uniform because he was no longer a working member of the Royal Family.
According to 7 News, the event's solemnity drove a "physical wedge" between the couple. A body language expert claimed the Duke and Duchess of Sussex showed a "lack of affection" during the funeral.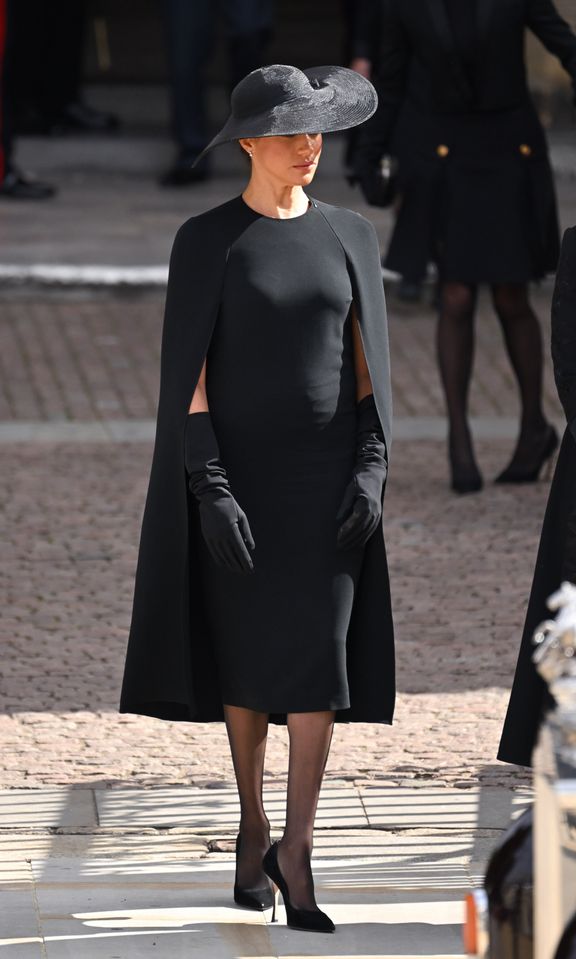 It was believed that the pair were distant because of their last appearance at the Queen's coffin procession. Their behavior there got them criticized by some people who disapproved.
The Criticism Harry and Meghan Received at the Queen's Coffin Procession
On September 15, 2022, Meghan and her husband joined other royals for Her Majesty's coffin procession. The pair got criticized for breaking protocol and holding hands as they left Westminster Hall.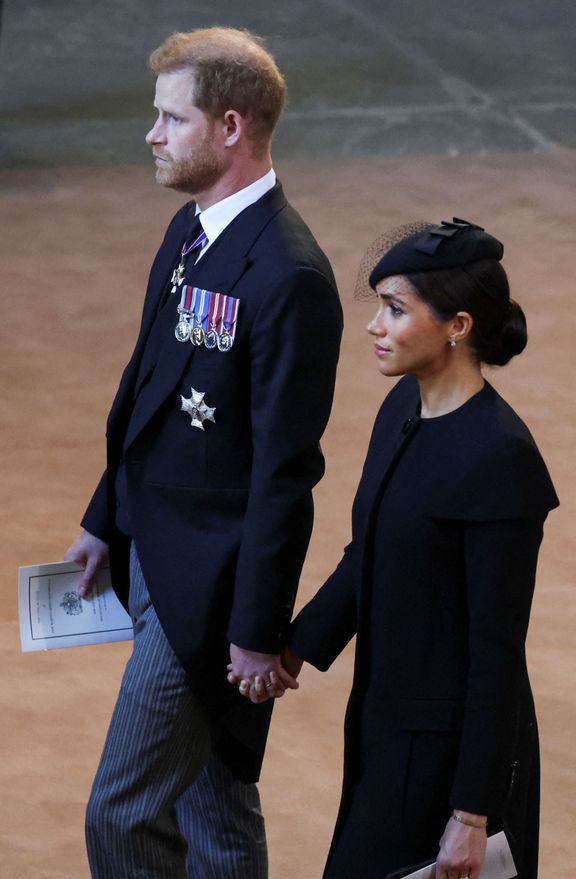 The contradiction was that other Royal Family members looked stoic as they grieved. While discussing the Queen's service with royal expert Jennie Bond, Lorraine Kelly noted how the Duke had looked "absolutely shattered", adding:
"And on the way out [of the service] quite instinctively, he held hands with his wife as he should."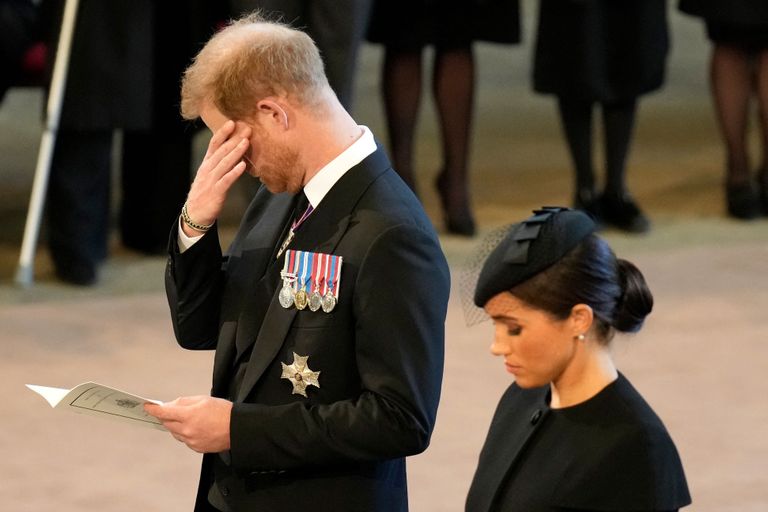 Kelly praised Meghan for "supporting" her husband. The television personality said she didn't see anything wrong with the couple holding hands because it showed how much Harry needed his wife's support.
Bond noted how holding hands seemed to be the pair's trademark and said it was "lovely to see". The royal expert shared that she didn't see why anyone would want the protocol to be followed at a grand occasion like that.
Bond felt Meghan was just supporting her husband. Sadly for Harry, the event was held a day before his 38th birthday, and it was probably a sad one for him and brought back memories of when he lost his mother, Princess Diana.
The Different Way the Sussexes Behaved at the Late Monarch's Funeral
After Harry and Meghan's hand-holding at the lying in state service made headlines and they got criticized for being "inappropriate", the couple did things differently at the Queen's funeral. Katia Loisel, a body language expert, believed that the Sussexes didn't hold hands at the funeral because of the judgments they received at the previous service.
Instead, Meghan and her husband kept a formal distance from each other. The connection specialist thought the couple chose to show respect and keep up with the event's seriousness by walking side by side.
Loisel noted how the Duchess kept her head bowed, hands clasped in front, and eyes downcast, unlike most of the procession that walked with their arms by their sides. The body language expert believed Meghan's gesture was meant as a self-protective one that showed uncertainty or discomfort and "a sign of respect".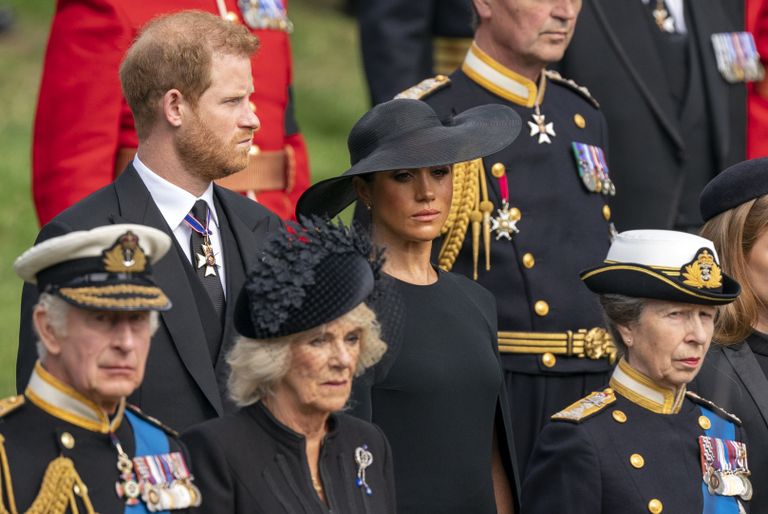 Speaking to Us Weekly, another body language expert, Blanca Cobb, thought Harry's wife's body language reflected "deference" to Her Majesty. The royal's arms were close to her sides and sometimes held in front, also known as "the fig leaf".
Cobb said the move showed respect and kept the focus away from the doer. Bowing her head and making little movements showed Meghan's sad emotional state, according to the body language expert.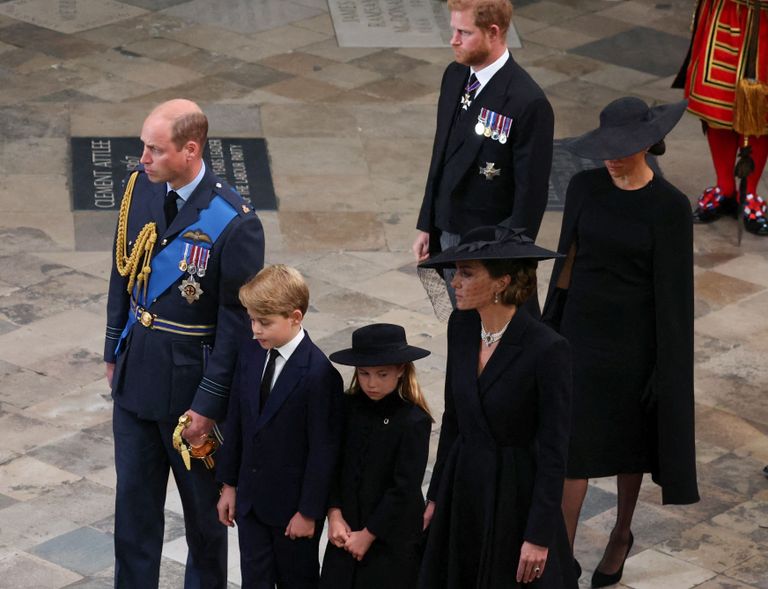 Judi James, another body language expert and author, said Meghan had given her husband "silent support" during his grandmother's funeral. She described the Duchess's body language at the service as "understated", stating:
"She seemed to offer a continuation of that silent support to her husband while sitting and walking with a look of dignity tinged with sadness."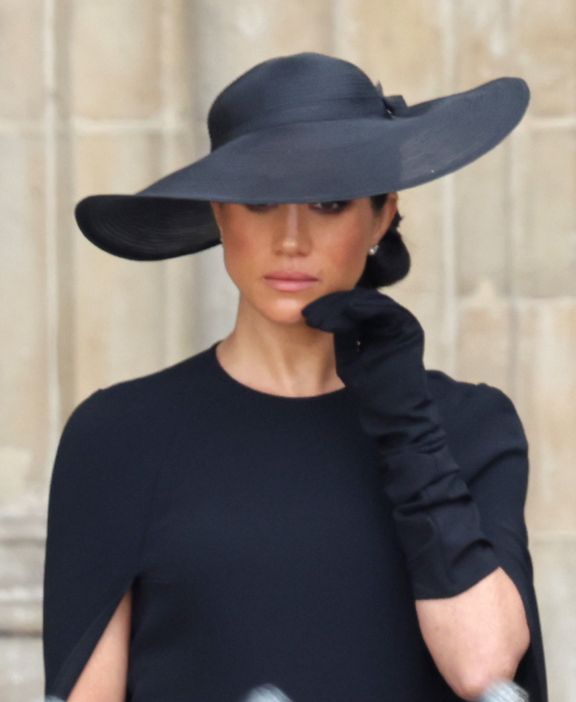 Metro noted how Harry seemed to lose the "struggle with his emotions" during the Westminster Abbey service. James shared how the royal had an "expression of sadness" that worsened when the singing of "God Save The King" occurred.
Speaking to Metro, James said having the words changed from "God Save The Queen" to "the King" could elicit strong emotions as the Queen's death and upcoming changes sank in. His wife allegedly became emotional at the event too.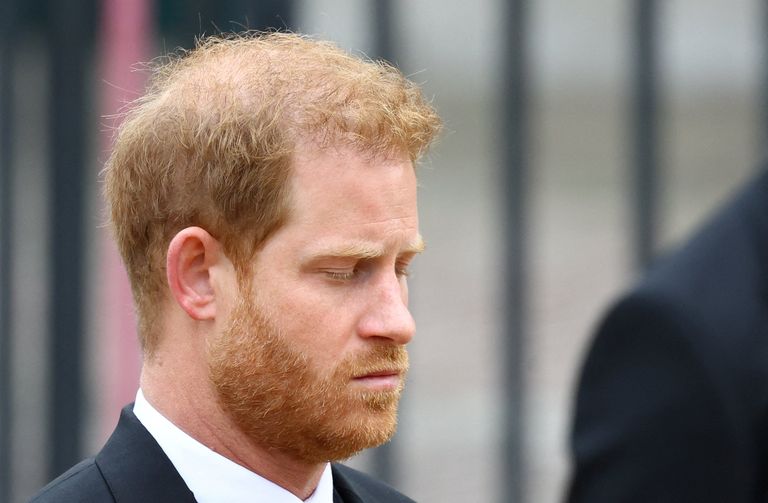 While Her Majesty's coffin was transferred into a hearse at Wellington Arch, Meghan was spotted with a quivering lip as she wiped away tears. From that point, the casket took its final journey to Windsor Castle.
How Harry and Meghan Finally Came Together after the Late Queen's Funeral and the Benefits of Hand-Holding
The Sun noticed that Harry and his wife finally came together after the late monarch's funeral. The couple seemed to hold hands as a way to comfort each other as they sat in the second row at the ceremony.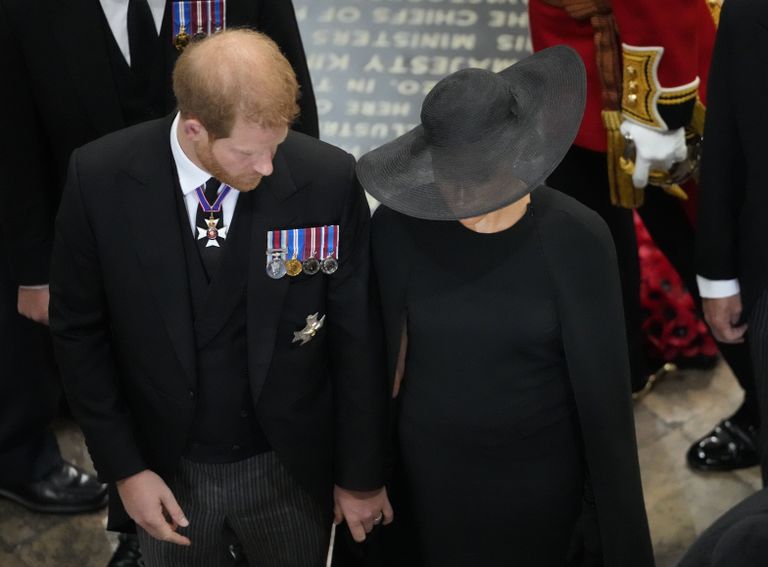 Speaking to Cosmopolitan, psychotherapist Belynder Walia explained that holding hands brought "comfort, warmth, pain release and friendship" to people who felt equally compassionate or empathetic.
The 2006 study conducted by James Coan and his colleagues showed that hand-holding reduced stress.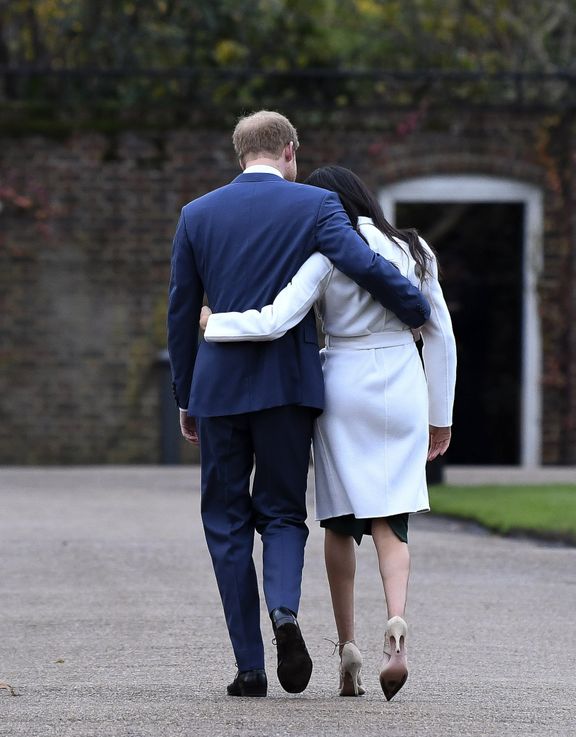 Hand holding felt nice when it was done with a loving partner, but scientific studies proved the positive feelings felt were much deeper. Silva Neves, a relationship psychotherapist and COSRT accredited psychosexual, explained:
"Many studies in neuroscience show that touch produces oxytocin, a feel-good chemical that is very good for your mental and physical health."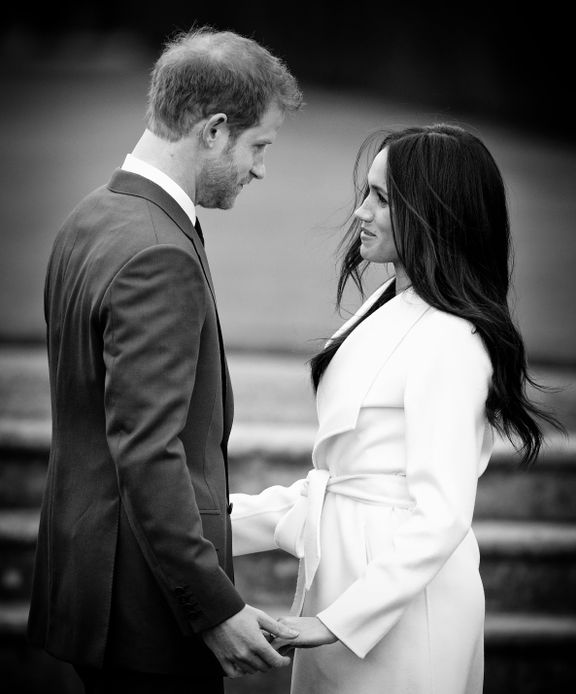 Janina Scarlet, an author and clinical psychologist, said the chemical was a hormone linked to connection, bonding, empathy, and trust-building. The clinical psychologist shared how the gesture could reduce psychological and physical pain while strengthening romantic bonds.
She said research studies showed receiving a loving touch from your partner could reduce blood pressure, pain perception, reactivity to stress, and anxiety. Scarlet also noted how people who experienced high distress could have its symptoms alleviated with hand-holding or physical touch.
Dr. Tony Ortega, another clinical psychologist, also said holding hands was a positive way of "managing negative emotions". The 2006 study conducted by James Coan and his colleagues showed that hand-holding reduced stress.