Life is fragile, and the world as we know it can turn on its head instantly—and painfully. An Indiana cop was looking forward to getting married and spending forever with the love of her life. Tragically, fate had other plans.
Many people go through life making plans, dreaming dreams, and setting goals for the future. However, they don't always live to see them become a reality.
One commendable cop's heartbreaking story will encourage you to seize every moment and live passionately today.
A Sweet But Strong Woman
Richmond police officer Seara Burton spread joy and positivity wherever she went. High school teachers remembered her as a "gifted athlete" with an "amazing work ethic."
Nobody was surprised when she joined the police force after graduating from Northeastern High School in 2012. While the avid basketball player had a fierce side, she was also sweet.
Burton responded to a call for assistance at a traffic stop close to North 12th Street and C Street in Richmond—never imagining it would change her life forever.
Burton's fifth-grade teacher Sarah Moore recalled: "She was a sweet little girl who always had a smile. She was a great friend to others and could always hold her own."
She Made History
The young woman excelled in her roles as a law enforcement officer and was a four-year veteran of the Richmond Police Department. She also stepped into the role of "K-9 handler," the first female to ever do so in her city.
Burton lived a great life, and she couldn't wait to get married on August 19, 2022. She was besotted with her partner, Sierra Neal, and the duo made a beautiful couple. However, their plans were disastrously derailed nine days before the wedding.
A Life-Changing Moment
Burton responded to a call for assistance at a traffic stop close to North 12th Street and C Street in Richmond—never imagining it would change her life forever.
Something shocking happened as Burton, and her fellow K-9 partner stopped a man riding a moped. The driver of the small motorcycle opened fire, hitt ing Burton.
Prayers For Her Survival
The incident left the officer in a critical condition, but community members hoped for good news. Police Chief Mike Britt added:
"As we wait through this, I found everybody's prayers have been the most effective tool yet. We know she is still here by God's choice."
Stunned By Community Support
The police team and Burton's loved ones were grateful for the "small improvements," believing she would survive miraculously.
While they knew the officer's road to recovery wouldn't be easy, everyone remained positive. Family and friends were also encouraged by the faith of their community. Britt said:
"If you were at the prayer vigil the other evening, you saw that. I couldn't believe my eyes when I came out the door and saw just how much support this community actually provided."
A Heartbreakingly Beautiful Gesture
Sadly, Burton and her partner couldn't have the wedding day of their dreams. However, Neal wanted to do something special on the day they would've said, "I do." She wore her wedding dress while visiting Burton in the hospital. In a heartfelt Facebook post, she also wrote:
"Seara Burton, I love you more than anything in this world, and I am so proud of you. You are my person."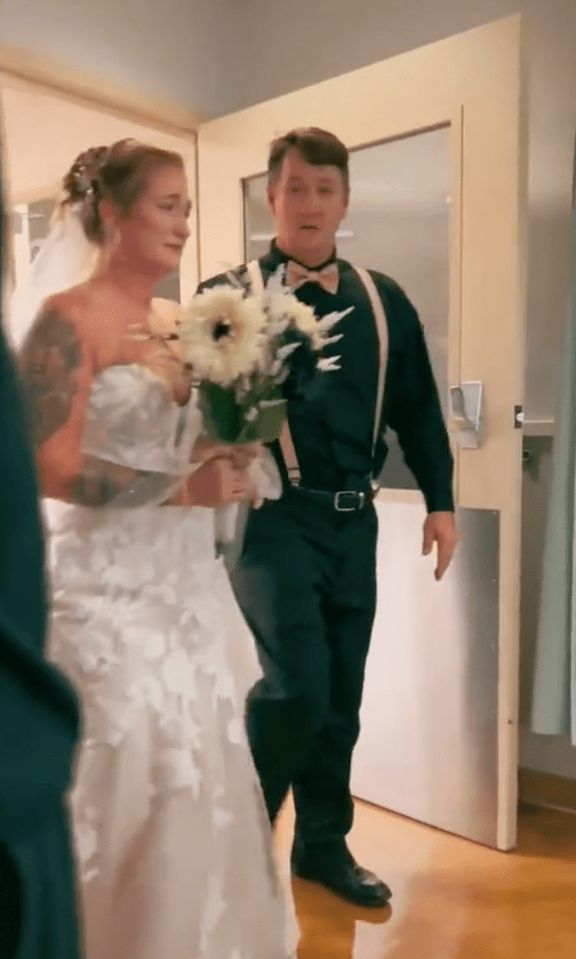 The Devastating News
Tragically, Richmond Police Department released a statement at the end of August revealing heartbreaking news. They stated: "Despite the very best efforts of all the doctors and nurses, Officer Seara Burton's injuries have been determined to be unrecoverable."
The statement also revealed that Seara would be taken off life support on September 1, 2022. However, there was one piece of hope amid the pain—she would save lives via organ donation. The post continued:
"Seara will live on and continue to be a hero with her selfless gift of organ donation. Officer Burton will continue to serve others long after her passing."
Paying Respects To A Fallen Hero
The family sincerely thanked and appreciated the public's kindness and concern. A community member visited the prayer wall to pay her respects and said:
"I came to light a candle and leave a flower. You always expect it to happen in the big cities. You don't expect it to happen in our small town."
The Online Response
The love and messages of condolences continued to stream in for Burton online, with netizens offering thoughts and prayers for the grieving family:
"Thoughts, hugs, love, and prayers to u both. You guys do not deserve this, and it saddens me that you have to walk this journey!"
– (Tim Amber Ropp-Witherspoon) August 23, 2022
"Such a strong officer, friend, and forever love. I pray that you and the family can find more than a mustard seed-sized type of peace. There is absolutely NOTHING I can say or do to take away your pain. May God bless you and the entire family!"
– (Tiffany Williams-Fashimpaur) August 31, 2022
"I just read up on this story, and my heart broke for you and your families. A beautiful 'angel' called home too soon, but her watch will continue from above. May you hold those beautiful memories you two made and shared to help during your saddest of days."
– (Marianne Zappala) September 1, 2022
"Sierra, I'm so sorry to hear about this outcome. Grateful that she lives on helping others. When I met you at Miami Valley, it was touching to see the strength you shared about her and yourself!"
– (Saundra Coleman) September 1, 2022
Losing a loved one is never easy, and Burton would be missed by everyone who knew her. She would also be remembered as a hero, and even after her death, she continued giving others the gift of life. RIP, brave angel!
We extend heartfelt thoughts and prayers to Sierra and the Burton family as they grieve during this devastating time.
Click here for a story about an organ donor whose death was not in vain. An adorable nine-year-old boy tragically passed away in a car accident—now, he will save lives.
Share this story with your friends. It might brighten their day and inspire them.