John Wayne's iconic career did not stop him from fulfilling fatherly duties. The actor welcomed his youngest son at 56, and knowing that he would not be around for long, Wayne formed a strong bond with the boy.
John Wayne was a staple in the film industry for many years. On-screen, he often acted shy around women, and in reality, he did not portray the look of a playboy. However, the actor lived differently from what many would have expected.
Wayne was always webbed in controversies involving women and alcohol. Also, he was an incorrigible philanderer who, despite being married, had affairs with different women.
The "The Quiet Man" star was married to three different women but never found any of them satisfying enough. His first wife was Josephine Saenz, a society girl from Pasadena.
Saenz grew weary of her husband's company and her time on set with him. Their marriage was not perfect either, as Wayne was a serial cheat.
He had a three-year-long affair with co-star Marlene Dietrich, a German, and they never concealed the relationship. The actor later confessed that his most exciting sexual experience was with his German mistress.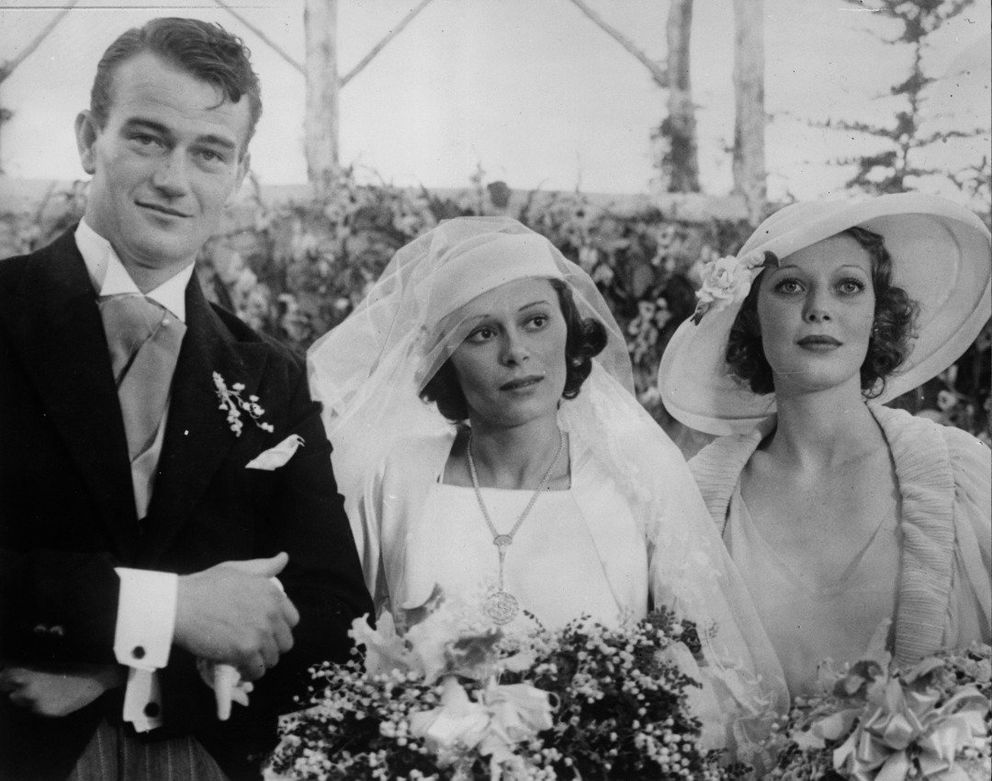 Sadly, his marriage with Saenz ended following his lack of discipline and her incessant rants about the affairs. The couple had four kids.
Not long after the split from his wife of twelve years, Wayne married Esperanza Baur Diaz Ceballos, against the advice of his close friends. She was deemed as actor Ray Milland's "port of call" when he entered Mexico, and her mother had a history with brothels.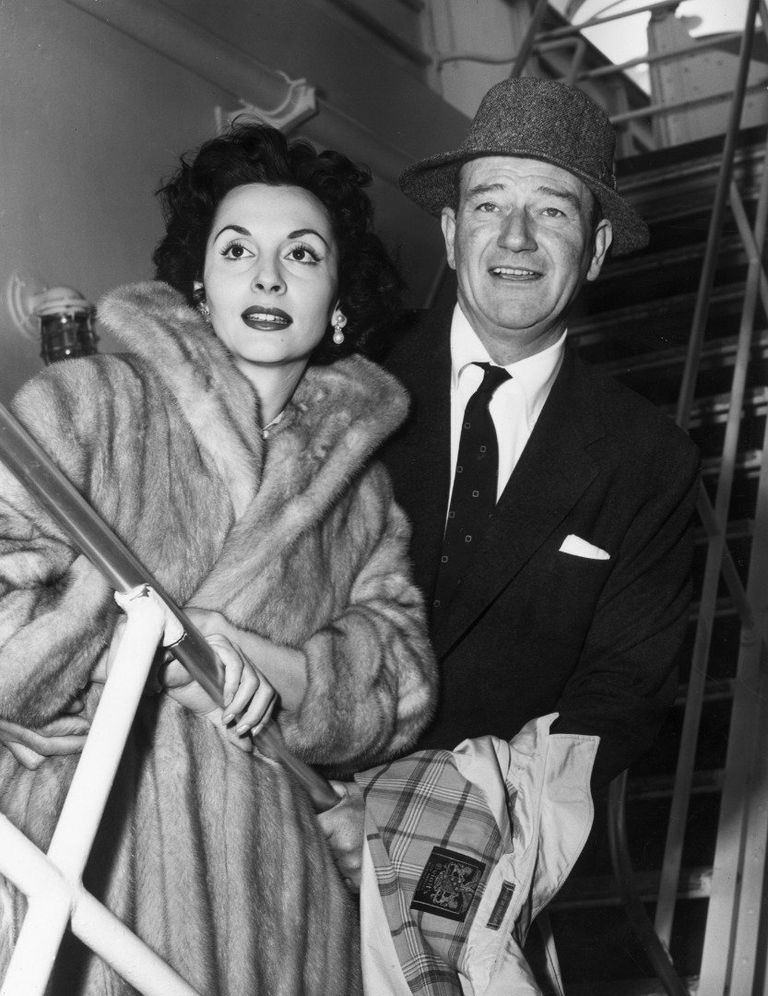 Somehow, the couple carried on for a few years. They shared a passionate intimacy, and Ceballos did not object to her husband's regular drinking habits.
Eventually, the relationship worsened; she became an alcoholic and frowned on her husband's alleged affair with Gail Rusell, leading them to argue ceaselessly. At one point, she threatened to shoot him.
They had no children, so it was easy to end their marriage. Before the ink dried on the divorce papers, while scouting for a location for his film "The Alamo," the actor found love in the arms of a Peruvian beauty.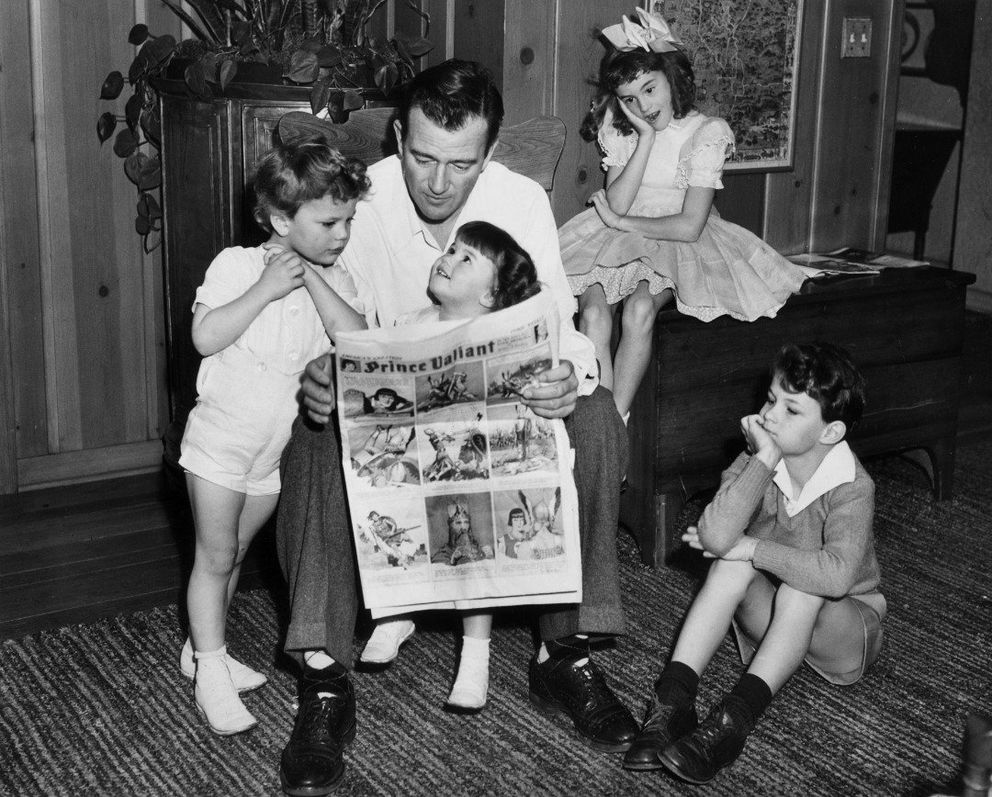 Pilar Pallete, his third wife, was the child of a Peruvian senator, and she found it challenging adjusting to the Hollywood lifestyle. There was also a twenty-one-year age gap between them; still, she said "I do" to the Hollywood celebrity in 1954 in Kona, Hawaii.
Unfortunately, like her predecessors, she also dealt with Wayne's infidelity. He had met Maureen O'Hara before their marriage, and they continued their affair for years.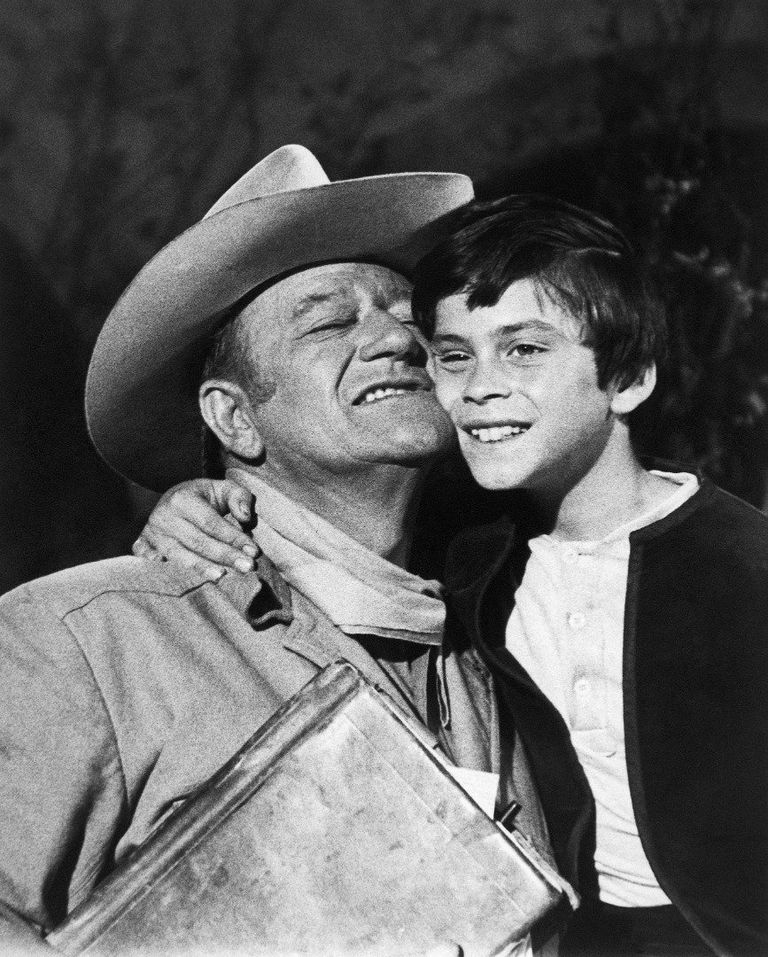 Like the first, it was no secret; the lovers planned to meet on his yacht. A close source revealed that Wayne was truly in love with her but could not marry her because she was tough (he thought it would be impossible to control her).
Palette, who welcomed three kids with Wayne, separated from the actor in 1973, a few years before his death, she moved out of their home. But the couple never divorced.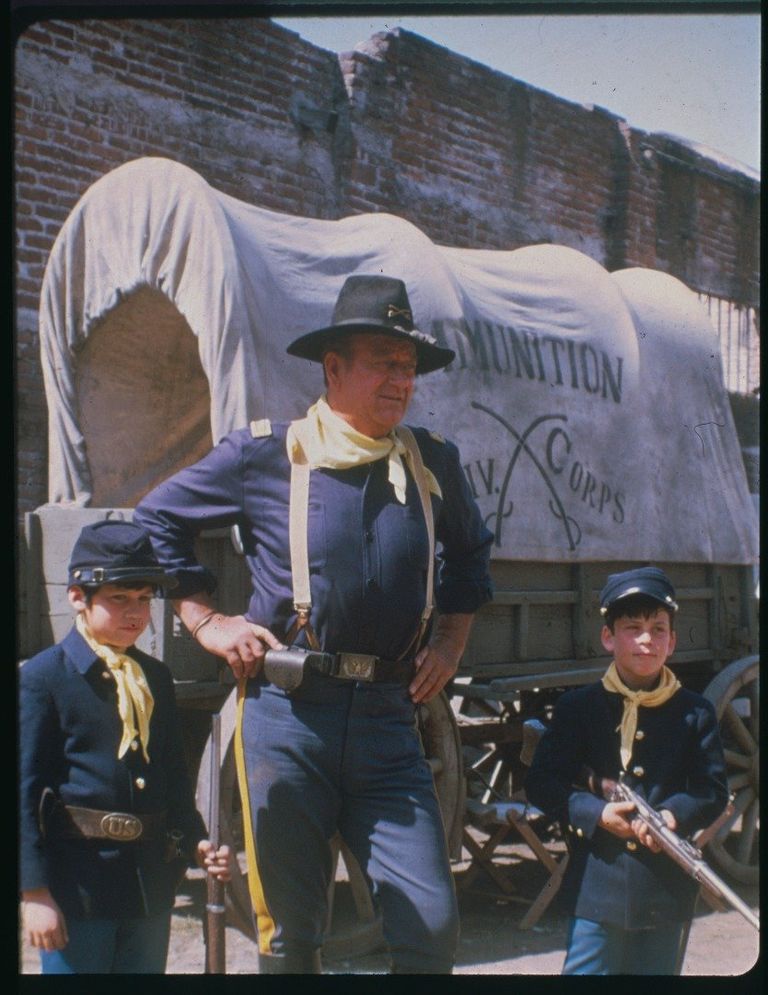 WAYNE WAS AN EXCELLENT DAD TO HIS KIDS DESPITE THE RELATIONSHIP WITH THEIR MOTHERS— MEET THEM
Wayne might have been a controversial man, but he was an excellent actor and even a better dad. He shared a fantastic relationship with his seven kids, despite the relationship with their mothers. The "The Quiet Man" star's parenting skills helped his children navigate their unique lifestyles.
His first child, Michael, was born in 1934. Wayne's mini-me kept an admirable relationship with his dad at home and during work. Michael produced some of his dad's movies and worked as the "John Wayne Foundation president."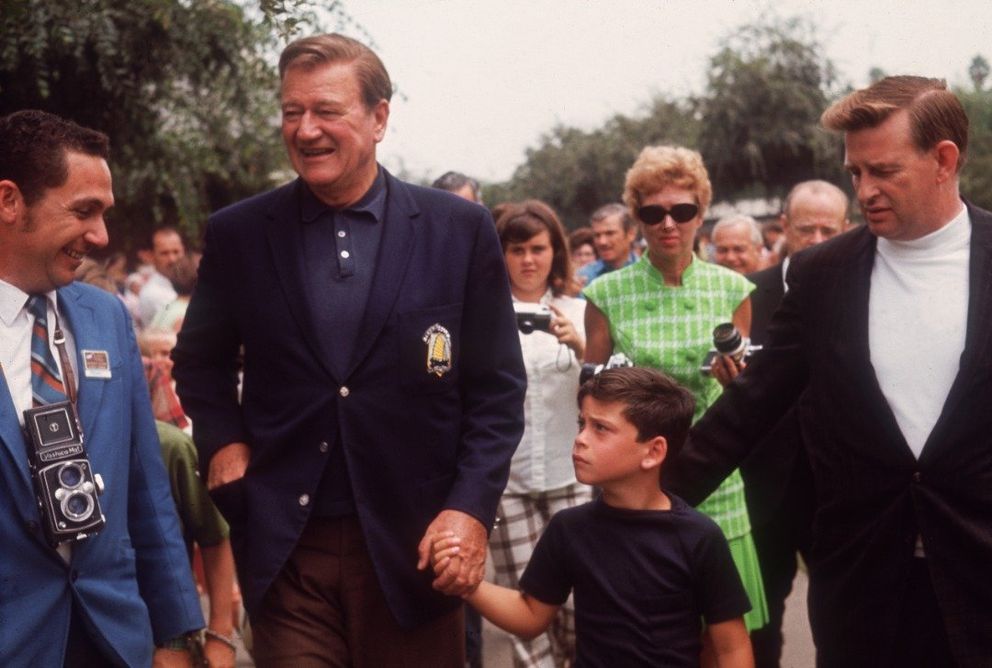 His sister, Mary Antonia, born two years later, lived a more reserved life with her husband and eight children. She appeared in "The Quiet Man" and "The Alamo" in her early years alongside her father.
Saenz and Wayne's third child, Patrick, is as impressive as his father on-screen. Some of his notable works include "Mister Roberts," "The Searchers," "The People That Time Forgot," and "Sinbad."
Melinda was their last child, born a year after Patrick. As a child, she starred in some of her dad's movies. However, her movie career was not long-term.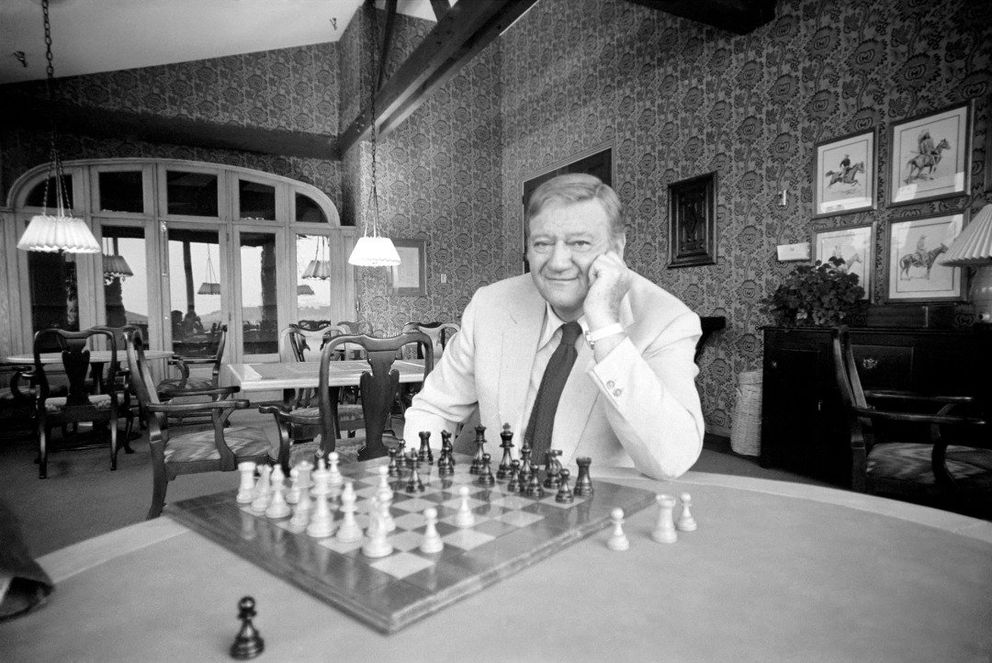 Melinda married Gregory Robert Munoz, and after five children, the couple divorced. She now resides in Newport Beach, on Balboa Island.
Wayne's first child with Pallete, Aissa, starred in movies at a young age but became a successful lawyer. She trained as a criminal prosecutor for Los Angeles.
Marisa, their second daughter, was born in 1966 and, like her siblings, was a child actress. But she did not further her career. Instead, Marisa settled into family life with her husband and their two kids.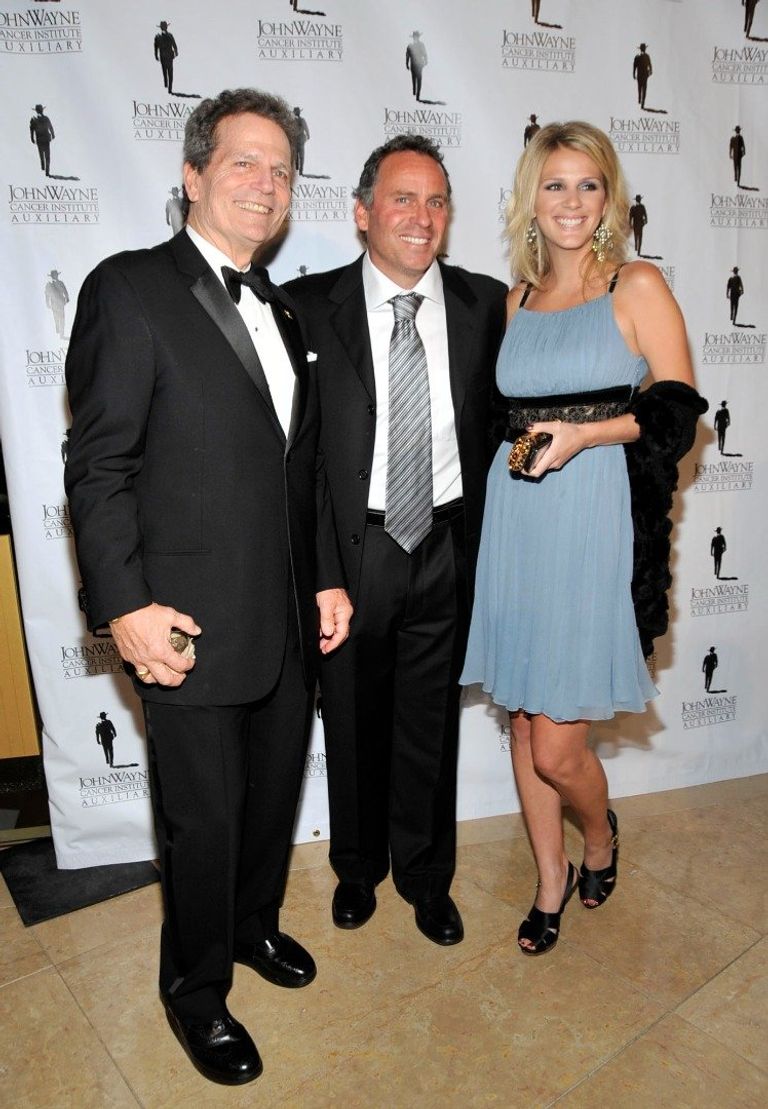 WAYNE'S RELATIONSHIP WITH THE SON HE KNEW HE WOULD NEVER SEE GROW
Ethan was the actor's youngest son who shared a special bond with his dad. Wayne had him at age 56 and knew that he would miss him growing up.
While recounting his childhood, Ethan maintained that they lived like every average family in Newport Beach, California. The only difference was that they had tons of mail in their mailbox compared to other neighbors.
His dad also was free with the neighbors, loved to cook his meals, and answered the door himself. Also, according to Ethan, there was no bodyguard or security.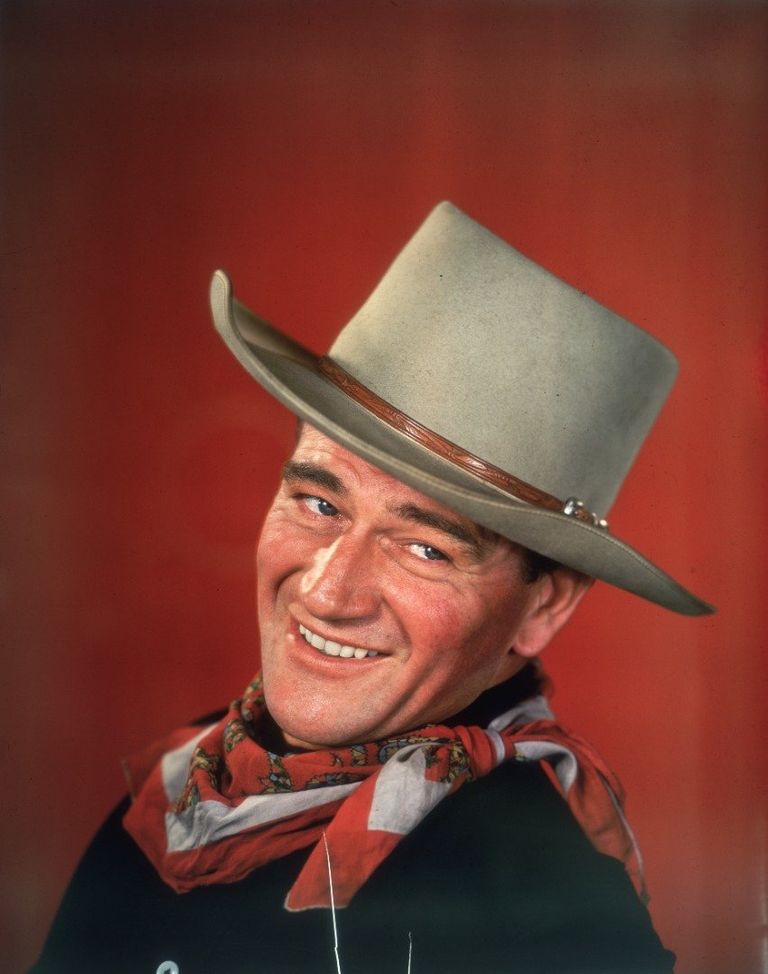 Knowing that he would not be around for long, Wayne taught his son some essential life lessons like chores and discipline to work. According to Ethan:
"He took with me on location. I'd be home schooled down on location in Mexico because he knew he wasn't going to be around for me when I was older,[…]or if he went on his boat, The Wild Goose."
Ethan's time with his father gave him the tools to succeed in his career path. He sits as the chairman of John Wayne Enterprises and John Wayne Cancer Foundation while working in the entertainment industry.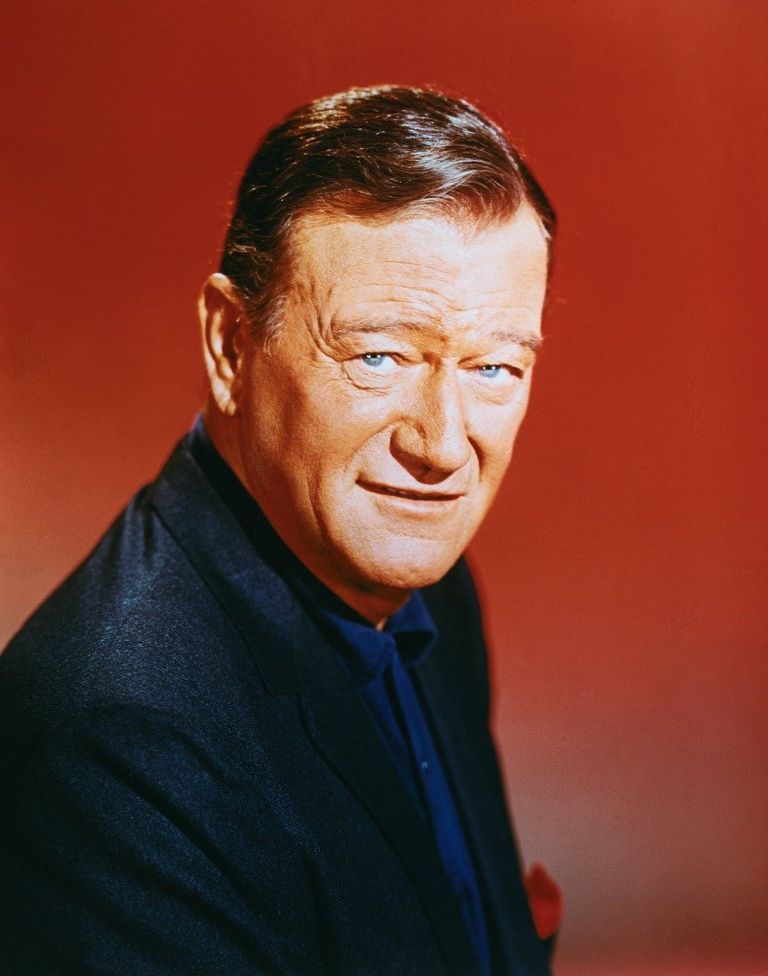 Despite the special bond he shared with Ethan, Wayne's kids were in awe of the "The Quiet Man" actor. Since Wayne died, they have continued to glorify his works on TV and as a father.
Speaking about his time with the family's patriarch, Ethan revealed: "I loved everything I did with my dad. He carried these autograph cards, and as a little kid, it was my job to have them ready if we were out in public and he was trying to get through a crowd….I came along when he was 56."
The proud son continued: "I recently read that someone asked my father why he took me out of school to travel with him. He answered, 'Boys go away when they get to be 16 or 17, and they don't come back until they're in their 30s. I won't be there for Ethan when he's in his 30s, so I'm gonna love him now.'"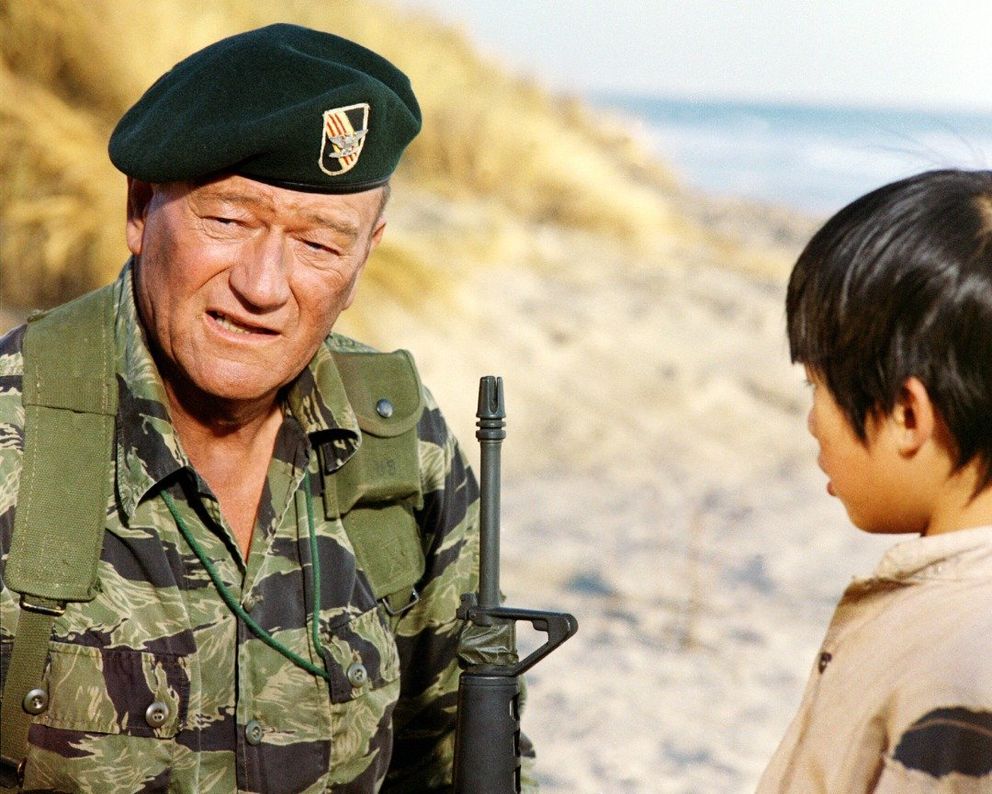 His sister, Aissa, added that their father was merciful even when they committed a crime. Melinda also mentioned that despite living with their mom, they maintained contact with their father. She explained:
"When he was dying, he turned to my late brother, Michael, and said, 'Whatever you do, use my name for the benefit of the public. If it weren't for the public, I wouldn't be here, you wouldn't be here. We wouldn't have had the life we had.'"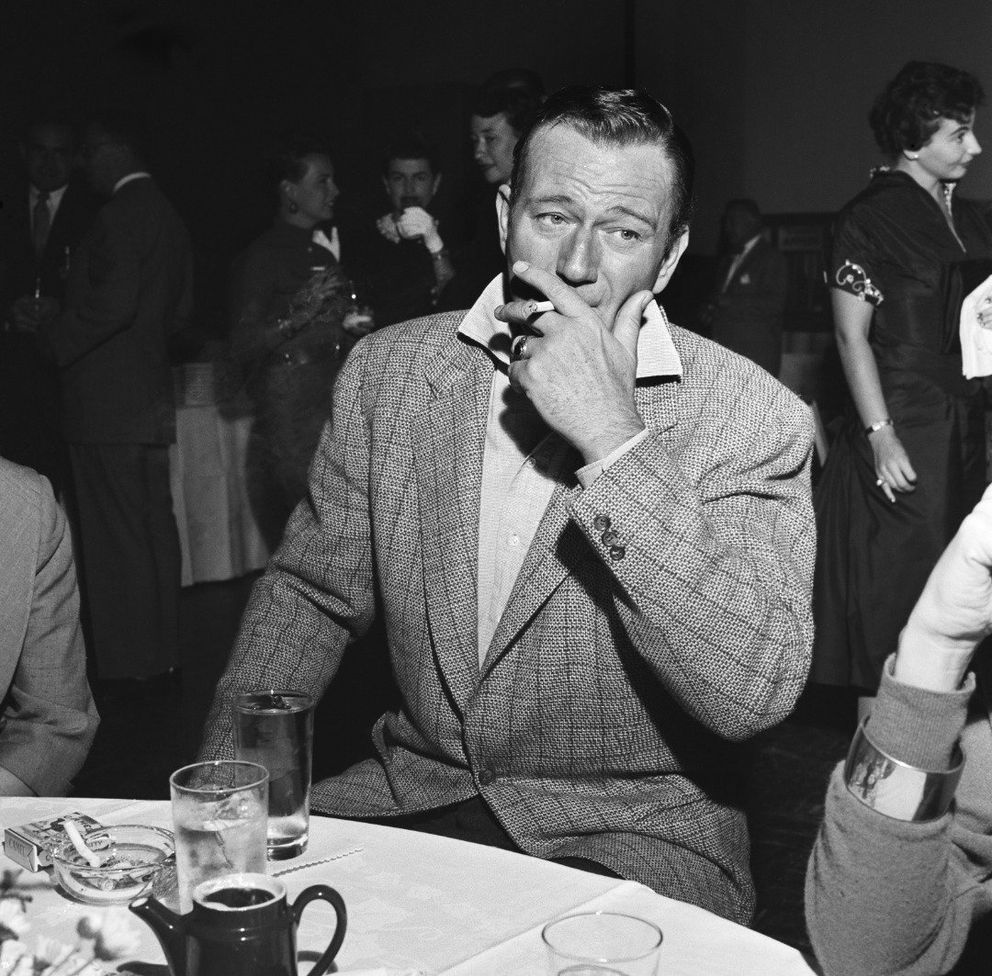 THE EXIT OF A MOVIE ICON
John's womanizing was not the only demon he struggled with; the actor could not give up his love for the bottle and smoked four to five packs of cigarettes a day.
Eventually, he died in June 1979, at age 72, after a long-term battle with cancer. He was survived by seven children and an estranged wife.
In his will, the actor excluded his wife and left his $6.85 million estate to his seven kids. The provision for his offspring involved them getting $5000 multiplied by the difference between age 21 and their ages at the time of his death.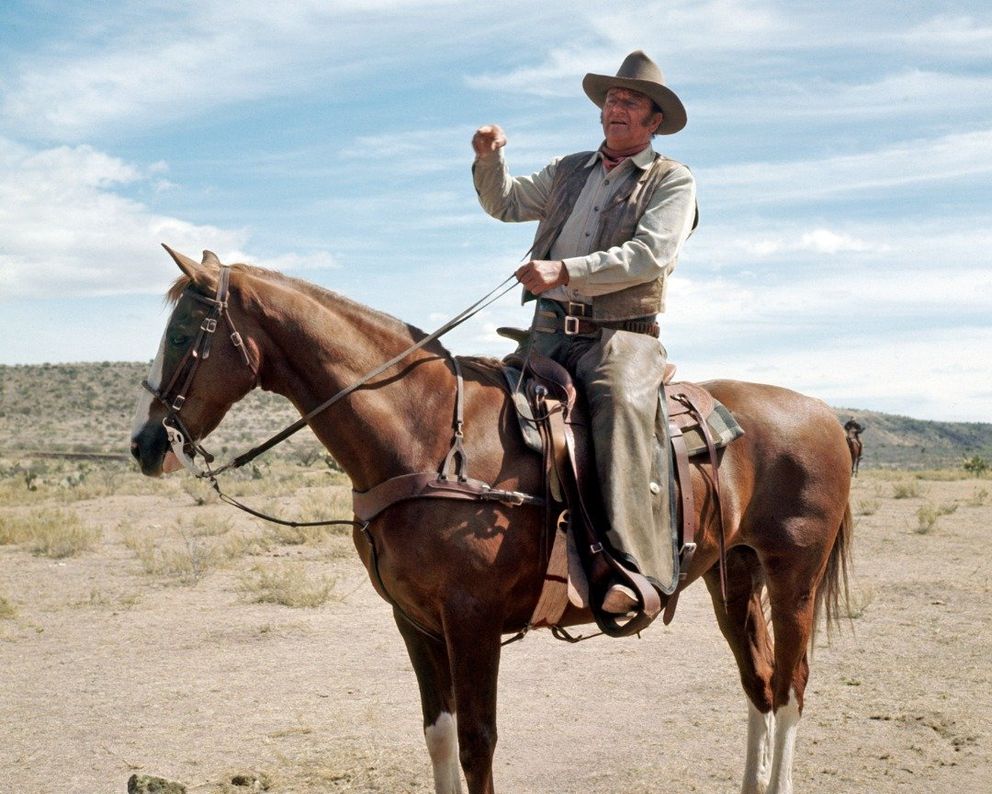 Wayne also shared his fortune with organizations that would secure his estate with tax reductions. In addition, his possessions, including paintings, American-Indian artifacts, and sculptures, were donated to these organizations.
While Pallete did not benefit from the will, provisions were made for her in the separation agreement. Her husband also insisted that Saenz, his first wife, be given a monthly income, and it is to be shared by her kids after her death.
Wayne's burial site was a secret for many years until 2004, when it was discovered that the movie star was buried in Newport Beach, with a private ceremony hosted by the family.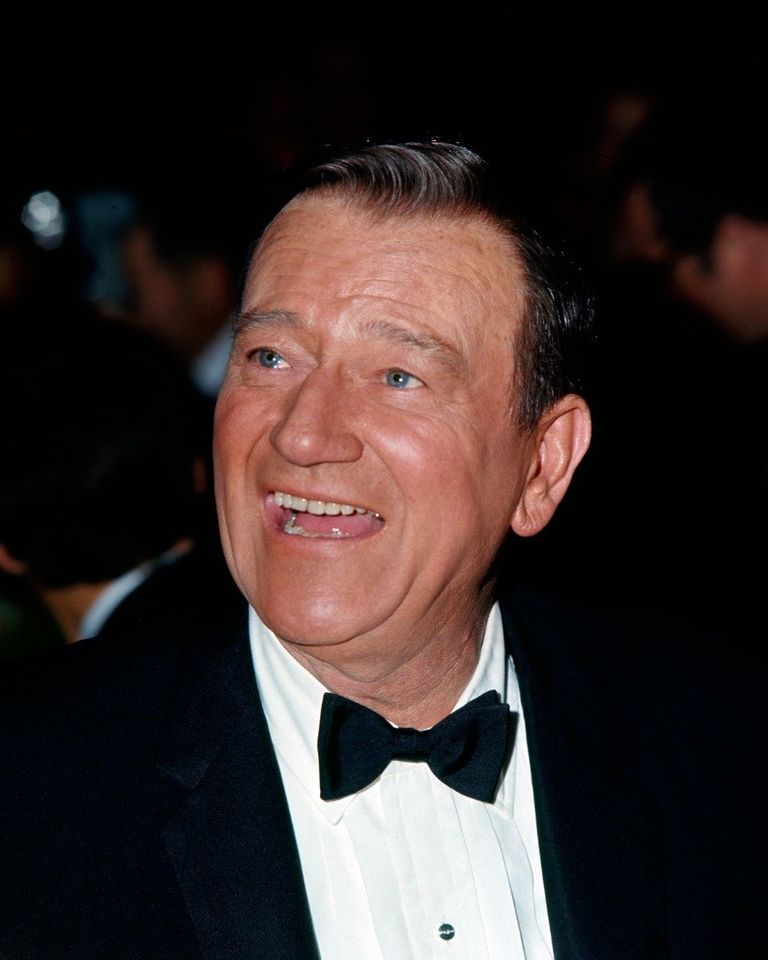 WAYNE'S LEGACY LIVES ON IN HIS KIDS
Apart from sharing their experiences with their celebrity dad, Wayne's kids have continually honored the deceased.
When the University of California's School of Cinematic Arts students and alumni protested to remove Wayne's tribute and a further demonstration to remove his statue from the town, following his thoughts on white supremacy, Marisa, his last daughter, defended the actor.
A few years before his death, Wayne proudly confessed his belief in white supremacy, and the consequence was the effects of the protests.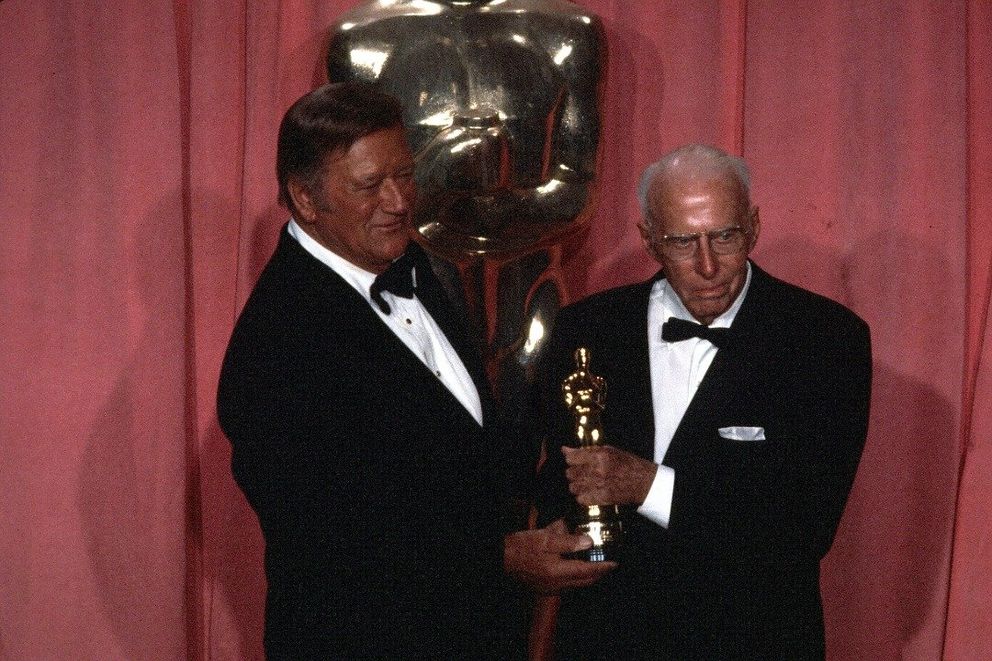 Marisa explained that her dad had his views on matters but respected other opinions. On the other hand, Aissa and Ethan supported their sister, claiming that their dad was a humanist who showed affection to people. Ethan said:
"Let me make one thing clear — John Wayne was not a racist. Those who knew him knew he judged everyone as an individual and believed everyone deserved an equal opportunity."
Over the years, his children's accounts and shared experiences from close associates did not hint that he was a racist. Instead, many details about Wayne centers on his personal life, contributions to the entertainment scene, and acts of kindness through his foundation.