When a passerby noticed a man in a wheelchair unable to cross the street due to piled up snow, he decided to personally hop out of his car and come and clear the walkway for him.
Those who live in areas with a decent amount of snow during the winters know how icy, wet and packed with snow the sidewalks can get. While this can often lead to wet shoes and difficult journeys for those who like to walk, it can become nearly impossible to get around for the disabled, especially for for those in wheelchairs.
Troy Jodrie was at an intersection in New Minas, Nova Scotia, when he saw a car across the street quickly pull over and a man from inside jump out with a snow shovel. The sidewalk next to the street had been covered with snow, walling off the entry to the street, likely from a snowplow that had been clearing streets the night before. A man wearing a yellow jacket and riding a mobility scooter was sitting before the wall of snow, unsure about how he was going to cross the street to get to his destination.
"I witnessed a vehicle pull over very abruptly this afternoon in New Minas," Troy said.
A kind man stopped his car and pulled a shovel out of his trunk, then immediately began shoveling the blocked walkway for the stranger in the wheelchair.
"The driver jumped out, grabbed a shovel from the back of his vehicle, ran over to the sidewalk/crosswalk blocked with snow, and immediately began clearing it for a gentleman riding a mobility scooter who couldn't cross. ??"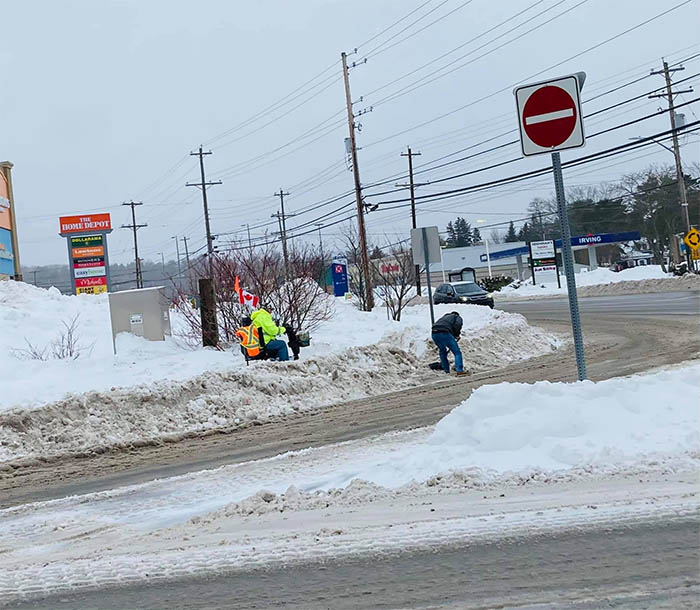 Many hearts online have deeply appreciated this man's act of kindness, as anyone who has been in or has helped someone in a wheelchair knows that he would not have been able to cross the snowbank on his own.
"Thank you for making a difference in this gentleman's life," wrote Linda B.
"See everyone, there [are] good people left in the community. Thank you to the gentleman that did this," wrote Tristan B.
"This world has some wonderful people, Bless his heart," commented Elaine M.
"God's love shinning through this special man!! ???" wrote Marie S.
"This is awesome ❣️ thank you to the kind man for doing this ☺️" wrote Tessa L.
"So kind of that man, glad to see people still care about others," shared Donna W.
"What a wonderful world!" wrote Nilda P.
"It's awesome to actually start the day with a good news story these days. Bravo," wrote Dave M.
"NICE TO see people are being kind to people. God Bless them," wrote Daphne C.
There are so many wonderful and kind people in this world. Let's never forget that.
You are Loved.