"NCIS" star Linda Hunt's wife was "struck" when they first met. Years later, they live in a "jewel box" home designed to honor their past. Hunt plans to stay here after retiring.
"NCIS" star Linda Hunt has always been unapologetically private, much like her on-screen counterpart, Hetty Lange. Hunt prefers to spend her time away from work with her partner of 35 years, retired psychotherapist Karen Kline.
The two married in California in 2008 and have been together ever since. They now live in a "whimsical" bungalow in Hollywood. Hunt commented on the notion of marriage, stating:
"What that means legally, I don't know. And remember, legal is only legal in California."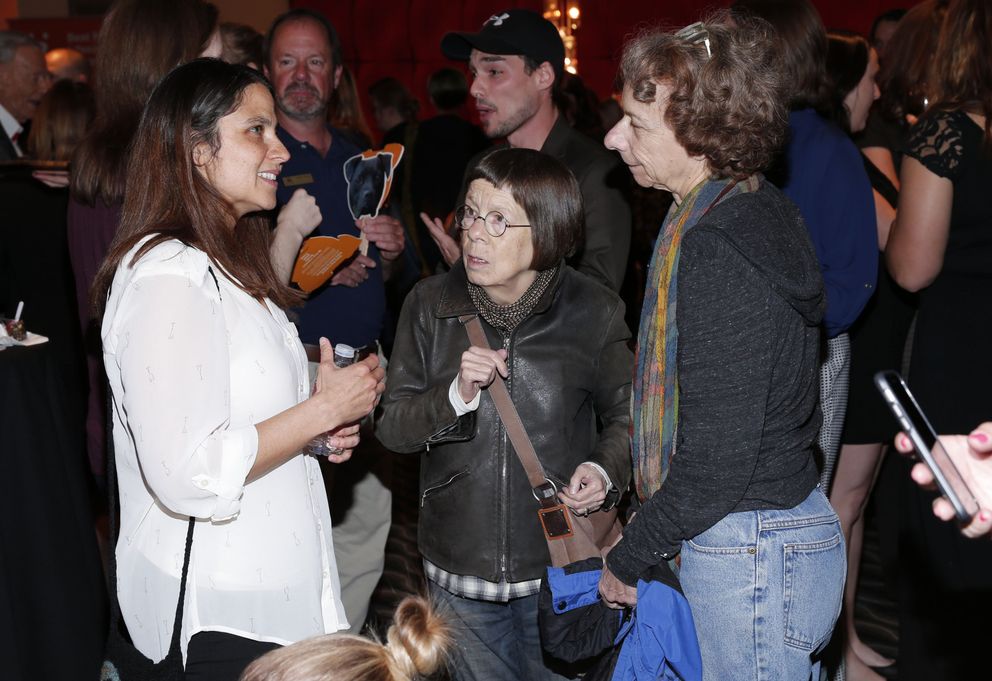 Hunt said that genuinely relates to the character of Lange. She admires the character's strength and authority, claiming that Lange is everything she wanted to be while growing up. She commented on Lange:
"Hetty is all the things I wanted to be when I was growing up. I aspired to be extremely sophisticated. And Hetty is a woman like that. I am sort of living out my childhood fantasies in playing her."
Hunt also elaborated on her childhood and growing up with Turner Syndrome. She remembered growing up "literally under people's elbows." Her length often caused her to compensate for her size. She said she had to approach everything with strength just to have her voice heard.
When Hunt met Kline, all her practice catching attention apparently paid off. Kline remembers being quite "struck" by her the moment they saw each other. Ever since, they've stuck together.
Linda and Karen's Love Story
For Kline, Hunt's wife, the oscar winner's height was hardly the first thing she noticed. Kline talked about seeing Hunt for the first time and commented on how "struck" she was by the actress' corduroys. In turn, Hunt teased Kline for being younger, saying:
"Karen's six years younger, but I forgive her daily. I do, I forgive you for being younger."
The two have a humor-filled connection, and Hunt is entirely open about their relationship. The exact date on which they met is still unknown, but the two are presumed to have met around 1987.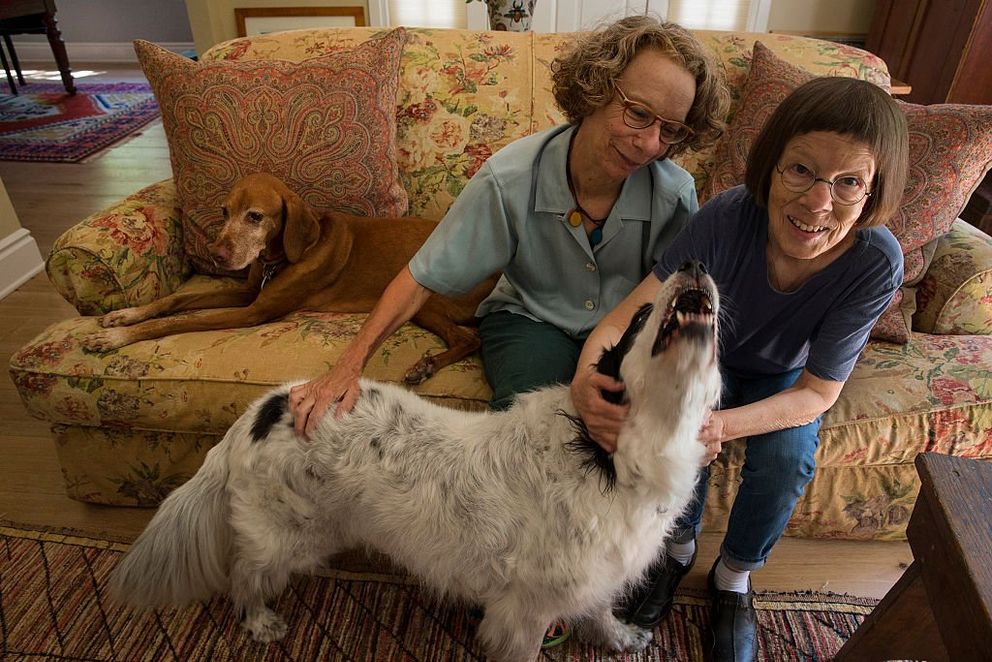 Hunt's size is no concern to her retired psychotherapist wife, Kline. She has always rather seen the person that Hunt is than her height. Despite that, her height has been a sore point sometimes in her life. Hunt distinctly remembers being teased and bullied when she was little.
The renovated Craftsman is genuinely a "jewel-box home" with many beautiful details.
Hunt was diagnosed with dwarfism at a young age. She stated, "I knew that I was different by the time I was like 10." Ever since then, she tried to compensate for her length. She soon discovered that she could make herself heard and feel taller on stage, where her love of acting began.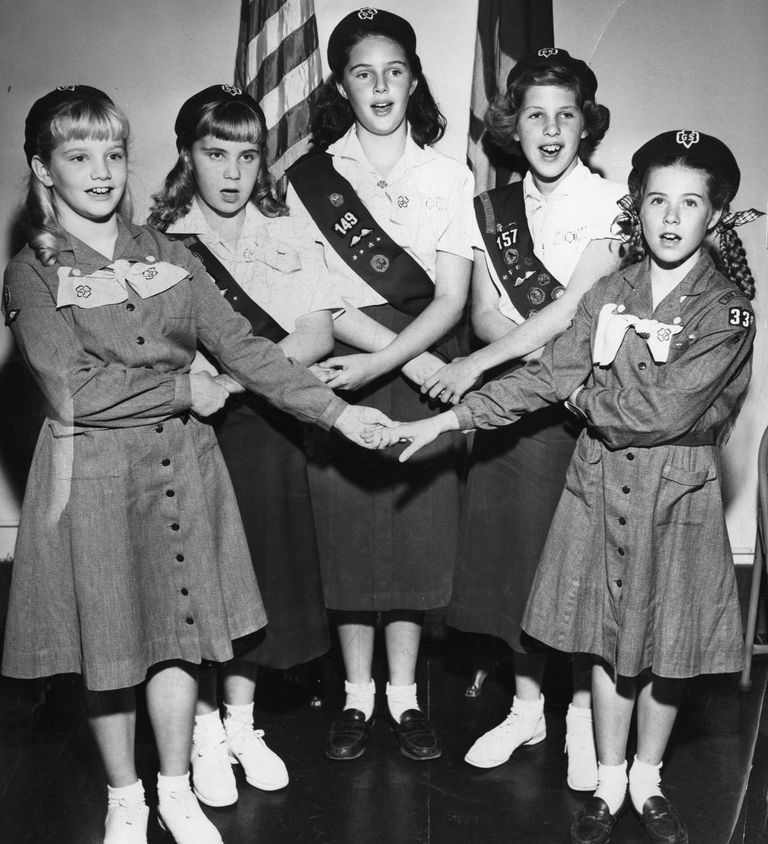 Hunt has been quite vocal about retirement. Although she truly loves what she does, she looks forward to days when she doesn't have to work anymore. Even her character in "NCIS" has made reference to the fact that retirement is inevitable.
Hunt claimed that retirement would have many entertaining aspects that she is looking forward to. Although Hunt and Kline never had any children together, she looks forward to spending time with her wife and with their three adopted dogs:
"I really look forward to a time when I don't have to work anymore. I really do which is close at hand."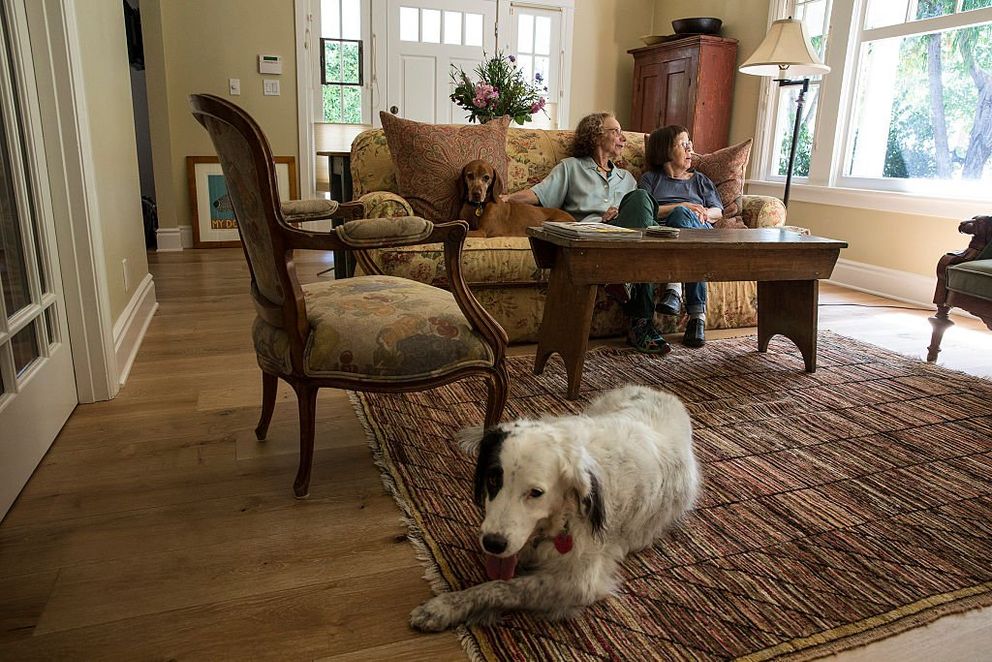 In retirement, Hunt will spend time in the home she shares with her wife. The house is an exciting blend of old and new, perfectly capturing their relationship's history and present.
Linda and Karen's "Jewel-Box Home"
The 1919 bungalow that the two call home can be found in a historic Hollywood neighborhood. Its mixture of old and new gives the house a refreshing and unique atmosphere. Onlookers might take the house as a traditional Craftsman, but step inside, and colorful and modern interiors greet you.
The renovated Craftsman is genuinely a "jewel-box home" with many beautiful details. A myriad of custom finishes fill the house, including antique door pulls, lavender-colored walls, and graphic wallcoverings in surprising hues of purple and green.
At first, the house's living spaces were dark and impractical, so the couple hired Linda Brettler to redesign the layout and help with the decor. With Brettler's help, they managed to open up the house and add a modern touch to it.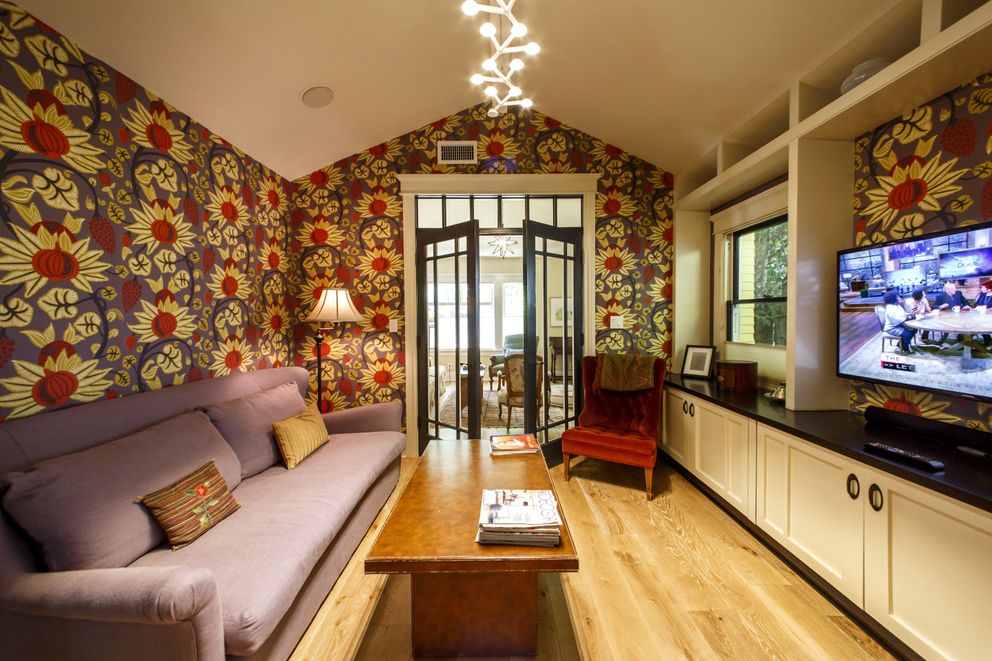 Many personal details have also been added. In the den's bathroom, Brettler and Hunt worked together, using Hunt's extensive collection of New Yorker magazine covers to cover the walls. The process was time-consuming and tedious but worth it.
Brettler also decided to turn an underutilized deck into a sunroom to expand the floor plan. The biggest challenge, according to Brettler, was to make the 13-by-15-foot space feel open.
Fortunately, the architect succeeded with flying colors. The 200-square-foot sunroom is breezy and open and feels like an airy alcove. The Designer's Guild wallpaper details intricate topiary trees. Meanwhile, clerestory windows and vaulted ceilings bring in a surplus of natural light.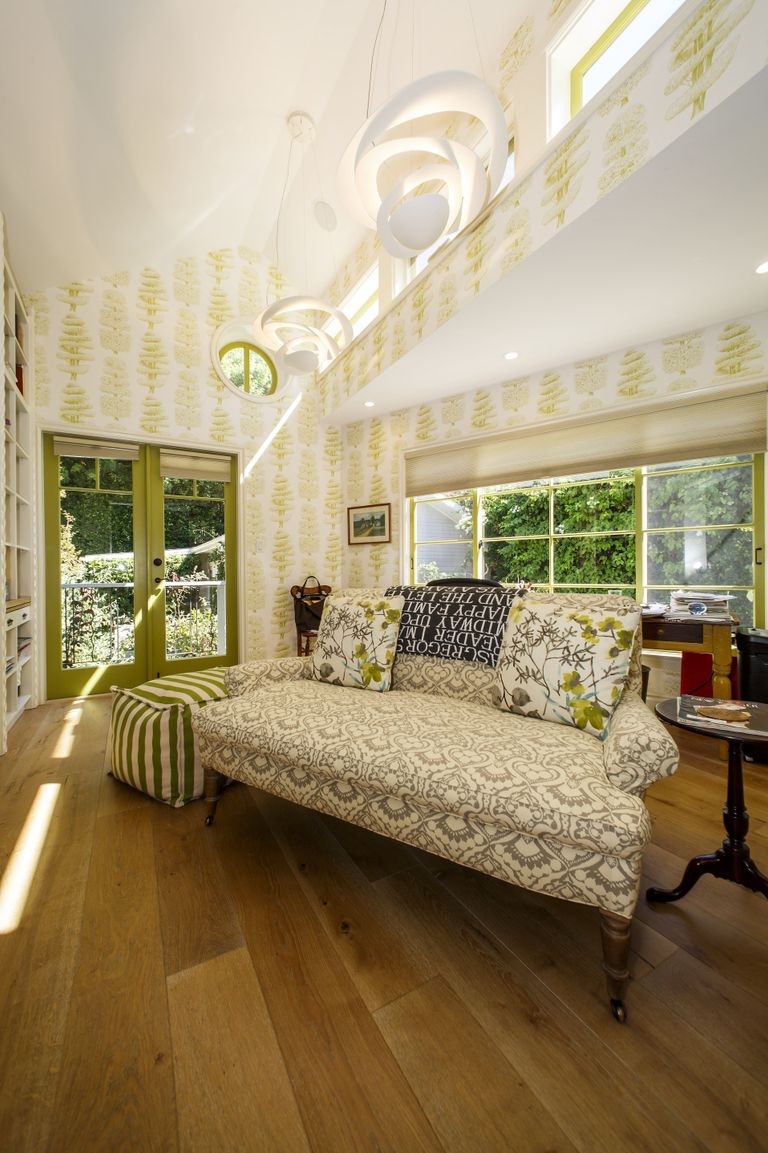 The rest of the house was also designed to be as open as possible. Between the sunroom and the kitchen, Brettler decided to place a pair of sliding barn doors, allowing the room to be open or closed off. This also adds greatly to the room's airy atmosphere.
As with the rest of the house, though, the sunroom remains rooted in its past. The exterior of the room is covered in gray board-and-batten siding and topped off with a classic New England saltbox pitched roof.
The two are both from New England, so the style reminds them of home. The entire house is likewise designed to incorporate the past while staying mindful of the present. This house is the fourth that they lived in in the neighborhood, and they've finally found the perfect match.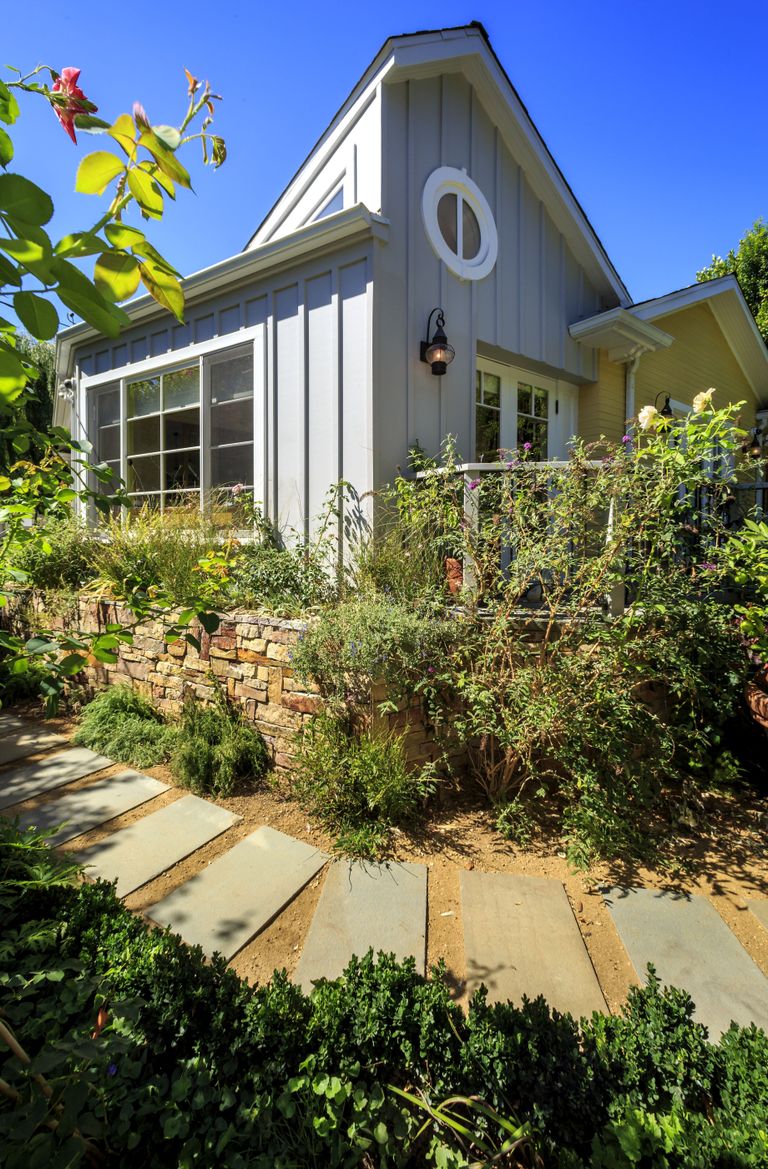 The house definitely stands out from the other Craftsman houses in the neighborhood. Its elegant design and modern features blended with classic styles are perfect for the couple. Hunt described the house fondly with the words:
"This house has whimsy and a special kind of elegance. It's welcoming."
The unique design of the house and the care taken to make it perfect is obvious in the many details that can be found scattered around. The hallway from the dining room to the bedroom is lit up by a stained glass skylight and decorated by a cartoon print originally designed for Schumacher.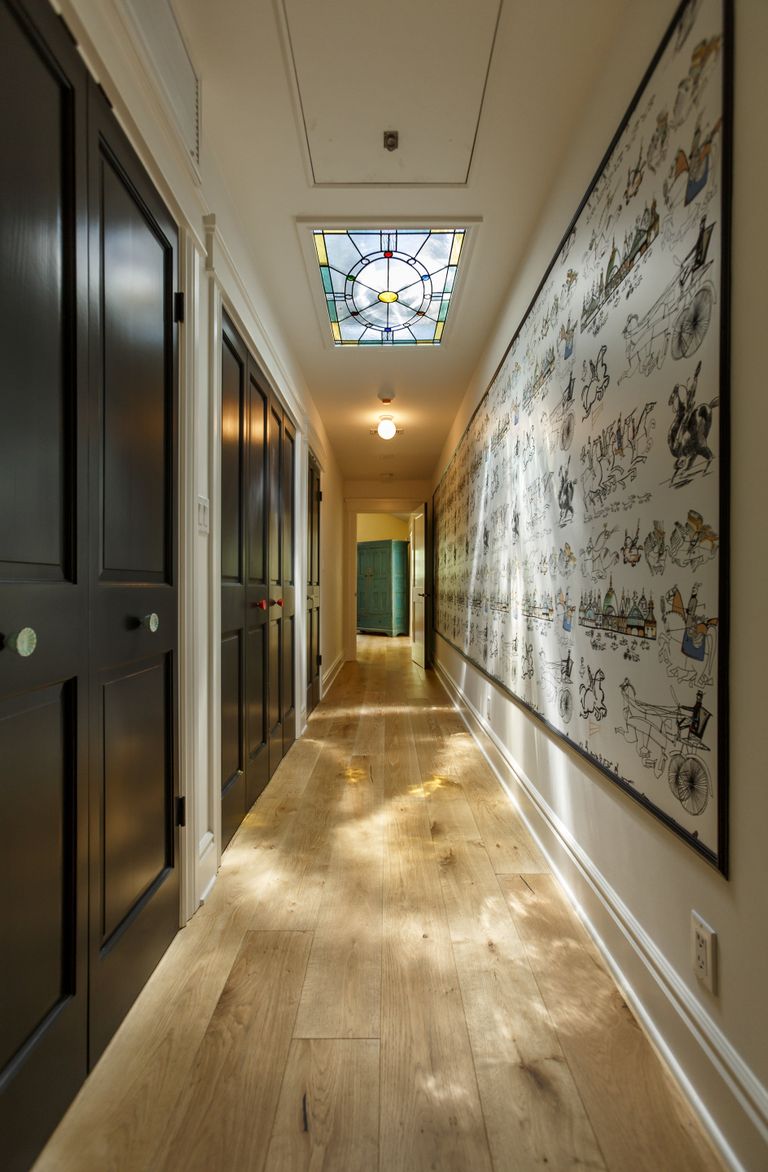 After 35 years together, and not to mention a rigorous house hunt, the Hunt and Kline are still going strong. The two are still joking with each other lovingly, and it is obvious that they still enjoy each other's company.