William, Kate, Harry, and Meghan put Firm above their differences after the Queen's death.
Meghan looked "ill at ease" during the encounter at the palace.
Princess Kate gave Meghan an "icy stare."
After Queen Elizabeth II passed away on September 8, 2022, Prince William and Princess Kate invited Prince Harry and Meghan Markle to Windsor Castle to look at the tributes left for the Queen.
Both couples walked together as they looked at all the flowers and messages left for the longest-reigning Monarch and seemed content in each other's company despite the conflict between them in the past.
The Wales's and the Sussexes have come together to view some of the many tributes for the Queen left by the public outside Windsor Castle. A Palace spokesperson says, "The Prince of Wales invited the Duke and Duchess of Sussex to join him and the Princess of Wales earlier." pic.twitter.com/YCXhu9yRlk

— Omid Scobie (@scobie) September 10, 2022
"Daily Mail" reported that the couples spent 45 minutes walking through the crowds that had gathered at the Castle, thanked them for their kind tributes, and shook their hands as they spent some time talking to fans.
The publication claimed that even as they completed their walk, a "sense of togetherness persisted". They all got into a car together that was headed for Frogmore Cottage.
The Royal Couples Put Aside Their Differences
It was said by "The Guardian" that the couples each had a particular dynamic in which they operated, with Prince Harry and Meghan being affectionate. At the same time, Prince William and Princess Kate were distant.
After chatting, hugging and sharing sympathies with members of the public for over 40 minutes, the Prince and Princess of Wales and the Duke and Duchess of Sussex have headed back into the Windsor Estate together. Both couples left in the same car, driven by William. pic.twitter.com/V2ettkmKnt

— Omid Scobie (@scobie) September 10, 2022
It was also mentioned that the invitation extended by Prince William to his brother was an olive branch after the rift that was caused between the family after Prince Harry and Meghan left The Firm.
Harry and Meghan left The Firm in 2020, deciding to step down from royal life and move overseas. The couple initially moved to Canada and then to Montecito, California, where they settled.
The couple did an explosive interview when they arrived in the US. They claimed that there were many grievances they had with the royal family, including Meghan feeling cast out by the royal family members.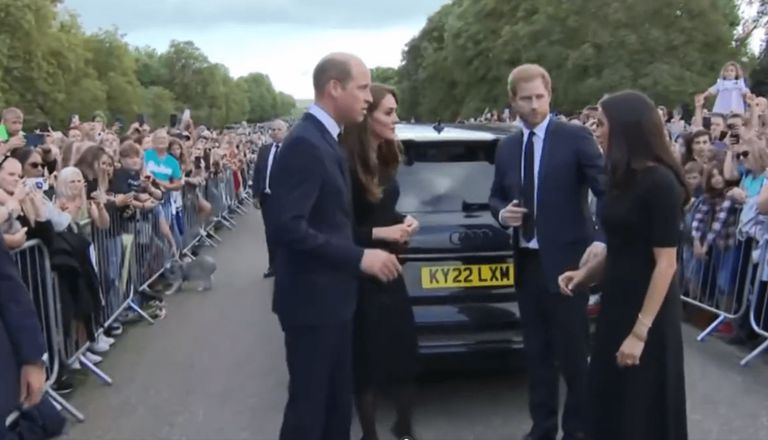 The interview caused a rift in the royal family, with Prince Harry and Prince Charles being most negatively affected. Their relationship took the strain, and the invitation was seen as an olive branch from Prince William to his brother.
However, the interaction between the pair's wives on the day was nothing short of awkward as the two hardly interacted with one another, and Princess Kate seemed to freeze Meghan out entirely.
"The Guardian" reported that Prince William spoke to his father, King Charles III, before extending the invitation. The King is said to have thought the invitation was "an important show of unity"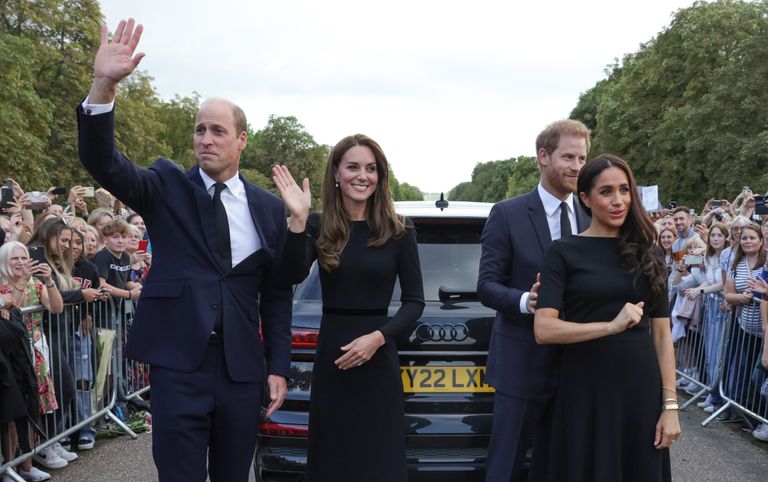 Because Prince Harry and Meghan have been so vocal about their experience in the royal family and have criticized royal protocols, they were minded to accept the invitation from Prince William, says "The Guardian".
"Hello" claimed that the fact that Harry was affectionate with his wife on the day of the walkabout and placed his hand on her back in a show of support, he is a "true gentleman". Fans admired their relationship.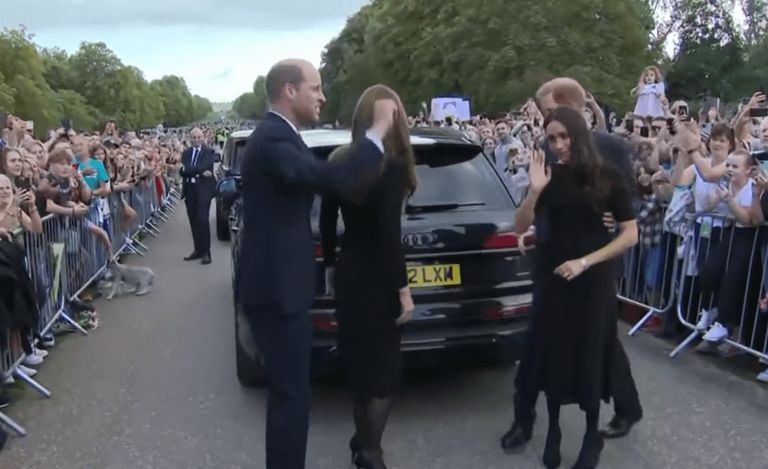 Fans noticed that Harry and Meghan were more affectionate than Prince William and Princess Kate, but one thing that stood out to fans was that Harry opened the door for Meghan. One said:
"Awww, he got the door for her. They are just so sweet together!"
Meghan Markle did not behave as she usually did and was not as confident as she has been in the past, so fans were happy to see that Harry was supportive of her as she was of him during the difficult time.
A Body Language Expert Assessed The Situation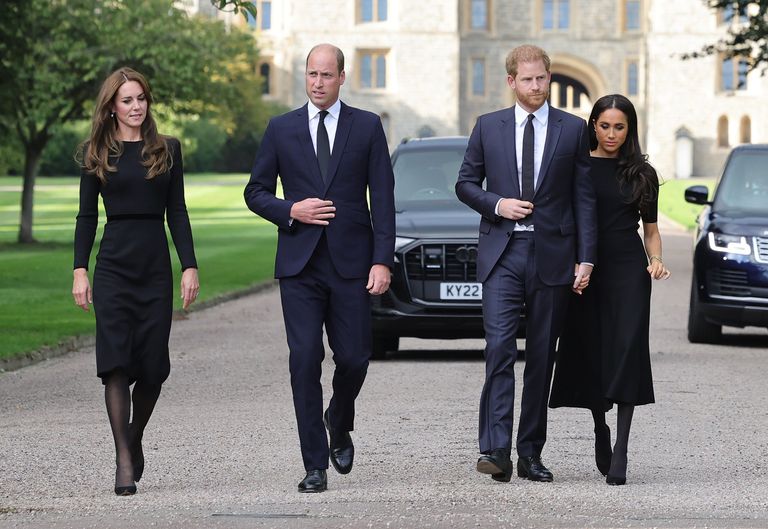 "7 News Australia" reported that a body language expert, Katia Loisel, said that Meghan appeared "ill at ease" at the gathering. This was because of an interaction that she had with her sister-in-law.
Claims by "7 News" said that when the couples arrived at Windsor for the event, instead of greeting Meghan, Princess Kate greeted her with an "icy stare", which caused Meghan to feel uncomfortable.
The princes' wives did not take the time to talk to one another. While it was said that it was a sad occasion, many questioned why they did not exchange a few words as they walked around Windsor Castle.
Loisel said that Meghan appearing slightly uncomfortable could be because she has received so much criticism recently. Loisel claimed that Princess Kate seemed "reluctant to interact" with Meghan.
However, she alleged that Prince William and his brother, Prince Harry, made an effort with one another to reconnect, and Prince William ensured that Prince Harry felt included while they took their walkabout.
The olive branch extended by Prince William to Prince Harry seemed to do the trick for the brothers as they appeared to relate again as they witnessed the tributes to their grandmother.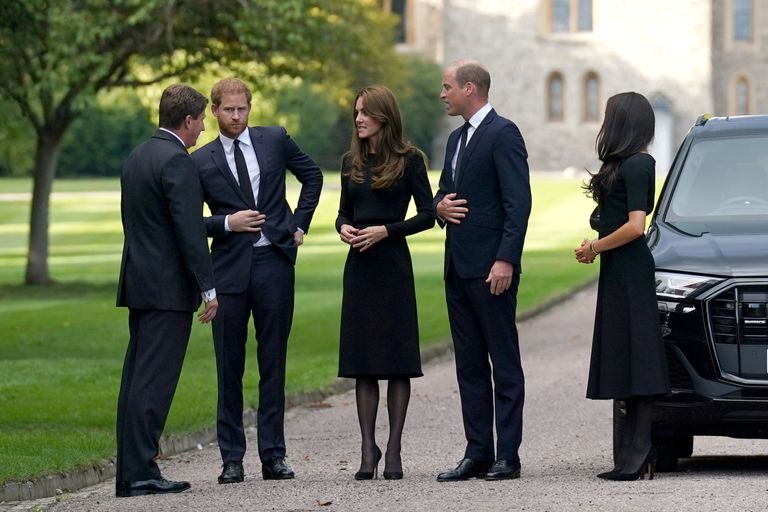 Loisel claimed that the signs that Princess Kate was trying to freeze Meghan out were clear; she avoided eye contact with her sister-in-law and hardly acknowledged her during their visit to Windsor Castle.
The body language expert said that there were several times when Meghan looked at Princess Kate, but the glances were seldom returned. Loisel said:
"Rather, Kate appeared to look through her, suggesting underlying tension between the pair."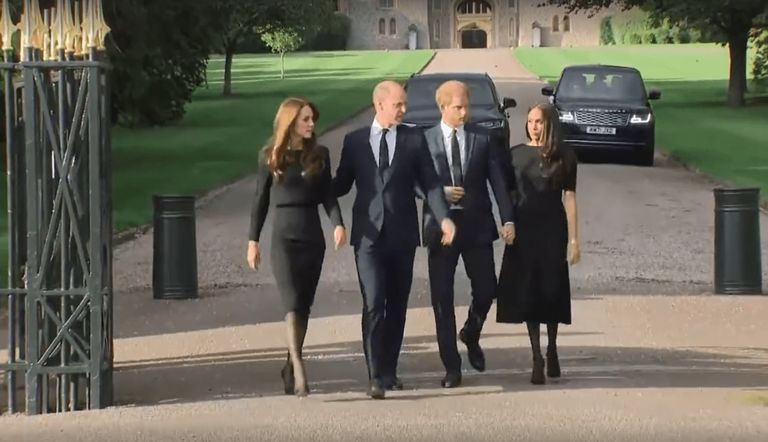 Loisel then explained the stare moment, saying that Princess Kate looked at Meghan with a "fixed stare and compressed lips." She mentioned that Meghan stepped sideways, turning her body away from Princess Kate.
She explained that after the interaction, Meghan placed her hand across her body in what is known as a protective stance. This allegedly showed that Meghan was uncertain about her surroundings and interactions with Princess Kate.
Meghan remained close by Harry's side throughout the day, and he remained a support system for her as she felt the effects of Princess Kate's coldness toward her. Loisel observed these interactions closely.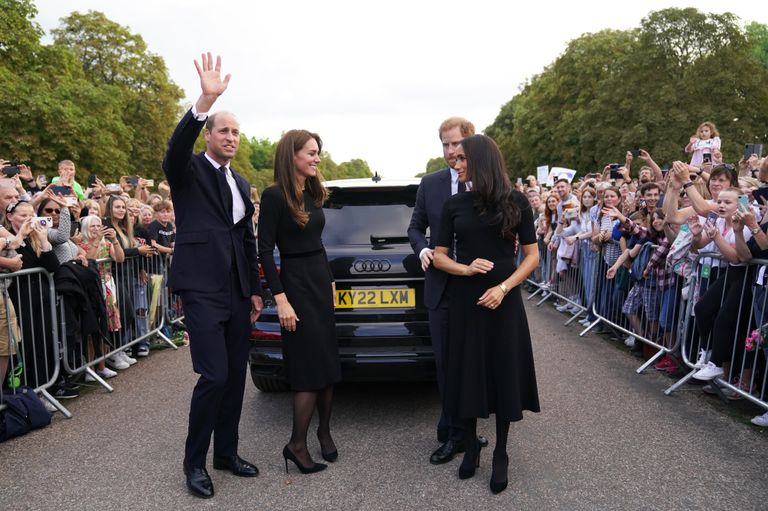 Even though Meghan was feeling uneasy, Loisel mentioned that Harry was there for her the entire time. She said his body language showed that he supported her as much as she was supporting him.
Harry stood beside his wife and gently touched her arms to lead her protectively. Loisel said that this would have been reassuring to Meghan during a time when she would have felt out of place.