Michael Douglas and Catherine Zeta-Jones were both born on September 25, with 25 years difference. They celebrated his 78th and her 53rd birthdays recently.
Douglas's pick-up line during their first meeting made Zeta-Jones leave the following day.
However, his words became true a few years after he said them.
Douglas and his wife have been together for 26 years and married for 22.
American Actor and Producer Michael Douglas and his much younger wife, Catherine Zeta-Jones, have been happily married for over two decades. One of Hollywood's most talked about couples, the duo shares many things in common, one of which is the same birthday.
Douglas and his wife were born on September 25, and for the last 24 years, the lovebirds have marked the special day together, and this year was not any different.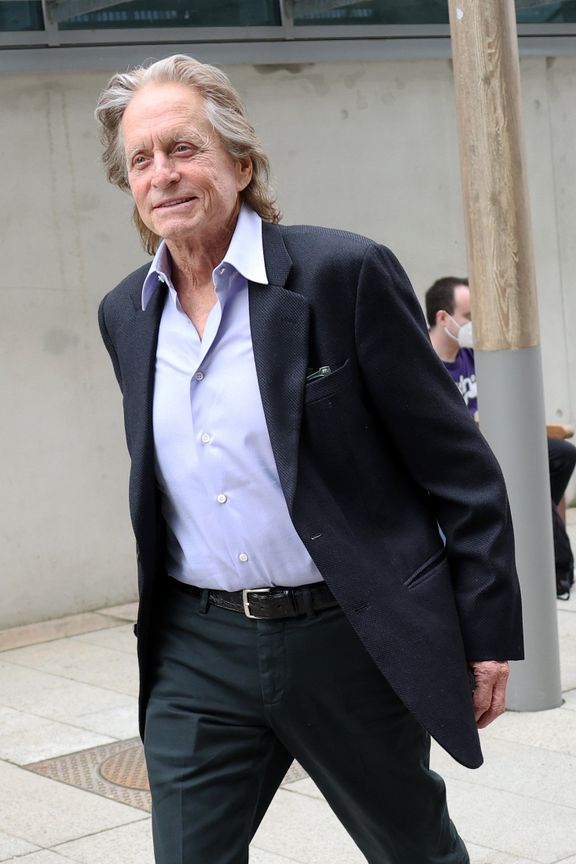 On September 25, 2022, Douglas turned 78, while Zeta-Jones clocked 53. As always, the couple took to social media to commemorate the occasion with sweet tributes.
In a heartwarming Instagram post, the Welsh actress shared loving pictures of her and her husband, alongside a beautiful caption expressing her happiness. She wrote:
"It's our Birthday!! After 24 years of celebrating our special day together, I still look forward to it ??? I love you!!! a la votre."
Shortly after Zeta-Jones's post, Douglas also visited Instagram to celebrate his beautiful wife. The movie star shared a snapshot of himself and the actress warmly embracing each other while sporting light smiles. He captioned the post:
"Happy birthday Catherine! I love you always and forever ❤ @catherinezetajones."
Since Douglas and Zeta-Jones tied the knot, it has been a ritual for the lovely couple to spend the joint birthday together.
This time around, a short clip shared on the "The Mask of Zorro" star's Instagram page showed the pair in what appeared to be a private chopper.
While it sounded good to Douglas, the pickup line did not sit right with Zeta-Jones, causing her to depart the following morning hurriedly.
In the video, an excited Zeta-Jones and her husband took short turns wishing each other a happy birthday. It was undoubtedly a beautiful sight.
Later that day, the couple enjoyed a luxury meal in Sardinia after stepping off a friend's yacht. Ultimately, the joint birthday celebration proved that the show business icons still love each other.
Their love story dates back to 26 years after their first meeting, which ended with Douglas apologizing for a bad pick-up. Even though the actor's lines may not have been the best at the time, the words he said to Zeta-Jones eventually came true.
Douglas and Zeta-Jones' Love Story
Douglas and Zeta-Jones first met in 1996 at a private dinner at the Deauville Film Festival. The former opened up about how it all happened during a chat on "The Jonathan Ross Show."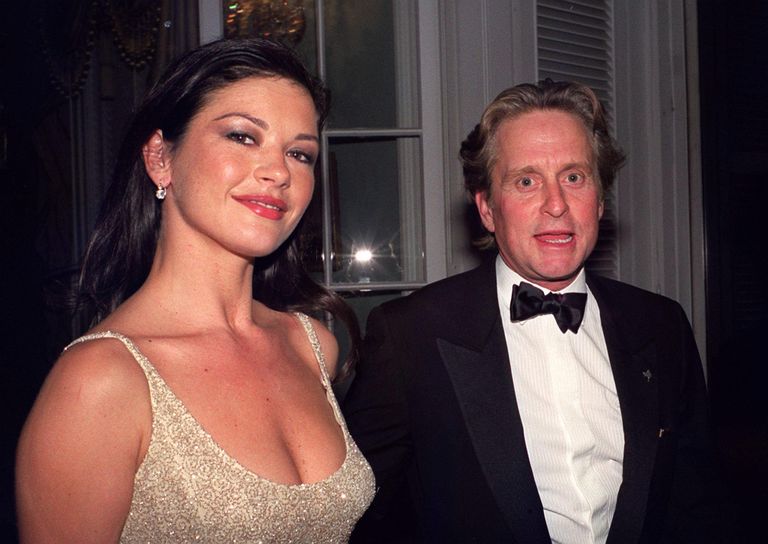 According to the Oscar award-winning actor, he had just watched "Zorro" shortly before he attended the Film Festival. Then, he discovered that Zeta-Jones would be at the event the following night to promote the movie.
Then, Douglas asked his publicist to find out if he could have a drink with the actress. Thankfully, the publicist said it was possible, but she was only available for one night.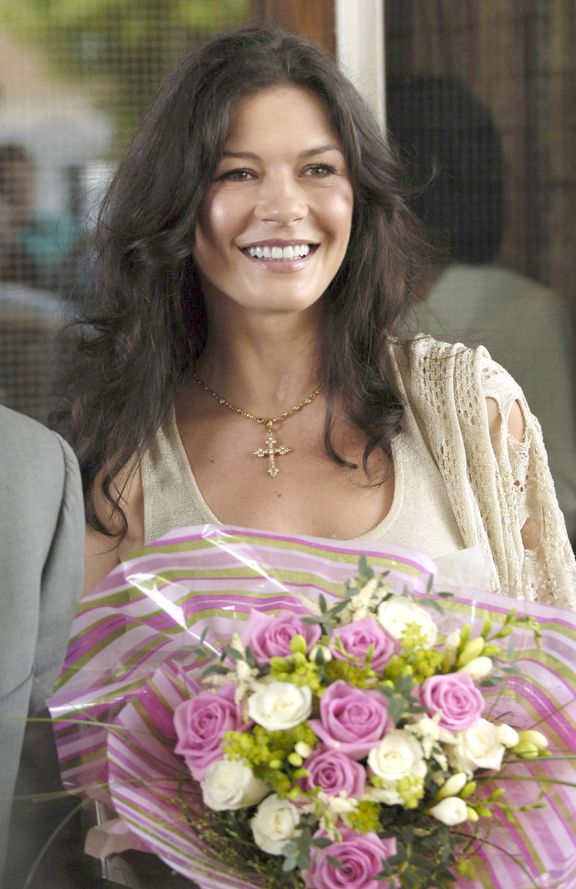 So, the following night, the actress was at the Film Festival as expected. During a private dinner at the event, former Hollywood couple Antonio Banderas and Melanie Griffith introduced the movie stars to each other.
Sadly, Douglas and Zeta-Jones could not spend time together, as the latter had to work. As a result, the "Ant-man" invited the actress for a nightcap, which she obliged. Thirty minutes into their conversation during the nightcap, Douglas declared his intentions. He recalled:
"I said to her after about half an hour, 'You know, I'm going to be the father of your children.'"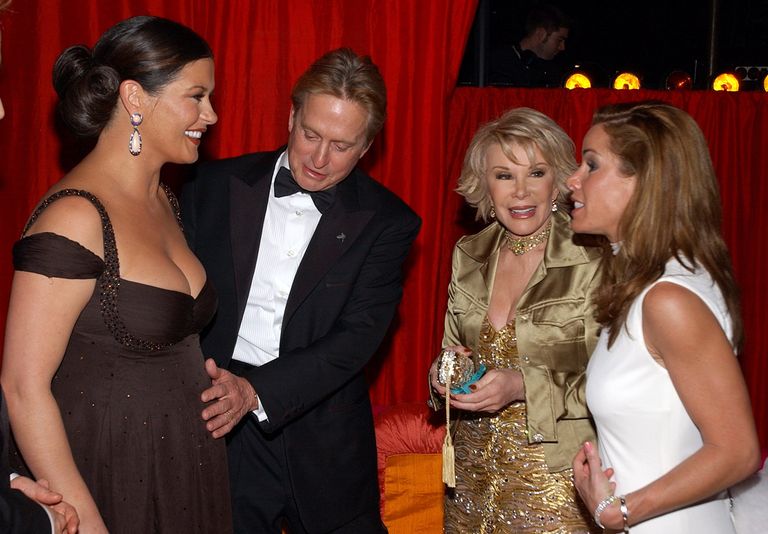 While it sounded good to Douglas, the pickup line did not sit right with Zeta-Jones, causing her to depart the following morning hurriedly.
However, the actress would later receive flowers from Douglas as an apology for his cheesy words. Afterward, the duo remained in touch, having long conversations over the phone.
Eventually, Zeta-Jones developed feelings for the actor, and the couple began dating. Soon, they made their relationship public, and while some fans applauded them, others were shocked due to the 25 years gap.
But despite the public's thoughts, the couple could care less because Zeta-Jones felt it was not unusual for older men to be with younger women. Also, the actress had the support of her parents.
A few years after their first meeting, Douglas and Zeta-Jones' relationship got even more serious, as the actor confirmed that his partner was pregnant with their first child. Zeta-Jones's pregnancy meant that Douglas's bad pickup line during the nightcap eventually came true.
Inside the Couple's Wedding/ Their Marriage Many Years Later
On December 31, 1999, Douglas and Zeta-Jones got engaged in Aspen, Colorado, after the former popped the big question. Almost 11 months later, on November 18, 2000, the couple tied the knot in a lavish ceremony at the Plaza Hotel in Central Park, New York.
Following the big occasion, reports revealed that the entertainment icons stayed back at their Manhattan home for some time to take care of their infant son, Dylan, born in August 2000, shortly before their wedding.
Besides being a new wife and a mom of one, Zeta-Jones also became a stepmom to Cameron, Douglas's son from his previous marriage.
About three years later, the Hollywood couple welcomed their second child and daughter, Carys.
The baby was born in April 2003 in Ridgewood, New Jersey, near Zeta-Jones and Douglas's Manhattan home, weighing six pounds, 12 ounces.
Many years later, the family of four is still tightly knit. Dylan and Carys are all grown up and could not be happier to see their parents still waxing stronger.
After more than twenty years of marriage, the lovebirds still live their best lives together.
Time and again, they have shared the secret to their long-lasting marriage. In 2019, Douglas told Us Weekly:
"I would say sometimes we make more of an effort with strangers than with the person closest to us. And I've always tried to remember how fortunate I am and what an extraordinary lady she is and daily remember [of] that kind of respect."
By November 18, 2022, Douglas and Zeta-Jones will celebrate 22 years of marital bliss. Hopefully, the couple will continue to be by each other's side for the rest of their lives.