When Michael Douglas first met Catherine Zeta-Jones in 1996, he was 52. At the time, she was 27, and despite the 25-year age difference between them, he told her he would be the father of her kids.
The couple, who got married in 2000, has proven that age does not stand in the way of their love. Even after two decades, their relationship has only gotten stronger.
Michael Douglas began his career by being an assistant director, but achieved fame when he starred in "Streets of San Francisco." He went on to star in "Wall Street," "Fatal Attraction," "Basic Instinct," and more.
Douglas is also an Academy Award-winning producer. In 2004, he was given the Hollywood Foreign Press Association's Cecil B. DeMille Award for his "outstanding contribution to the entertainment field."
Zeta-Jones is also an Academy Award-winning actress who started with touring productions and rose to fame after transitioning from theatre to television and film.
She starred in movies like "Entrapment," "The Mask of Zorro," "Rock of Ages," "Dad's Army," "Red 2," and made a return to television in 2017 with "Feud: Bette and Joan."
MICHAEL DOUGLAS'S FIRST MARRIAGE & HIS ONLY REGRET
In March 1977, Douglas married his first wife, Diandra Luker. The couple got separated in 1995, they finalized their divorce in 2000, and it cost him a rumored thirty million pounds.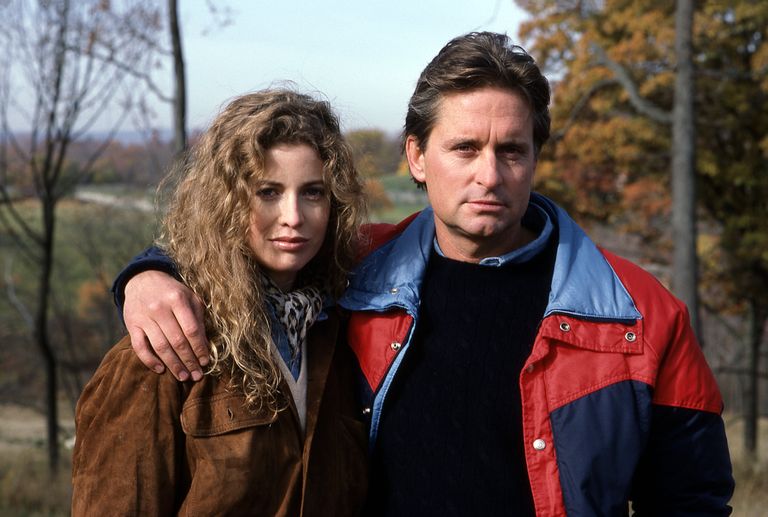 Douglas revealed that his marriage to Luker should have ended eight or ten years earlier. His only regret was not ending it sooner than it did.
After their divorce, the couple who shared one son, Cameron, shared their Mallorca home for six months each. For Douglas, the experience was an uncomfortable one.
MICHAEL DOUGLAS TOOK ANOTHER CHANCE AT LOVE WITH A CHEESY PICKUP LINE
Zeta-Jones said they met in 1996 at the Deauville Film Festival after she was told Douglas wanted to meet her. She got nervous because she didn't know why he wanted to meet her.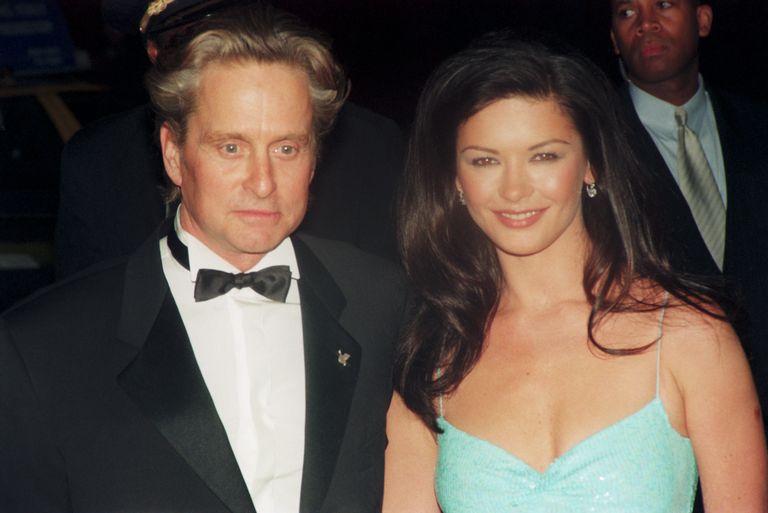 Zeta-Jones and Douglas were at the hotel promoting "Zorro" and "A Perfect Murder," respectively. After walking past him in the hotel lobby, she assumed he didn't want to meet her that much because she felt he didn't recognize her.
While at the dinner for the "Zorro" premiere, their mutual friends Antonio Banderas and Melanie Griffith introduced them. She recalled Douglas being very gentlemanly when he asked her if he could sit next to her.
According to Douglas, he had seen her in the movie "Zorro" and asked his publicist to find out if he could have a drink with her. His publicist said it was possible, but she was only available for one night.
He met her in the bar, but she had to work, so he invited her for a nightcap. Thirty minutes after she came back for the nightcap, he said,
"You know, I'm going to be the father of your children."
While it sounded good to him, she told him she had heard and seen a lot about him and told him goodnight after. And then he moved quickly and sent her flowers and an apology.
Nine months after their eventful meeting, they were still having long conversations on the phone, great dinner dates, and Zeta-Jones constantly wondered why they were not together.
When they sat down and talked about it, he told her that she was a freak and thought she had no interest. Their relationship was never sexual.
They became friends and didn't want each other on an ex-partner list. The couple realized they were having a lot of fun together, and in no time, he invited her to Spain.
THEIR MARRIAGE WAS ONCE FILLED WITH AGE GAP CONTROVERSIES & THREAT OF SEPARATION
On November 18, 2020, Douglas married Zeta-Jones in a lavish ceremony at New York's Plaza Hotel. The wedding cost over one million pounds and was called the "celebrity wedding of the year."
Douglas had his son from his first marriage as his best man at the star-studded wedding, which had guests showing their unique invitations before they let them in.
The couple shares the same birthday, only 25 years apart, and their age gap had been the talk of the tabloids in the past. However, the couple has never felt the age gap between them.
Also, even though he is the same age as her parents, they never raised an eyebrow. When asked if she had ever felt it, she said,
"Never. And Michael never makes me feel like that."
She further revealed, "he is the kindest man I have ever met in my life. His sense of humor, he is actually quite funny in his show. But he is my best friend."
In 2013, the couple separated to work on and evaluate things in their relationship and eventually got back together eight months later.
A CELEBRATION OF AN ENDURING LOVE FOR MORE THAN TWO DECADES
In November 2021, the couple celebrated their 21st anniversary, and Zeta-Jones took to her Instagram page to post a black and white picture of both of them.
In her caption, she wished Douglas a happy anniversary and was glad that he had always had her back for 21 years, and they had their love for over 21 years.
Over two decades later, Zeta-Jones and Douglas are still madly in love with each other, and they take to their social media to show this love off, especially on their birthdays, where she serenades him with sweet words.
On Valentine's Day in 2020, she took to her Instagram to post a picture of them kissing by a dock with love bubbles around them while she referred to him as her forever Valentine.
The couple still loves traveling and gets to explore the world when they can. From skiing to spending time in India and touring Jerusalem, they continually do what makes them happy together.
Zeta-Jones revealed that one of the secrets to their long marriage is having a lot of fun together. She also said,
"The constant is love and respect. We've never, ever lost our sense of humor, and we enjoy each other's company."
She went on to say they also get to spend a lot of time together while respecting each other's space.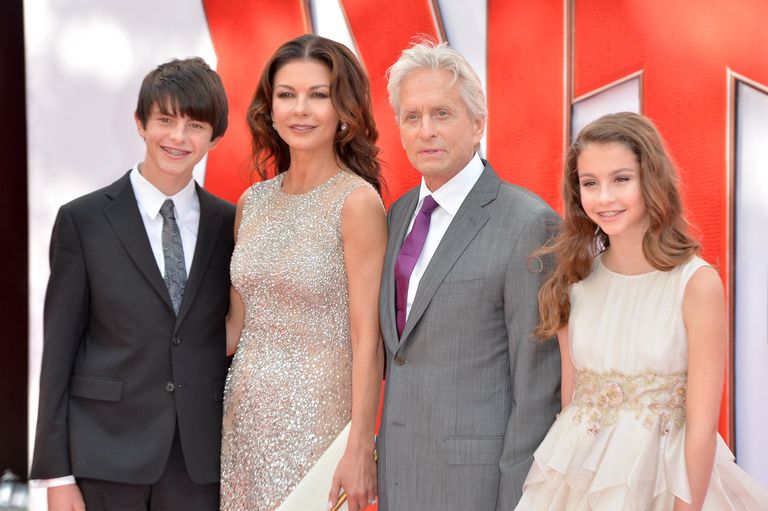 MEET THEIR WONDERFUL KIDS
Douglas's son Cameron, from his first marriage, was born in 1978, shortly after his marriage to his first wife. Cameron, who looks like his dad, also pursued a career in acting. He and his partner Viviane Thibes have two children.
Douglas and Zeta-Jones have two children. Their first son, Dylan, was born in August 2000. He has also dabbled into acting and shown his musical talents on his social media page.
Their daughter, Carys, began a career in fashion at 15. She uses her social media to pay tribute to her family while showing off her travels.