Late Olivia Newton-John shared a beautiful love story with her second husband until her death on August 8, 2022. However, before they got into a relationship, Newton-John had just come out of a highly traumatic experience.
Newton-John and her second husband, John Easterling, met in the late 1990s, but it took a long time for them to finally solidify their relationship. In fact, only fifteen years after they met did the couple become romantically involved.
Their initial connection was built on the fact that Newton-John and Easterling were both interested in holistic cures for diseases and spirituality. Easterling even gave Newton-John medicinal marijuana that he grew.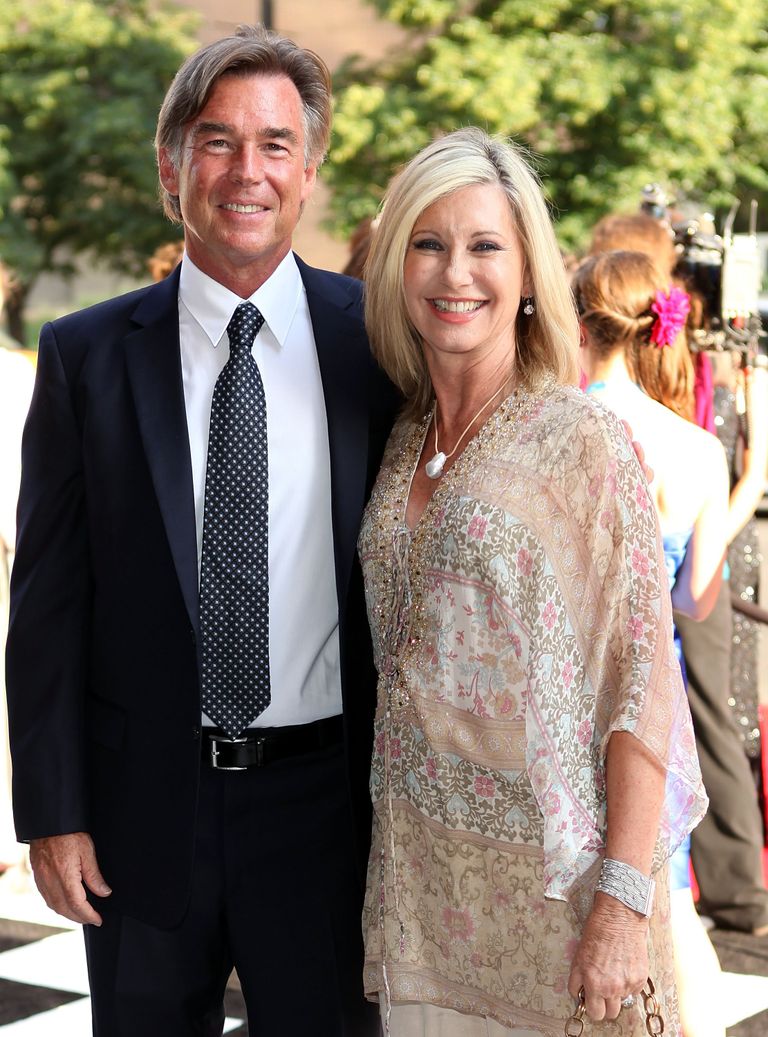 Newton-John and Easterling were good friends for almost two decades, and both admitted that there was nothing more than friendship between them. However, they found themselves available and attracted to one another at one point.
Neither of them expected to be in a relationship with the other. Newton-John shared that she didn't believe in those types of things but then admitted:
"I never believed it. I would hear stories like that and go, 'Oh, yeah, right.' Then it happened to me. He is such a special person. I realize that I am very lucky."
Although the pair fell in love on a trip they took together, Newton-John did not believe that she would ever fall in love again after suffering a traumatic incident. It was Easterling that helped her move past it.
Newton-John's boyfriend, Patrick McDermott, had gone missing mysteriously on a boating trip in Mexico. Newton-John was trying to overcome the loss and occasionally went on dates but never truly gave another relationship much thought.
After falling in love with Easterling, she knew there was no point in dating casually. The couple wasted no time taking their relationship to the next level and tied the knot in 2008.
FROM SECRET PERUVIAN WEDDING TO BLISSFUL MARRIED LIFE
The couple knew that they were made for one another and did not want to spend any more time unmarried. A year after they began dating, they ran off to Peru, where they had a traditional Incan wedding ceremony with only them and the officiant in attendance.
Nine days later, the couple returned home to Florida and legalized their marriage on Jupiter Island. There were no guests at this ceremony either, although Newton-John told her daughter, Chloe, what was happening.
Newton-John expressed gratitude at being able to elope with her husband and said that she was happy it was only the two of them. She said that if they had a proper wedding, they would have been worried about other people rather than themselves.
She expressed that on a wedding day, the marital couple was usually concerned with whether or not all their vendors were there and whether or not their guests were having a good time and didn't focus on one another.
She then shared what she felt was good about her wedding days in Peru and Florida to Easterling, saying:
"We just wanted it to be about us and our union and commitment to each other. My life has been lived in the public eye and I wanted this one to be private."
Twelve years after the couple married, Newton-John shared a photo of their Incan wedding ceremony. In the picture, Newton-John is seen sitting on a wooden chair in a white dress while Easterling stands behind her wearing a poncho.
The photo was accompanied by a caption in which Newton-John thanked her husband for the twelve years they had spent together and remarked that it felt as though their wedding was only a short time in the past.
While the couple delighted in their happy days, there were also many difficult days for them both as Newton-John suffered with her cancer for 30 years, much of which was during her marriage to Easterling.
Newton-John's cancer diagnosis led to her starting the Olivia Newton-John Foundation, which aims to fund research in plant medicine as a treatment for cancer. Easterling and Newton-John founded the foundation together.
The couple did many fundraising and awareness events together, such as the Great walk in Beijing and a fundraising gala that Newton-John held in Sydney, Australia. Easterling was constantly by his wife's side for these crucial moments.
It was not always easy for Newton-John to remain upbeat and optimistic about life when she was struggling so much with her health. Still, she credited Easterling with being an unwavering support system.
NEWTON-JOHN LOST HER BATTLE WITH CANCER
Sadly, in 2022, Newton-John finally lost her thirty-year battle with cancer. The "Grease" star passed away peacefully in her home, surrounded by her friends and family. Soon after the news was announced, tributes began pouring in.
Newton-John was 73 when she died, and Easterling announced her death on Newton-John's Instagram account. In the caption, Easterling spoke about Newton-John as a person and a role model to all those battling cancers.
However, it was only later on that he spoke up about his experience of his wife's death on her Instagram page. He posted a picture of the two of them embracing and holding hands while smiling at the camera.
Alongside the photo, Easterling posted a lengthy caption in which he spoke again about Newton-John as a person. However, this time he also talked about the love that the two of them shared.
After talking about how they had a natural love that they never had to work on and how grateful they were for it, he shared:
"She was the most courageous woman I've ever known. Her bandwidth for genuinely caring for people, for nature and all creatures almost eclipses what is humanely possible."
Easterling then thanked fans and friends for sending their love and condolences to the family. While Easterling was clearly heartbroken by the loss of his wife, it was he that she had on her mind before she passed on.
The last Instagram post that Newton-John herself made was of her and Easterling sitting together in a garden while Newton-John smiled at the camera and Easterling looked into the distance.
Fans loved the photo and said how happy and peaceful the couple looked together, while others said they hoped Newton-John was well. The post was made just two days before Newton-John passed on.
Newton-John is survived by Easterling, her daughter, Chloe, her brother and sister, Sarah and Toby Newton-John, and her nieces and nephews, Tottie, Fiona, and Brett Goldsmith; Emerson, Charlie, Zac, Jeremy, Randall, and Pierz Newton-John; Jude Newton-Stock, Layla Lee; Kira and Tasha Edelstein; and Brin and Valerie Hall.


Please scroll below for more stories 🙂