After waiting in line to enter Florida's Universal Studios theme park, a retired police officer was stopped by security. He was then told by both an employee and a supervisor that he wouldn't be allowed inside unless he found a different shirt because it might "confuse" guests.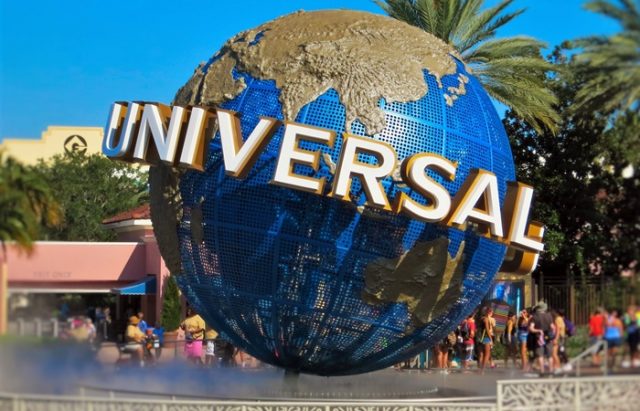 For 22-year-veteran of the force Vincent Champion, retirement is anything but relaxing. The former Ormond Beach police officer who used to spend his days chasing after bad guys now bides his time as a reserve investigator for the Florida State's Attorney Office and representing his brothers and sisters in blue via the International Brotherhood of Police Officers.
Despite continuing to dedicate his life to serving the public even after earning his retirement, Champion is still finding it difficult to navigate the divide between those who support the thin blue line and those who despise it. However, he never thought his latest troubles would include entering a theme park.
Just after dinner, Champion and his girlfriend, Holly Bickel, headed to Universal Studios in Orlando, left their car with a valet, and jumped in line at the gate. However, once they got to the entry point, they were stopped over the oddest of offenses.
"I walk up to the line wearing a retired law enforcement officer shirt," Champion explained. "I start emptying out all my pockets and as I'm about to walk through, the girl behind the security counter says 'do you have another shirt?"
In an exclusive interview with Blue Lives Matter, Champion explained that he was taken aback when the woman working security denied him entry because his shirt said "retired police officer" on a small patch on the front. On the back, a much larger decal reads, "My time is over but my watch never ends."
"I told her 'no ma'am, I do not' and explained I was in town from Daytona," the retired officer told Blue Lives Matter. "And she says you can't come in here with anything th at says 'police officer' on it."
Understandably, Champion could've walked away from the park, money in hand. However, he and his girlfriend had planned to meet up with several other couples for a fun night out. Not wanting to ruin it for everyone, Champion gritted his teeth and graciously offered to turn his shirt inside out. Unfortunately, that wasn't enough to satisfy security.
"There was a group of five or six couples behind us that lost their minds at that point, and some of them started yelling at the security officer saying things like 'this is what you do to retired heroes, this is how you show respect to law enforcement?'"
Despite explaining that the valet had taken his car and promising to put on another shirt that a kind stranger had offered him, the employee persisted. Finally, Champion insisted on speaking with the manager, hoping that he could resolve the situation.
"But the girl told me, 'no, you have to put it in your car,'" Champion told Blue Lives Matter. "So I put my shirt back on and asked for a supervisor."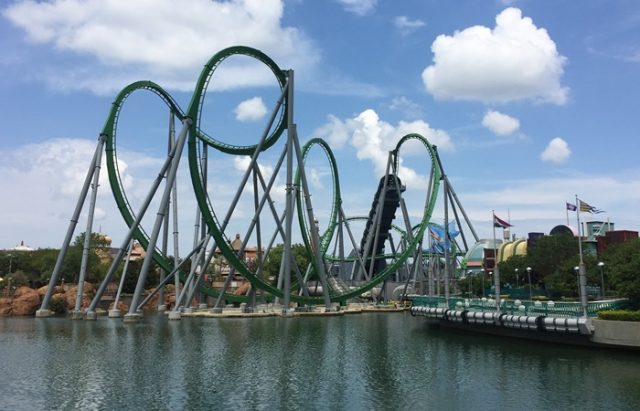 For nearly an hour, the supervisor refused to allow Champion inside the park, repeatedly stating that "we have a policy that you can't wear any police gear." When Champion asked to see the policy, the supervisor produced a sign prohibiting gang symbols and vulgar language but nothing about "police gear."
"I explained that my shirt says I'm a retired police officer – and then I asked, if I see something happening inside the park, like somebody getting beat up or something, you don't want me to react?" he told Blue Lives Matter.

"And he said that would be okay 'but we don't want anybody to confuse you with real police or security,'" Champion said.
Finally, the supervisor permitted Champion to enter, likely because of the growing outrage from other patrons. The supervisor admitted that, since the shirt doesn't have a badge or the lone word "police," it should be okay.
"Ultimately, I was allowed in. I think it was because I complained enough and other patrons were yelling at him, he said it would be fine. He looked at my shirt and said 'well, that doesn't really look like a badge, so you're okay,'" Champion explained.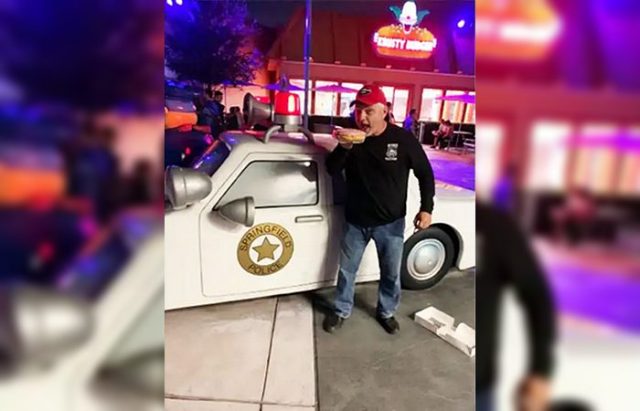 Champion has vowed to never return to Universal Studios because of the humiliation and trouble he encountered. He laments that the park has such a stance against clothing portraying the force, suggesting that his shirt could prevent customers from acting up at the park because "what are the chances anybody would do something in front of me?"
After Champion's girlfriend reached out to Universal Studios, the park once again insisted that they have a policy against "police gear." Still, they have yet to produce evidence of any such policy and failed to respond to follow-up questions.