One of Ron Howard's three daughters, Paige Howard, has begun a new life as a wife. Ron and his spouse Cheryl Howard are beyond proud of their child, but the main highlight was his part at the wedding.
Film director Ron Howard and his wife of 47 years are doting parents of four children. The couple has three daughters, two of whom are twins, and one son.
Out of their brood, one-half of their twin daughters, Paige Howard, follows in her father's and older sister's footsteps as an actress.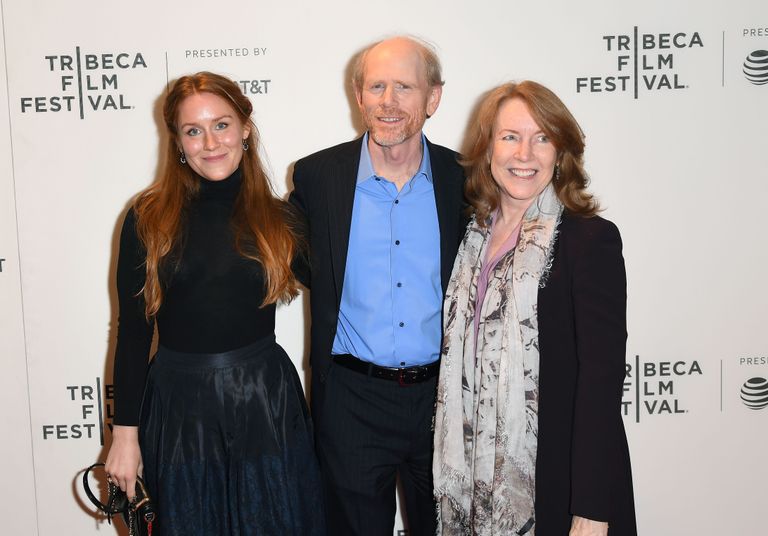 Paige studied at the New York City Tisch School of The Arts and has appeared in movies such as "The Employer," and "Adventureland." The red-haired also appeared on TV shows like "The Astronauts" and "Medium."
Two years ago, she was engaged to her lover of three years, actor and musician Tim Abou-Nasr. Paige revealed in May 2020 that their wedding had been postponed because of the ongoing COVID-19 pandemic.
However, she and her then-fiance did not seem too worried about the delay and penned that she was merely grateful to have him in her life.
Paige said she and Abou-Nasr had "put a lot of thought and energy" into planning their wedding but realized that they needed to redirect all of that into preparing for their marriage:
"Tim and I put a lot of thought and energy into planning our wedding, and although we had to postpone, it made us think – what if we put the same amount of energy into preparing for our marriage as we have our wedding day!"
The California native added that she and her significant other, who also plays the guitar, looked forward to another year of being an engaged couple.
Nonetheless, the lovebirds' dream got fulfilled in 2022 as they finally walked down the aisle in May. They said their 'I dos' in a lavish and green wedding ceremony with stunning décor.
RON'S DAUGHTER GOT MARRIED IN A LAVISH CEREMONY
On May 2, 2022, Abou-Nasr gushed on Instagram about their wedding day. The guitarist posted several images from their big day, with the first selfie showing the newlyweds beaming while leaning in for a shot.
The groom wore a gray suit with a matching tie and a white shirt. The bride stunned in a champagne-colored, strapless lace gown paired with a flower headpiece.
Another picture showed Paige walking down the aisle with her parents, who were all smiles while she held the bouquet.
The third photo displayed the bride and groom locking lips at the altar. Abou-Nasr wrote that he and his beautiful wife wed at Central Park, New York:
"We could not have been happier. Paige was the most beautiful bride and is now my beautiful wife! So grateful, so relieved, so in love. It was worth the wait!"
On May 2, 2022, his wife penned on Instagram that their wedding day was "the most beautiful day" of her life, adding she was over the moon:
"Mrs. The most beautiful day of my life this far. And on and on and on. We are on cloud nine! Thank you to everyone who made our special day what it was."
On May 7, 2022, Paige shared some of her favorite moments from their special day in a gallery of snapshots. One photo showed the couple holding each other, and another displayed the pair glancing at each other with the park as their backdrop.
Paige and Abou-Nasr also posed with their pet dog and captured one image on the sidewalk of New York streets. The second late pictured showed the groom kissing his bride on the cheek. Another snap displayed the married couple sharing a dance at their reception.
The venue was decorated with pink and white flowers and some of the themed bouquets were featured on the wooden dining tables.
Paige's older sister, Bryce, served as a bridesmaid. She wore a pale teal bridesmaid dress and completed the look with a crown of roses. As a proud big sister, she congratulated the newly-wedded couple on Instagram and acknowledged her exhilaration of calling Abou-Nasr her brother-in-law.
When speaking about her younger sibling, the actress mentioned that Paige looked gorgeous, "like the supernatural beauty that she is," adding:
"The bride's dress design was a dream come true – when Paige walked down the aisle, we literally gasped."
The film director also applauded their father for officiating the couple's "truly magical day." Ron celebrated the occasion with a social media post with a picture of the bride and groom holding hands at the altar made of wood. The "Happy Days" alum complimented his daughter:
"Our Paigey looked like the flower goddess she truly is in one of the most beautiful gowns I have ever seen."
As the officiator, Ron said it meant the world to him to be a part of the auspicious spring wedding ceremony. He shared a selfie with Paige and his wife Cheryl, writing: "Cheryl and I are still glowing after Paige & Tim's wedding. What a gift to both families."
FATHER-DAUGHTER DANCE MOVED TO TEARS
In celebrating Father's Day, Paige gave followers another glimpse at her fabulous wedding by sharing a video of her dancing with her dad at the nuptials. The bride's mother Cheryl can be seen glowing with pride and happiness in the background.
The father and daughter dance was incredibly moving as guests watched on. Paige's fans commented on the post, revealing that they were moved to tears.
One person expressed adoration and admiration alongside crying and heart emojis: "Love you, love this, heart exploding!"
"I'm so crying," wrote another. While the third Instagram user only commented using a string of crying and heart-eyes emojis on the post.

Ron and Paige danced to "What A Wonderful World," by Louis Armstrong, and she revealed it was both their favorite. The "Collection" star wrote that her love for her father goes beyond:
"Happy Father's Day sweet papa. I love you; I love you, I love you, infinity @realronhoward."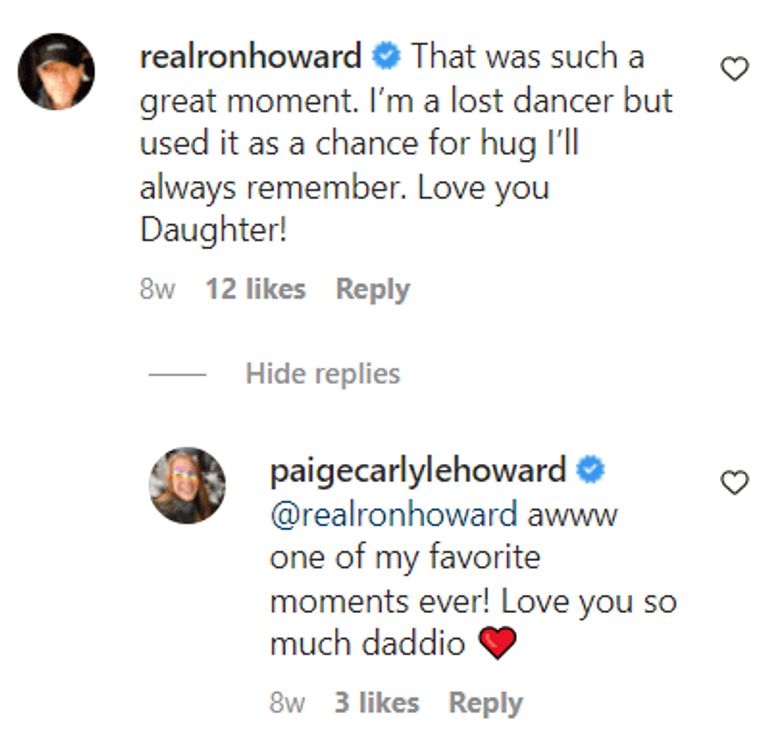 The doting father replied on the post, admitting that although he could not dance, he used the opportunity to lean in for a hug that he would never forget, "That was such a great moment. I'm a lost dancer but used it as a chance for a hug I'll always remember. Love you, Daughter!"


Please scroll below for more stories 🙂