Activist Rosalynn Carter celebrated a significant milestone with her beloved spouse of seven decades, former politician Jimmy Carter. The couple once revealed secrets to their history-making marriage.
Former First Lady Rosalynn Carter celebrated her 95th birthday on August 18, 2022, in her hometown, Plains, Georgia, per People.
A Carter Center spokesperson previously revealed that the said celebration would be low-key with her husband, former US President Jimmy Carter, and relatives.
Rosalynn's birthday celebration was also part of a commemoration of her accomplishments and her advocacy for societal issues. She has been described as a "trailblazer" by Dr. Jennifer Olsen, CEO of the Rosalynn Caregivers Institute:
"Mrs. Carter has always been ahead of her time. Whether it was raising caregiver issues to the national stage, fighting mental health stigma, or advcancing women's rights, Mrs. Carter is a trailblazer."
Moreover, Rosalynn and her dear husband Jimmy, reside in their hometown, where they met after her birth. Author and biographer Jonathan Alter revealed in July 2021 that the pair met nine decades ago:
"They actually met 93 years ago, just a couple of days after Rosalynn Smith was born. She was delivered by Jimmy Carter's mother, who was a nurse, and a couple of days after the baby was born, the nurse, Jimmy's mother, Miss Lillian Carter, brought her 3-year-old son over to see the baby."
Jimmy and Rosalynn have been married for over 70 years to date. The pair will celebrate her birthday at their home, where they lead ordinary lives.
The "First Lady from Plains" author is said to have her morning routine as she "practices tai chi and meditates in the mornings, while her husband writes in his study or swims in the pool."
Rosalynn and Jimmy returned to their hometown following their term at the White House. According to the Washington Post, although their abode is dated, it feels like home and is comfortable.
It is a one-story house situated behind a government-owned fence. The property has a rustic living room, a small kitchen, and a cooler. The two-bedroom house is estimated to be worth $167,000. Jimmy is said to be the only former president in the modern era who returned full-time to a home he once lived in before joining politics.
JIMMY KNEW HE WANTED TO MARRY ROSALYNN AFTER THEIR FIRST DATE
In a joint interview from 2019, the couple recounted how their love story began. Rosalynn revealed that Jimmy's sister, Ruth, was her "best friend," giving her access to their home.
The writer divulged that she spent a lot of time at Jimmy's house while he was never there, adding he fell in love with him regardless of his absence:
"We spent a lot of time in that house. He was never there. I always said I fell in love with a photograph on the wall in her bedroom."
Jimmy chimed in and stated he picked up his future wife for their first movie date in front of a Methodist Church. At the time, Jimmy was home from the Naval Academy and asked young Rosalynn out, and she happily agreed.
The next day, his mother asked him about their evening together, and he told her that Rosalynn was the woman he would marry:
"The next morning, after our first date, my mother asked me some questions and I told her that Rosalynn was the one I wanted to marry."
Rosalynn admitted during the interview that she had no idea Jimmy had already decided their fate together. "I didn't know that for years," she said. Jimmy was so besotted with Rosalynn that he coined the acronym "ILYTG," meaning "I love you the goodest."
The former governor revealed to People that his parents used to say that to each other, and he picked it up with Rosalynn. Jimmy shared that the unique acronym even became a family tradition as their kids have adopted it:
"Now all our children do the same thing – ILYTG on the phone or in emails. They generally just put the initials. And sometimes they change the initials and make you guess what they're talking about."
Happy #NationalParentDay! What a great day to celebrate the given and the chosen parents in our life! How many parents are in this picture? Image: NAID 56918410 pic.twitter.com/QG38bDH8sY

— Jimmy Carter Presidential Library (@CarterLibrary) July 24, 2022
Another family tradition in the Carters' household is reading the Bible together every evening, a habit the couple has kept up for 60 years. The duo still does it despite being apart from one another.
Jimmy said it did not matter where in the world he was, but he would know that his beloved wife was reading the same biblical text as him.
"It makes us think about the same scripture and admonition from God, direction from God before we go to sleep. So, it helps a lot," he explained.
THE CARTERS' BOND CAN 'NEVER BE BROKEN'
On July 7, 2021, Jimmy and Rosalynn celebrated their 75th wedding anniversary, making US history as the "longest-married presidential couple." The Jimmy Carter Presidential Library tweeted the couple's bond was unshakable:
"#75YearsAgo today these two kids tied the knot and forged a bond that cannot be broken. They are now also the longest married presidential couple! #HappyAnniversary President and Mrs. Carter!"
#75YearsAgo today these two kids tied the knot and forged a bond that cannot be broken. They are now also the longest married presidential couple! #HappyAnniversay President and Mrs. Carter! Image: Carter Family Photos #GreatCouplesInHistory #75thWeddingAnniversary pic.twitter.com/AV9k5aEJPD

— Jimmy Carter Presidential Library (@CarterLibrary) July 7, 2021
The message was accompanied by a throwback black and white image of the lovebirds in their younger years, smiling from ear to ear while posing side by side. Jimmy was dressed in his navy uniform, while Rosalynn opted for a white dress and black shoes paired with gloves and a hat.
In May 2021, the duo's grandson, Jason Carter, told People that his grandparents planned on celebrating their milestone by having a "big party with a lot of their friends from over the years."
Rosalynn and Jimmy revealed during an interview with "Good Morning America," that the said event would take place at a school in Plains. The former senator disclosed they selected a big venue to accommodate many people.
Moreover, in commemoration of their time together, Jimmy bought his spouse a diamond necklace with a "75" design.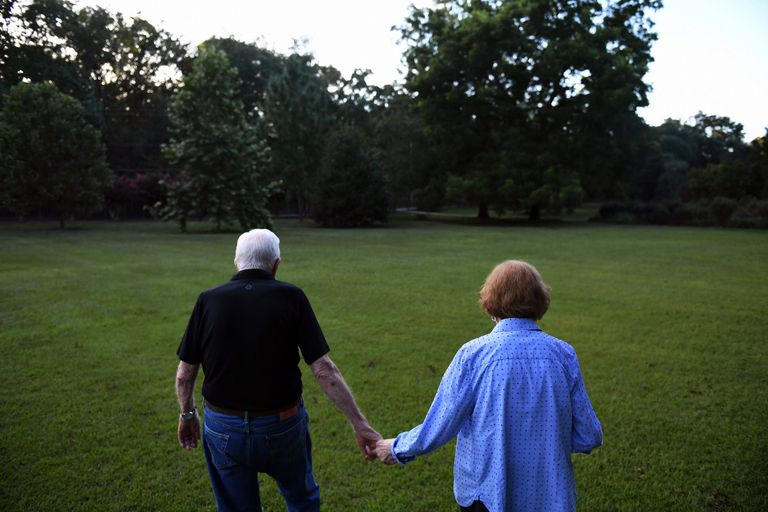 When talking about the secrets of their long-lasting marriage, he shared they give each other enough space to do things individually:
"We've survived this long together because first of all, we give each other plenty of space to do our own thing."
When it comes to their interests, the pair "share as much as [they] possibly can," such as "fly fishing around the world," which is a big part of their leisure time, said Rosalynn.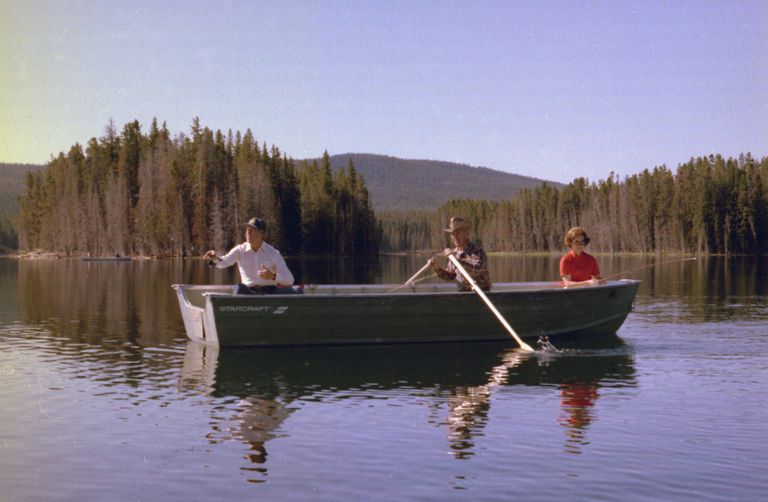 "We're always looking to do things or find things we can do together, like fly fishing and bird watching and just going out to the pond, catch a fish," she divulged.
Her husband added that they had always gone beyond in their love for one another, something Jimmy found "extraordinary," while acknowledging that though it happened to a few, it surely happened to them. "Doesn't happen to very many couples, but it certainly happened to us," he said.


Please scroll below for more stories 🙂