A single dad worked day in, day out to provide for his family. He never backed down from taking on extra responsibility and made endless sacrifices for his children. Then, one day, he received a heartwarming surprise that drove him to tears.
There's no measure of a parent's love for their children. Often, when we talk about parental love, the first thought that comes to our minds is that of a mother's devotion to her kids. However, we tend to forget a father's constant love for his children, which only gets more profound with time.
Not all heroes wear capes. For many kids, their dads are their first heroes and role models simply because a father's sacrificial nature, kindness, patience, and faithfulness have no parallel. The story we're sharing with you today revolves around something similar.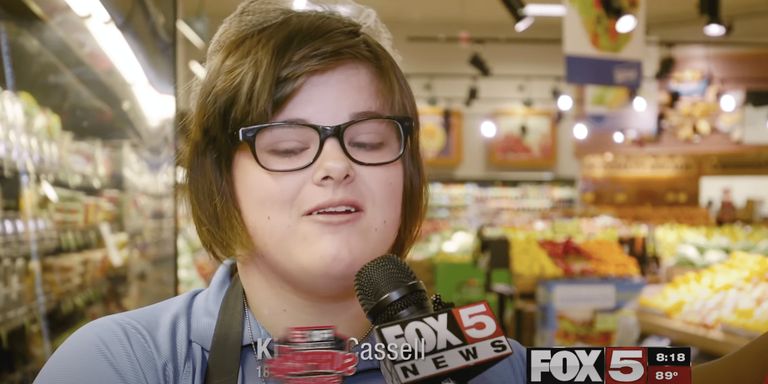 A Man of Many Titles
Harley Harlington was a former Marine, single dad, and survivor. However, these weren't the only titles he had earned in over seven decades. Though he seemed quite tough on the surface, he wasn't vocal about the problems that crippled him from within.
He was a loving father and grandfather and never missed a single moment to shower his children with incessant love and care. Harlington always stayed strong for his family and silently endured all the pain and struggles without a frown.
Still Going Strong
Every day, Harlington worked hard to provide for his family. Despite not doing so well health-wise, he ensured that his children didn't have to face any troubles, and he made sure he was always there for them. His granddaughter, Kirsten, revealed:
"He's been working [all] his life. He's an ex-marine. He's had a kidney transplant, and it took him forever to get that and [he's] still going strong."
The Day That Changed Everyth ing
But that wasn't all. In addition to being selflessly devoted to his children, Harlington also felt deeply for others and always tried to help people. Regarding her father's selfless nature, Robbin expressed:
"He is a man that provides and gives to so many and never says no to anybody for anything. He'll give the shirt off his back."
Despite his health ordeal, Harlington never wavered in his responsibilities, and his endless sacrifices didn't go unnoticed by his daughter and granddaughter. One day in 2016, a stranger knocked on his door and surprised him most incredibly.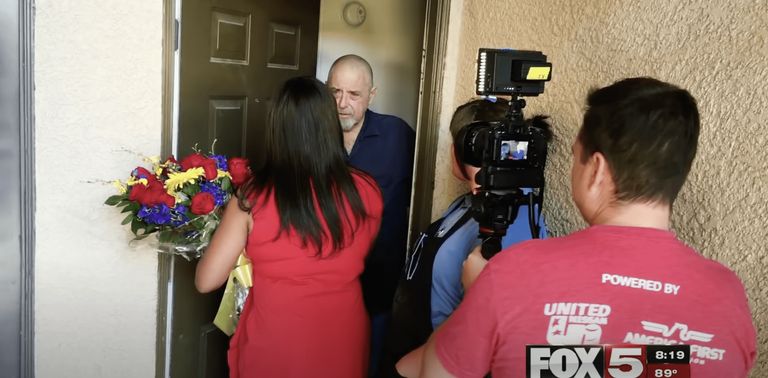 A Huge Surprise
When the elderly man opened the door, he was surprised to see a woman with a microphone in her hand. Harlington had no idea what was happening, but to his astonishment, the lady on his doorstep proceeded to hand him a lovely flower bouquet. As he took the bouquet, Harlington said, "Wow. This is a surprise."
Afterward, Jackson handed the family a red box and when they opened it, they couldn't help but stare at it in disbelief.
It turned out that the woman was Monica Jackson from the FOX5 Surprise Squad, accompanied by Harlington's granddaughter, Kirsten. Harlington invited them inside, and they sat down in the living room.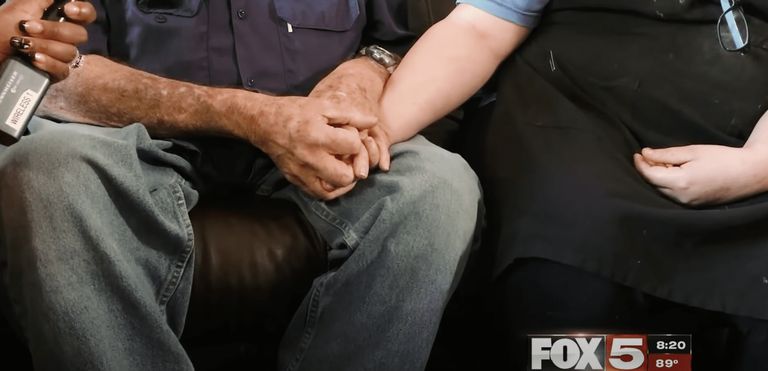 A Devoted Father
Shortly afterward, Jackson asked Harlington about his life's struggles, and he told her about his kidney transplant and said it added 25 to 30 years to his life. Further, he added:
"As well as running a business, at one time I had four jobs. You know, just so I could put food on the table, presents under the Christmas tree."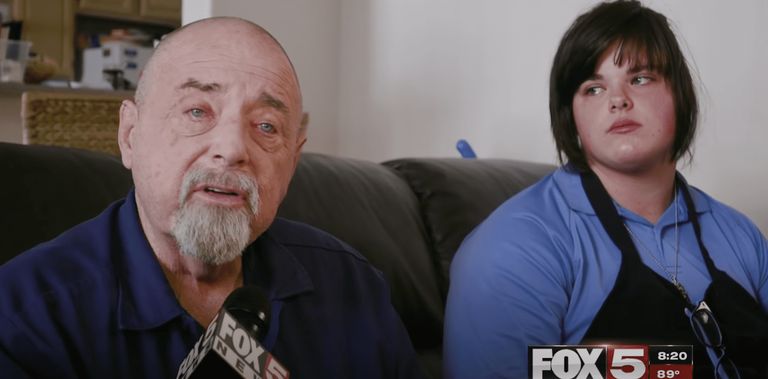 Truly Selfless
Kirsten sat next to Harlington on the sofa and told Jackson that he was the glue holding their family together. When Jackson asked Harlington how he ensured he was always there for his children, he replied:
"Whatever you can, you do, even if all you have to give is an ear to listen. You do [it] without any expectation of any kind or reward. You do [it] from the heart."
Later, it turned out that the loving dad and granddad did a lot of driving around, including picking up and dropping off Kirsten to work, using a van that wasn't in good condition. Per Harlington, the van's air conditioning had gone out, and its heater didn't work.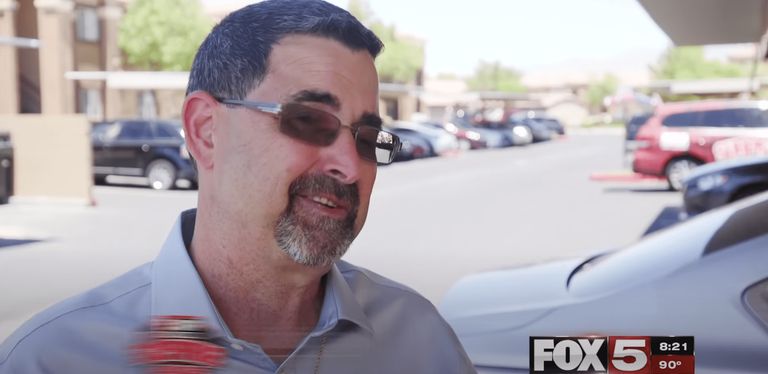 "An Exceptional Father"
Then, Jackson introduced the grandpa-granddaughter duo to two people from the Sudden Impact Auto Body, who offered to fix the van's air conditioning and heater. Harlington's story deeply moved Jose Gutierrez from the automobile shop. He shared:
"He's an exceptional father. You can tell. And I'm touched by who he is."
As was expected, Harlington and Kirsten were touched by the FOX5 Surprise Squad's kind gesture, and they couldn't stop thanking them. But there was still more to come. Afterward, Jackson handed the family a red box, and when they opened it, they couldn't help but stare at it in disbelief.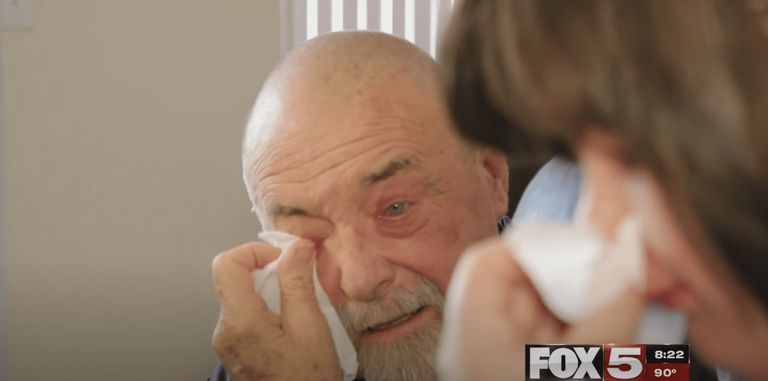 "You Always Have Family"
The box contained $1500, and when Harlington saw the amount, he was dumbfounded. As he reached for a tissue to wipe his tears, he said, "Utterly speechless. I've never had anything like this in my life."
But the question was, who had contacted the FOX5 Surprise Squad? Jackson revealed that Kirsten and Robbin reached out to them and hoped they would help make Father's Day 2016 a little special for Harlington. As the grandpa hugged his granddaughter, he stated:
"If you have nothing else in life, you have family. You always have family."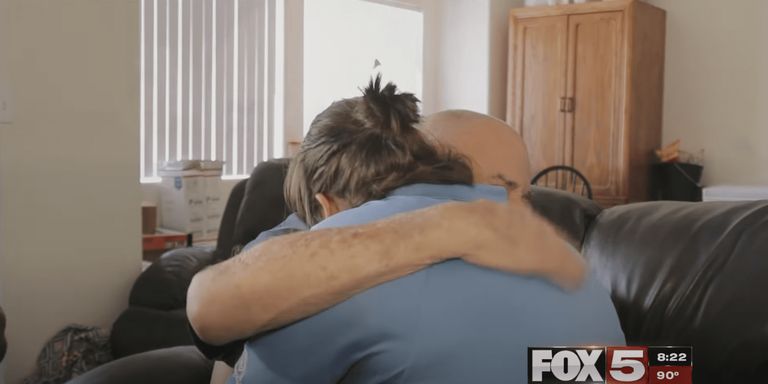 A Daughter's Love for Her Dad
Following the heartwarming surprise, Jackson sat down with Robbin and Harlington since the former was out of town for work when the Surprise Squad visited their house. When asked why Robbin contacted FOX5, she responded:
"He's struggled and he's gone through so much with the kidney transplant and all the doctors and moving him from Arizona to here. Throughout all of that, he was still so strong. And when the air conditioning went out in his car, I just thought that I have to do something to help him (sic)."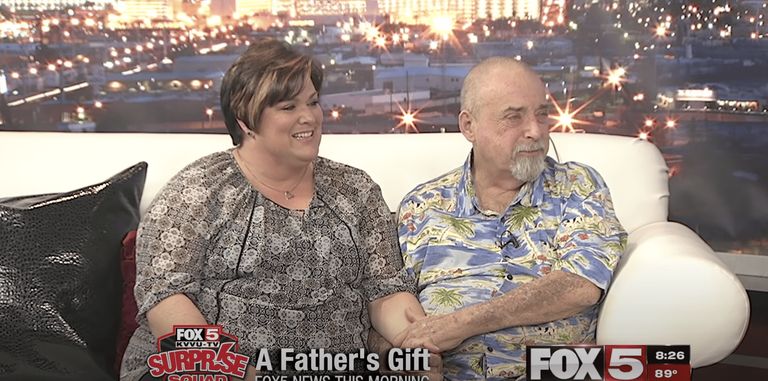 A Single Dad's Words of Wisdom
Then, Jackson told Harlington how moved she and everyone else was by his kind spirit. She also asked him what advice he would give to other single dads out there, to which he said:
"I don't know if there's any formula or anything like that. You have to take care of your children. They come first before all else, and if you do that, you will be rewarded. That goes without saying."
Harlington also revealed that he had named his kidney "Junior" and looked forward to being the best possible version of himself for his family.
Undoubtedly, this self-sacrificing dad's love was rewarded so beautifully. Despite his suffering, he always prioritized his family, and it was about time that was appreciated.
Have you ever come across a father figure who was all-giving and selfless like Harlington? Please share this lovely story with those who also have self-sacrificing and loving parents.