A 9-year-old girl captivated the hearts of the entire state police department due to her kind and considerate nature. The officers then bought her a $50 gift card to a toy store, but the story didn't end there.
Oftentimes, kids are taught to be scared of people dealing with law and authority issues, including cops. They grow up fearing officers in uniforms and know exactly what would come to pass if they try even the slightest bit to mess with them.
Surprisingly enough, some children are smart enough to go the extra mile and find out for themselves what police officers are really like. After all, they are just extremely kind and helpful at heart and work tirelessly to ensure people's safety.
THE KIND-HEARTED GIRL
For Brooke Yost in 2017, getting help from a state trooper standing behind her in the line was the last thing on her mind. But when she ran out of money to pay for her donuts, the kind cop volunteered and asked the store guy to place her purchase on his bill.
Not knowing what more to do, the little girl thanked the officer and then fled out of nervousness. However, when she got home, she realized she had returned without truly repaying the cop.
She then decided to fix things, starting with writing an adorable thank you note and placing a $10 bill inside it before putting it into the envelope. In the letter, she wrote her name, age and then recalled the entire incident at the store named Sheetz.
The kind girl also penned how she was waiting in the queue when she realized she didn't have enough money to pay for her donuts. Moreover, she added how a nice cop paid on her behalf, but she didn't have any cash to offer him. Further, she wrote:
"I am donating this money. I want to thank this officer again. Stay safe, Brooke."
Soon afterward, her sweet note reached officer Chad Savannah, who had paid for her sweet treat at the store. He shared it with the other officers at the station, and they were all deeply moved by the little girl's kind gesture.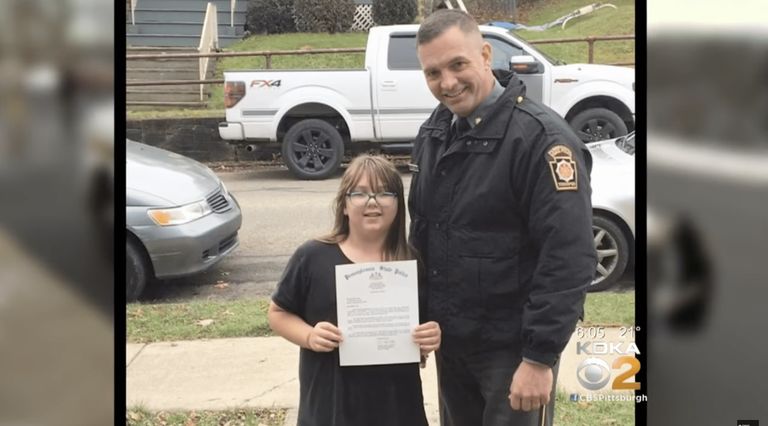 While they didn't need her money, they decided to meet her, thanking her for her thoughtfulness. The cops then bought her a $50 gift card to the toy store, but the sweet little girl surprised them once more.
Instead of buying toys for herself, she donated them to a charity. Inspired by her selfless act, they invited her over to the station, showed her around, and then showered her with several gifts and yummy donuts.
The officers also thanked the little girl for being so kind and having such a pure heart. Indeed Brooke's kind behavior had a lot to do with the way she had been raised by her parents, and her story is absolutely phenomenal.
THE PLAYTIME EMERGENCY CALL-OUT
Brooke Yost may have known a thing or two about leaving a lasting impression on cops, but she's not the only one making headlines. A 4-year-old New Zealand kid ended up dialing 111, asking the officers if they'd like to come over and see his new toys.
While his call was in no way an emergency, the officers decided to respond to his cute gesture and even shared footage of the incident. Constable Kurt went over to his placein the South Island city of Invercargill, telling him how cool his new toys were.
The same officer then showed him the police car, placed the cap on his head, and even sat him down on his car's bonnet. Before leaving, the kind cop even chatted on the proper use of the emergency number with the kid.
A HEARTWARMING PRAYER
Undoubtedly, Brooke's kindness captivated the state police, and the New Zealand toddler's cute gesture lightened up the mood of the officers answering his emergency call. Another young girl in Texas helped a group of officers having a bad day.
Eight-year-old Paige saw the cops sitting at a table in a San Antonio restaurant in 2017. She walked over to them and found out that they were grieving the death of officer Michael Moreno, who died in the line of duty a few weeks ago.
The little girl then offered to pray with them, and the officers thanked her for her heartwarming gesture. Indeed, children like Brooke, the New Zealand kid, and Paige have proven through their actions that little acts of kindness never go unnoticed.
Share this story with your friends. It might brighten their day and inspire them.