A precious girl had the rest of her life ahead of her to dream and reach for the stars. Her parents longed to see her grow into a young woman, achieving anything she set her mind to. Sadly, it was not meant to be.
The saying goes that time heals all wounds, but grieving parents might disagree. For many moms and dads, the pain of losing a child is something that never heals or goes away.
One mom from Texas was forced to say goodbye to her angelic girl—she didn't know how to move on with her life after the unthinkable tragedy.
The Special Mother-Daughter Bond
Avyanna Vox Caro had a smile that could light up any room. At only two years old, she was already stealing hearts thanks to her positivity and infectious joy. She was described as a "very happy, loving, and gentle girl that had a life ahead of her."
Her mom, Gethsemani Caro, adored the beloved little one and loved spending time with her. In 2020, the doting parent shared a funny photo of her baby with false lashes on Facebook.
Their mother-daughter bond was beautiful, and there was an exciting future of playing dress-up together around the corner. Sadly, fate had other plans, and the mom's world came to a standstill on September 24, 2022.
While physical injuries might heal for loved ones, their emotional scars are still open and painful.
The Tragic Accident
It was an ordinary Saturday, and baby Avyanna was strapped into her car seat, happily traveling in her family vehicle. Nobody imagined that a heart-shattering tragedy would leave them devastated and grieving.
While driving on Highway 121 near Bedford, Texas, their car was struck from behind. A Dodge truck that drove at high speed caused the devastating accident, and it claimed the life of little Avyanna.
Y'all my coworker lost her daughter due to an unexpected accident caused by a drunk driver, if you all could share that would be great ???
Stop drinking and driving you bums! https://t.co/L6tKY7Jynt

— Ý. (@YvonneErin) September 26, 2022
The Family Is Heartbroken
The truck driver was arrested at the scene and had purportedly been drinking. Other passengers in the car with Avyanna were injured but believed to be recovering well.
While physical injuries might heal for loved ones, their emotional scars are still open and painful. Losing such a young life is never easy, and the child's heartbroken mom wrote:
"Our whole family is completely devastated by this tragic loss. I don't know what to do."
Support for the Grieving Loved Ones
The family created a GoFundMe page to assist with funeral costs and any expenses resulting from the unexpected ordeal. They thanked everyone for the ongoing support and welcomed any further help with open arms.
By September 29, close to $8,000 had been raised. Another fundraising page was started on behalf of the family, and a post expressed:
"Nothing will give [the family their little girl back], but we can help make such a painful process a little more bearable."
Avyanna's loved ones also urged people to think twice before getting behind the wheel. They discouraged drinking and driving and hoped their story would raise awareness.
The Online Response
Netizens were heartbroken for the family and wanted to help in their time of need. Many offered prayers and some people asked how they could assist the grieving mother:
"I am at a loss for words. Such a beautiful soul. I will keep the mother and her family in my prayers for strength and endurance."
– (Monica Meza) September 27, 2022

"We passed by right after it happened and saw them holding their precious angel. Our prayers to the families impacted by the tragedy."
– (Tina Olma) September 27, 2022

"What can we [do to] support you? Just say what [you need and] we [will] organize [it]."
– (Cardio Fittnes Yammi) September 26, 2022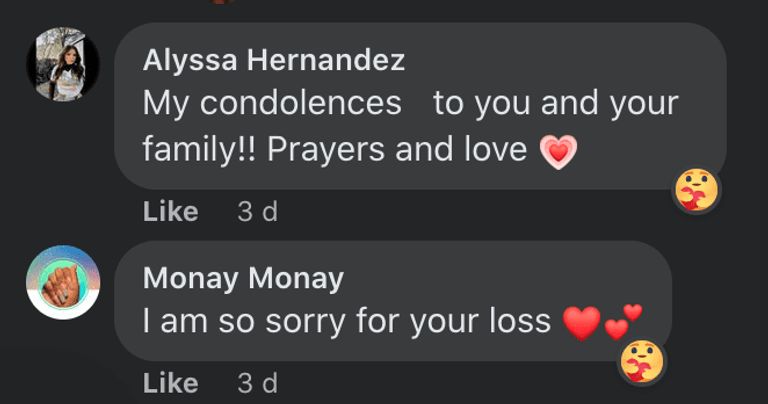 Avyanna's tragic passing displays the fragility of life and should encourage us to cherish our loved ones while they are around.
We send our heartfelt condolences to the baby girl's family members. The pain of her death will take time to heal, but we pray God grants them the strength to continue. RIP, sweet angel!
Click here for a story about 22-month-old twins. Their lives had barely begun, and the duo had many years ahead to form a special sibling bond. However, fate had other plans, and they never got the chance to become best buddies.