There are some children who seem destined to be stars. Even at a very young age – they have the courage and talent to entertain huge crowds.
One three-year-old performed the national anthem with no problem, becoming the youngest person to ever sing it in New York's Carrier Dome stadium.
The national anthem has never been so adorable. Just wait until you see this toddler nail the classic song to open up one of the Syracuse Women's basketball games.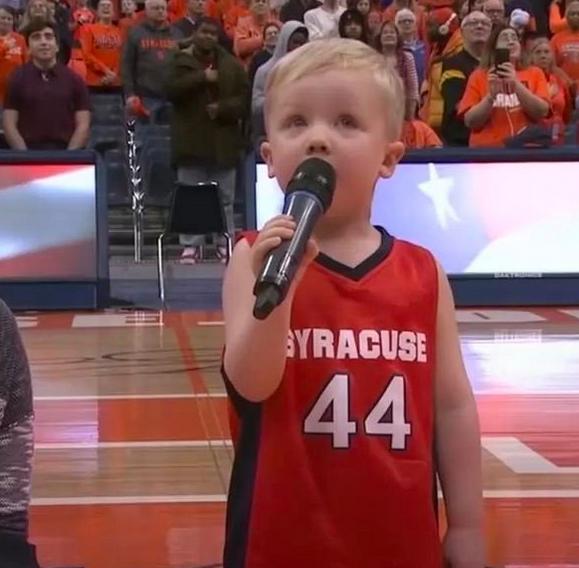 Three-year-old Drake Grillo is a little cutie pie who was born for the spotlight.
It's hard to believe a three-year-old could even memorize the "Star-Spangled Banner," let alone sing it for a live audience of over 6,000 people. Drake Grillo isn't just any toddler though – watch as he bravely takes on the song and blows the audience away.
When the video starts, the announcer introduces the kid from Auburn, New York, and he wastes no time starting the "Star-Spangled Banner." Luckily, he has his mom kneeling beside him.
The young singer doesn't skip a beat. He goes through the song word for word, and the audience is captivated. This has to be the most precious version of the national anthem out there. The child hasn't quite got his "r's" down yet, which adds an extra layer of cuteness to the performance.
People in the crowd smile from ear to ear, and some even snap pictures and videos of the little boy. As the song goes on, he continues to impress everyone in attendance as they watch in silence.
He is way beyond his years. Some adult singers can't even handle the pressure, but Drake sings the song with ease.
You could hear a pin drop the whole time he's singing, and people can't take their eyes off of the impressive toddler. You could watch him perform this 100 times and it would never get old, it's just so heartwarming.
Naturally, the three-year-old mispronounces some of the more difficult words, but that makes it even more aww-worthy.
Of course, words like "gleaming" and "perilous" were a bit more complicated for Drake to pronounce, but he does his best. He practically just learned how to talk after all, so it's extremely impressive nonetheless.
Drake finishes strong, going through the whole song without stopping once. As soon as he's done, the young boy gets shy and runs to his mother. Bravo, kid!
People all over love the YouTube video, which currently has over 3.2 million views and 44K likes.
Many have been impressed by the little guy, especially since he was so young performing the song. One YouTube user hilariously commented:
"The fact that he didn't forget the words is impressive like what some singers have done. Great job buddy!!"
The internet is full of amazing national anthem performances, but it's not too often that you want to pinch the singer's sweet little cheeks! This is definitely one you don't want to miss.
Video:
Share this story with your friends. It might brighten their day and inspire them.