A mother was utterly devastated and couldn't hold back tears when she received a phone call that no parent would ever want to get. It turned out that her sweet boy, who had celebrated his birthday two months prior, had been in an unfortunate accident.
Parents and children share a profoundly heartwarming bond that cannot be put into words. It's a one-of-a-kind connection that only gets stronger over time. Despite the highs and lows, children always know they can seek shelter in their parents' warm and comforting embrace.
Every parent strives to provide a loving and supportive environment for their kids. Even the slightest hint of something happening to their children can be soul-crushing. A similar scenario unfolded in today's story, turning into a mother's biggest dilemma.
A Playful Child
Bentley Roberts lived with his mother, Jennifer Roberts, in Weber County, Utah. According to his mom, he enjoyed playing with his toys, indulging in art-related projects, and cooking. Little Bentley loved spending time with his friends, hot wheels, and riding his bike.
The teary-eyed grandma said Bentley gave her a copy of his school photo before the tragic incident.
Doing His Favorite Thing
Jennifer described her son as a happy, playful, warm-hearted soul who celebrated his fifth birthday in August 2022 and had just started kindergarten at Venture Academy.
On the night of Wednesday, October 5, little Bentley decided to ride a bike with his friend at a spot that wasn't quite far from his home in Roy. But shortly afterward, the unthinkable happened, something that nobody saw coming.
When Tragedy Struck
Per Jennifer, her son, who is also autistic, and his friend, were crossing the street when a truck pulling a trailer stopped near 2600 West and 4400 South. She said the pickup driver saw Bentley's friend but didn't see him and decided to move forward.
According to the police, the truck hit the little boy at about 6 p.m. At that time, his mother was at the store and received a relative's call, who informed her about the sad incident.
Jennifer said she left everything and ran straight to her boy, crying and feeling scared "seeing him laying in the middle of the road not moving."
The Terrified Grandmother
Little Bentley was taken to McKay-Dee Hospital, Ogden, Utah, and was later life-flighted to Primary Children's Hospital in Salt Lake City. According to Jennifer, her son's condition remains critical but stable.
The mother-son duo shared a beautiful bond as Bentley was Jennifer's only child. The five-year-old's grandmother, April Roberts, said she felt broken and absolutely terrified for her sweet grandkid. She expressed:
"I just felt so helpless because I couldn't be there to help [Jennifer] or help Bentley. He needs to be safe because that's his mom's only child (sic)."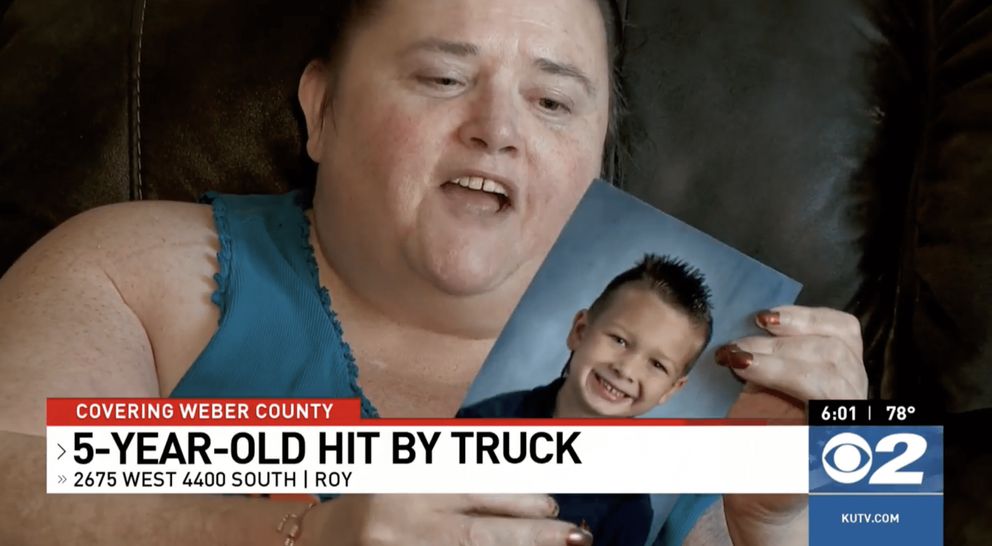 April recounted that when Jennifer contacted her and narrated everything, she couldn't help feeling scared. The teary-eyed grandma said Bentley gave her a copy of his school photo before the tragic incident. She further stated:
"It just made my heart just totally break, and I just kept fearing the worst."
Indescribable Emotions
Little Bentley continues to recover with his beloved mom beside him all the time. In a short interview from the hospital, the Utah mother said she was happy and relieved with her son's improving condition but also felt sad and worried at times.
Jennifer mentioned that she was touched by people's outpour of love and support for her lovely son online. She said:
"I told him that there's a lot of people asking about him and he had tears coming out of his eyes. He's so happy."
No Ill Feelings
According to the Roy City Police Department, the truck driver appeared to have not seen Bentley, who was riding a "low profile bike." They said speeding or impairment didn't play a role in the accident and believed visibility might have been a probable cause.
The police said the driver is cooperating with them. As for Bentley's family, his mom and grandma said they didn't hold the driver responsible for the accident and had no hard feelings toward him. Jennifer added:
"Just let him know we have no ill will feelings towards him, we don't blame him at all."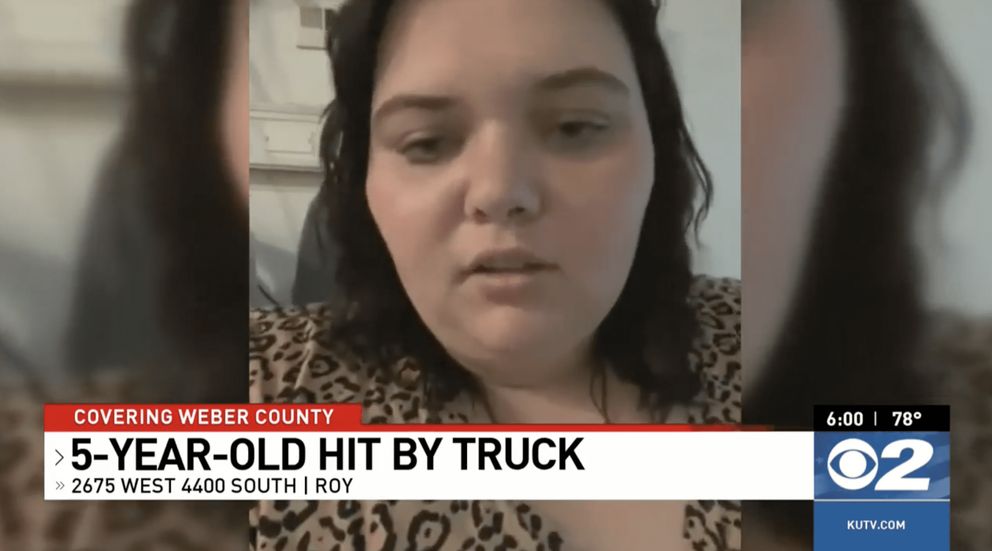 Reaching Out
On the evening of Thursday, October 6, the truck driver, Gilbert Randall, contacted Bentley's family and paid him a visit to the hospital. The 44-year-old man said he didn't see the youngster at the time and felt heartbroken with how everything turned out:
"It breaks my heart to know that I caused a little boy pain even though it wasn't intentional."
A Heartwarming Surprise
Randall confessed that he was relieved to see that Bentley was recovering. He also came bearing gifts and presented the little one with a new bike, alongside a helmet with a light so that everyone would see Bentley in the future.
Jennifer and April said their sweet boy was happy to meet Randall and excited to ride his new bike. A crowdfunding page has been created for the family, and as of October 7, over $2,000 have been raised.
We send our heartfelt prayers and best wishes to this little boy and hope he recovers soon so that he can continue to do his favorite things.