Among the most popular members of his family is one of his sons, Alejandro Fernández, who has also had a successful music career. Vicente's oldest child, Vicente junior, also had an interest in music but did not gain as much fame. The rest of the siblings prefer to keep their lives away from the media.
All of Vicente's children have got children of their own. However, some of them are not publicly known. Many of the iconic Mexican singer's popular grandchildren are from his son Alejandro.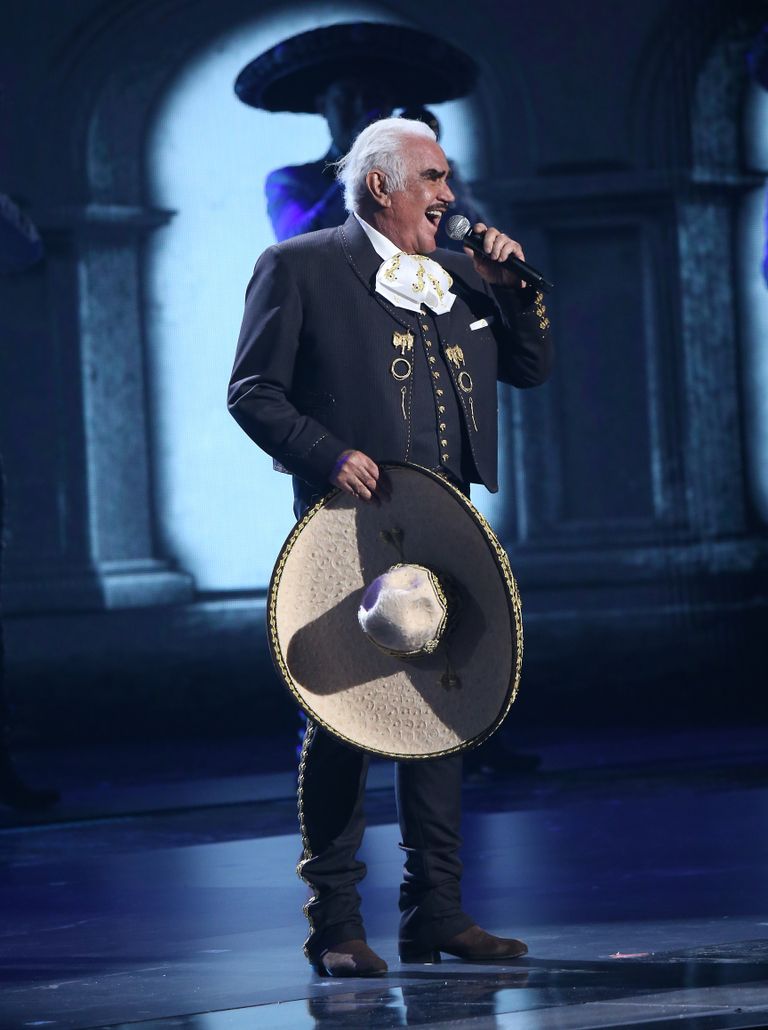 Alex Fernandez
Like his father and legendary grandfather, Alex is a music enthusiast and wants to continue the family legacy. Born on November 4, 1993, in Mexico City, Alex made his musical debut in 2018 when his first single, "Te Amare," was released. The song was followed by the debut album that dd5
Shortly in 2018, his meteoric rise saw him nominated for best regional song and ranchera music album at the 2019 Latin Grammy Awards. His father and grandfather were nominees in different categories at that same event. The three stars rarely ever share the stage.
However, on November 14, 2019, the Fernandezs made the day special by performing together on stage for the first time. The trio left the MGM Arena in awe of what they witnessed. They sang a medley of three songs, one from each of his musical catalogs. Their lively and nostalgic performance left fans asking for more.
In his personal life, Alex's Instagram page tells a story of love and happiness. The singer frequently posts and declares his love for his wife and daughter. Alex is married to his longtime girlfriend, Alexia Hernandez. They wedded on May 14, 2021. In April 2022, they welcomed their first child.
Camila Fernández
Camila is the daughter of Alejandro Fernández and Alex's younger sister. She was born in Guadalajara, Mexico, on November 30, 1997. On August 1, 2020, she married Francisco Barba.
Camila is multi-talented as she is following careers in music and acting. Her acting career is still in its infancy, with only two acting credits so far to her name in "Soy Luna" (2006) and "4°A El Documental" (2010).
Her music career is where she has made her most significant strides, which is not a surprise as it seems to run in the family. She has released several songs in the last few years. However, her musical career was initially slowed down by her father's desire for her to focus on her studies before music. Her father noted:
"Camila really wants to dedicate herself to this in the future, but I have always told her that she has to show me at school with her grades."
América Fernández
Another of Alejandro's children, América, also boasts a fantastic musical voice. Clips of her singing leave many without a doubt that she is part of the famed Fernández family. Even her father could not resist praising her singing ability, saying: "I love you. How beautiful you sing, baby."
However, despite all the praise and incredible voice, América has no interest in having a musical career. For her, it's all about enjoying her favorite hobby. She reaffirmed her stance when posting a video of a cover on Instagram, saying:
"A little bit of my favorite hobby (No, I'm not a singer and I'm not going to dedicate myself to that but I love it)"
Emiliano Fernández
Emiliano is one of Alejandro's youngest. He was recently spotted on a summer vacation in Europe. Nothing is known about Emiliano besides that he is one of Alejandro's kids.
Like her step-siblings Alex and Camila, Valentina aspires to follow in her father and grandfather's footsteps into the world of music.
The Fernandez family is all about love, and Emiliano is no exception. He is currently in a relationship with Ximena Diaz, a model from Mexico. On one occasion, the young couple exchanged intimate messages on Instagram as they expressed love for each other.
Valentina Fernández
Valentina is the youngest daughter of Alejandro. She is seen in her native Mexico as a talented young lady with the potential to be a star. An intelligent young lady, she is on a GAYA scholarship to study at the Southern California Institute of Architecture and will finish her studies in 2024.
Valentina was born in February 2002 to Alejandro and his partner, Colombian model Ximena Diaz. She grew up in the USA but decided to return to Mexico to spend more time with her father and the family in Guadalajara, whom she got along with very well.
Like her step-siblings Alex and Camila, Valentina aspires to follow in her father and grandfather's footsteps into the world of music. She was featured on her father's song "Blanca Navidad," along with Camila and América.
From her social media, one can tell that she is an adventurous young lady. Her life in Los Angeles is filled with visits to excellent restaurants where she tastes desserts and other delicacies. She is also in love with a fellow Mexican called David Aizenman, who can be seen in her various pictures on social media.
Fernanda Fernandez and Vicente Fernandez
Fernanda is the daughter of Vicente Jr. She describes herself as a designer and has a significant number of followers on her social media platforms. On Instagram alone, she boasts of a following north of 29k. Her Instagram is filled with mostly pictures of her children, her husband, and her personal life.
Fernanda is already married and has two kids already, a boy and a girl. The family, including her husband, are frequently seen at various events, enjoying each other's company. In July 2022, the family of four traveled to Florida to visit the spectacular Disney World. Fernanda is currently expecting her third child.
Vincente Jr. is the other child of Vicente Fernandez. He has a similar name to his father and grandfather, maintaining the name in the family across generations. From a social media post by his father, celebrating his birthday, the cake design and surrounding objects suggest that he is a basketball fan.
Vicente Might Have Much More Grandchildren than Listed
Vicente Fernandez had four children with his wife Maria del Refugio Abarca. Alejandro, born April 24, 1971, is the most popular as he also had a thriving commercial and music career like his father. All of his children have been looked at in this article as they, like their father, are either doing great things or on the path to achieving great things.
The oldest of Vicente's children, Vicente Jr, was born on November 11, 1963. He is also a musician like many of his family members, but mostly touring as part of his father's orchestra. He also appeared in his father's movies but later resigned from the entertainment industry to focus on a political career.
Despite his relative success, not much is known about his children, and only two of his four kids were featured here. There is no publicly available information about the other two, Ramon and Sissi. The same situation where there is no information on some of Vicente Senior's grandkids is magnified in children from his youngest two children.
Gerardo Fernandez is the second youngest child of Vicente Snr. He took a different path from most of his family members by becoming a successful businessman. Despite the popularity that comes with his family, he has chosen to leave a life out of the public eye. His children, if any, seem to also avoid publicity.
Vicente's youngest and only daughter is Alejandra, who, like Gerardo, maintains a low profile. Her desire to stay in the shadows means she doesn't even have a social media account, and her children, if any, keep out of the limelight. That said, Vicente's grandchildren from his last two children, if they are there, nothing is known about them.